'Good Samaritan' Who Killed Mall Shooter Broke Property Rules Against Guns
The good Samaritan who shot and killed the gunman who opened fire in the Greenwood Park Mall in Indiana on Sunday afternoon reportedly broke the property's policy against weapons.
The suspected shooter entered the mall on Sunday carrying a rifle and multiple magazines and opened fire in the food court, killing at least three and injuring three before he was shot to death. Greenwood Police Chief Jim Ison said the suspected shooter was killed by a "good Samaritan with a handgun."
While the armed bystander reportedly had a legal gun permit, the mall's property policy does not permit weapons on the premises.
The mall is owned by Simon Property Group, and the group's code of conduct, last updated in April of 2020, lists "No weapons" as number three.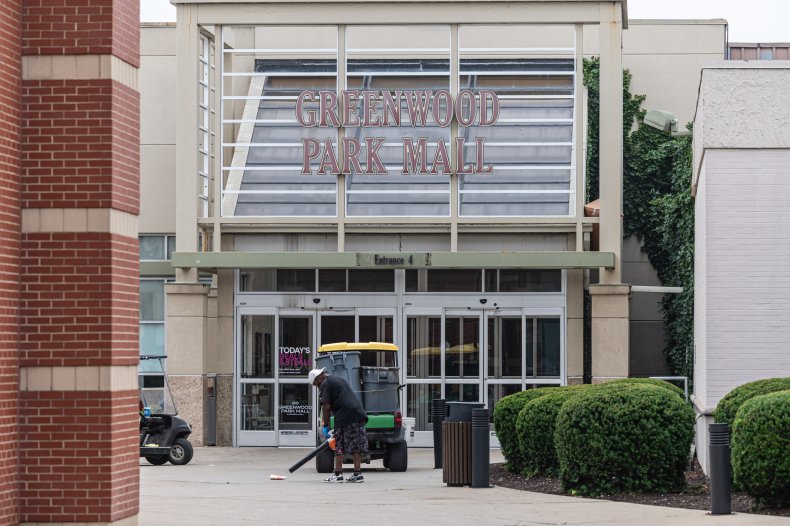 The code of conduct also states: "All Simon shopping centers expressly retain the right to revise or modify this code of conduct as necessary. Any exceptions to this code of conduct will be determined by local center management in its sole discretion."
While it is unclear if the Samaritan will face any repercussions for breaking property policy by carrying a gun, Greenwood Mayor Mark Myers praised the person in a statement on Sunday night, saying: "Someone we are calling the 'Good Samaritan' was able to shoot the assailant and stop further bloodshed. This person saved lives tonight. On behalf of the City of Greenwood, I am grateful for his quick action and heroism in this situation."
The dead gunman has not yet been identified, nor has the motive for the shooting. The gunman entered the food court at about 6 p.m. local time, and first responders were alerted five minutes later. Ison said that a bomb squad had been in the area investigating a reported unattended backpack near the bathroom area, according to the Indianapolis Star.
The bystander, who was identified only as a 22-year-old from Bartholomew County, was "able to stop the shooter almost as soon as he began," Ison said.
Sunday's shooting came just weeks after new laws in the state lifted the permit requirements to carry a handgun. On July 1, the law allowing people age 18 or older to carry a handgun in public without a permit in Indiana, except for reasons such as having a felony conviction, went into effect.
Another shooting occurred in a park in Beech Grove, roughly 7 miles north of Greenwood, at about 10 p.m. Sunday. Four people were shot, and one was pronounced dead at the scene. The other victims were taken to a hospital, where one is in critical condition, WRTV reported.
Sunday's shootings followed the deadly shooting in Uvalde, Texas, in which 19 students and two teachers were killed at Robb Elementary School in late May. The conversation surrounding gun reform laws has continued to escalate since then.
Indiana state Representative Mitch Gore tweeted on Sunday night following the Greenwood Park Mall shooting: "It's too soon to assess what could've been done to prevent this specific incident, but what should be abundantly clear is that as a society - AND AS A GOVERNMENT - we are utterly failing at addressing gun violence. Clearly, new approaches are urgently needed."
Newsweek reached out to the Greenwood Police Department for additional comment.
Update 7/18/2022, 10:49 a.m. ET: This story was updated with additional information.