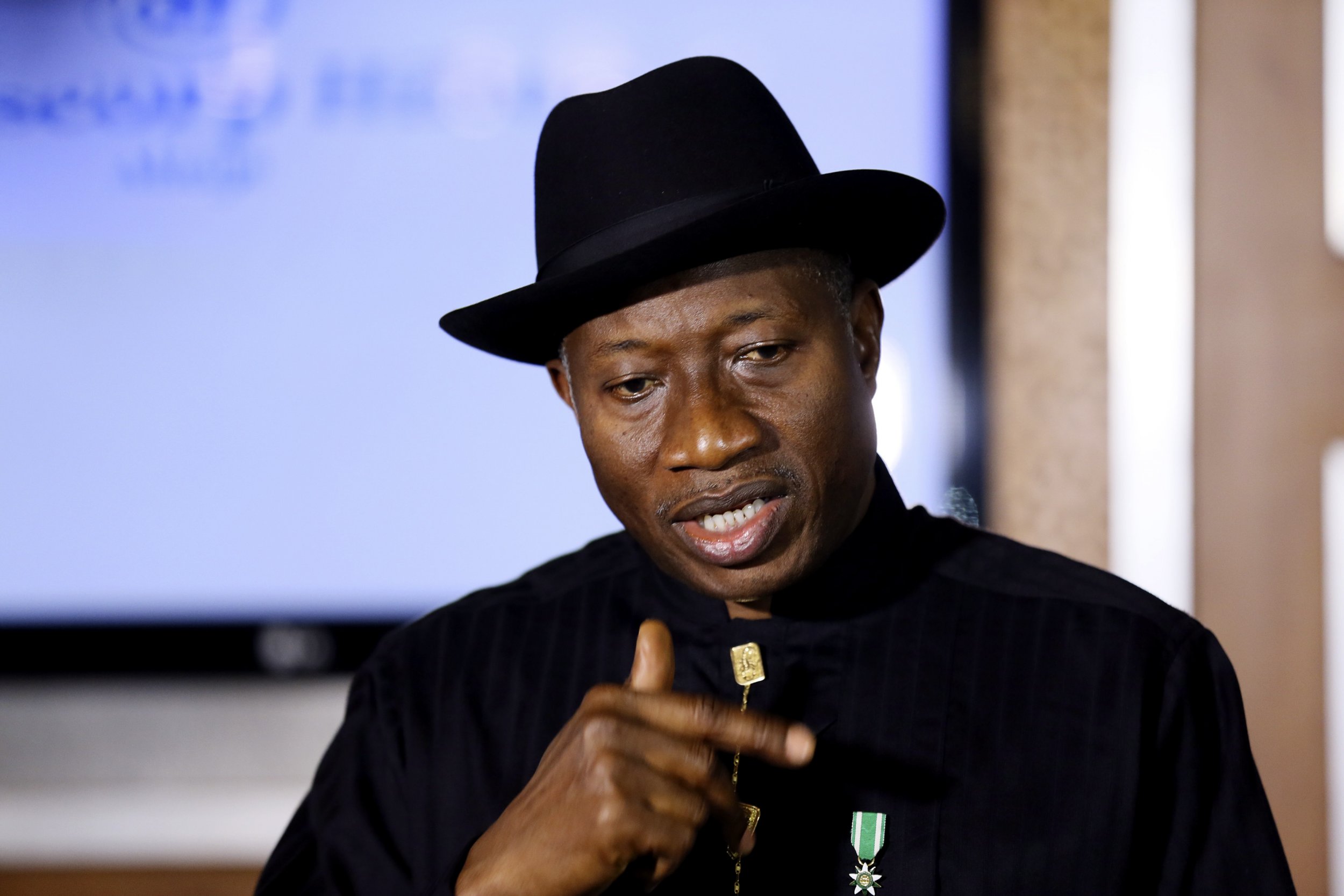 Nigeria's former president Goodluck Jonathan has denied allegations that he rejected a British offer to rescue almost 300 schoolgirls kidnapped from their school in Chibok in 2014.
A report published in British newspaper the Observer over the weekend claimed that Jonathan, who was defeated by Muhammadu Buhari in Nigeria's 2015 election, insisted that the solution to the kidnapping must come from Nigeria and rebuffed several offers of U.K. and international assistance.
The Nigerian militant group Boko Haram kidnapped 276 girls from their school dormitories in Chibok, a town in the northeastern Nigerian state of Borno, in April 2014. Fifty-seven of the girls managed to flee in the immediate aftermath, but no others escaped captivity until May 2016, when civilian vigilantes rescued Amina Ali Nkeki.
Negotiations between the Buhari government and Boko Haram paid off in October 2016, when the militants released 21 of the girls. The Nigerian military claims to have rescued two more of the girls, but 195 remain missing.
In a statement made by his media aide Ikechukwu Eze on Sunday, Jonathan dismissed the report as false. "In fact, the Jonathan administration was so genuinely supportive that the foreign powers involved were granted permission to overfly our airspace, while conducting the search and rescue missions," said the statement, reported in Nigeria's Daily Trust newspaper.
Eze added that Jonathan had personally written to the heads of state of the United States, United Kingdom and France to ask for assistance in finding the girls, while also reaching out to the governments of Israel and China. The statement said that the "concocted story" was an example of "some people who have obviously been playing politics with the issue of the Chibok girls."
The Observer report stated that the RAF conducted reconnaissance missions in northern Nigeria in the months following the kidnap, in what was known as Operation Turus. "The girls were located in the first few weeks of the RAF mission," a source involved in the operation told the Observer . "We offered to rescue them, but the Nigerian government declined."
The report also cited notes from meetings between British and Nigerian officials, obtained under the Freedom of Information Act. At a May 2014 meeting between Jonathan and the U.K.'s then Africa minister, Mark Simmonds, the Nigerian leader said: "Nigeria's intelligence and military services must solve the ultimate problem."
Activists including leaders of the #BringBackOurGirls group criticized Jonathan for a slow response to the abduction; the Borno state governor, Kashim Shettima, also criticized the ex-president at the time for failing to contact him or other state officials for almost three weeks after the kidnapping.
Boko Haram, which has now splintered into two factions, has waged an armed insurgency against the Nigerian government since 2009. The group has displaced more than 2 million and kidnapped thousands of children and young people, many of whom have been deployed as suicide bombers