Finding Chibok Girls Is a 'Fight for Soul of Nigeria'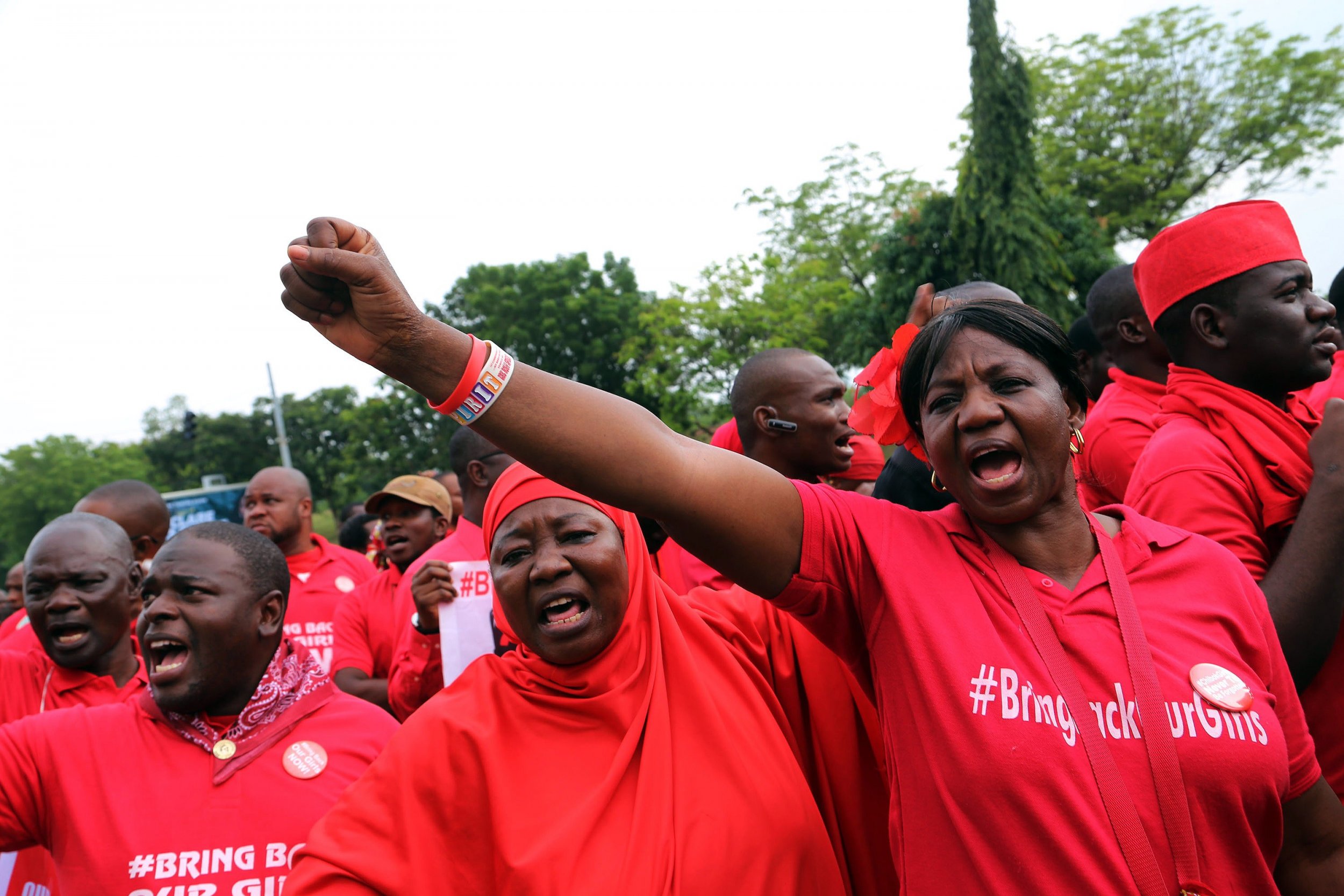 It's been almost two years since 276 schoolgirls were kidnapped from their dormitories in Chibok, northern Nigeria, and members of the Bring Back Our Girls (BBOG) campaign group continue to gather for daily vigils at Unity Fountain in the country's capital, Abuja.
The movement became a global cause celebre following the abductions on April 14, 2014, by members of the militant group Boko Haram. After the kidnappings, #BringBackOurGirls was used on social media more than one million times in less than three weeks and trended again on the one-year anniversary in April 2015. The U.S. First Lady Michelle Obama expressed her solidarity with the families of the girls and Pakistani activist Malala Yousafzai met with former Nigerian President Goodluck Jonathan to urge him to do more to liberate the girls.
As time has rolled on, however, the issue has faded into the background. In his inaugural speech in May 2015, Buhari promised that the government would not claim it had defeated Boko Haram until the girls were freed. Seven months later, however, the president claimed on December 24, 2015, that despite continued suicide bombings by the militants—and with apparently little recollection of his inaugural speech—the Nigerian military had "technically... won the war " against Boko Haram. In his maiden presidential media chat in December 2015, President Buhari also admitted that he had "no firm intelligence" on the Chibok girls' whereabouts.
According to Oby Ezekwesili, one of BBOG's founders, Buhari's admission simply wasn't good enough for those still hoping for the girls' return. "President Buhari is a very serious-minded person," says Ezekwesili, a former Nigerian education minister and Africa vice-president at the World Bank. "For him to now say [there is a] lack of credible intelligence, that was totally not going to work. If there is a lack of credible intelligence, then get it—get the credible intelligence, find it, discover it, do everything to get it."
For 640 long days, hundreds of families have remained separated from their daughters as attempts by successive Nigerian governments to locate and liberate the girls have failed. Following his election, Buhari offered fresh hopes to the girls' relatives and BBOG leaders by meeting with them in July 2015. In contrast, his predecessor, Jonathan, had previously accused the BBOG group of manipulating "the victims of terrorism."
Despite this meeting and a push to drive Boko Haram out of Nigeria's northeast, however, none of the Chibok girls have been rescued by government intervention. Fifty-seven girls have managed to escape of their own accord and have reported being traumatized by fears of the suffering their friends continue to endure. "I dream my friends have come back, but when I greet them, they don't answer me. I wish I could help them," one of the escapees, Rebecca Ishaku, told the Guardian in October 2014.
Buhari's admission of a lack of intelligence was the latest setback for the BBOG group. In response, members marched on Buhari's State House residence in Abuja on Thursday, petitioning the Nigerian government to prioritize the return of the Chibok girls. "The primary duty of government is to protect life and property and right now, Nigeria as a nation has failed the Chibok girls," says Aisha Yesufu, another of BBOG's coordinators. "We've failed to protect them and the next best thing is to ensure that they are rescued immediately. Right now, we have failed in that."
Neither Ezekwesili or Yesufu are parents of any of the abducted girls, who come from an impoverished region of Nigeria that has been devastated by Boko Haram's six-year insurgency . According to Yesufu, many of the Chibok girls' families are so poor that they cannot even afford televisions to track the latest developments in the search for their daughters and sisters. Yesufu believes that the government would be giving the issue a higher priority if the girls hailed from a wealthier part of Nigeria. "In Nigeria, when you are this poor, you are faceless, nameless and voiceless, and the government doesn't care," says Yesufu. "If they were the children of the rich...they would have been rescued immediately."
Garba Shehu, spokesman for President Buhari, told Newsweek via email that the Chibok girls' abduction was "an inherited problem" from the Jonathan administration. Shehu added that the Nigerian military had set up a special unit, which had received training from U.K. and U.S. forces, to be ready for immediate deployment on a rescue mission if and when intelligence on the girls' whereabouts is obtained.
"President Buhari has an unwavering commitment to finding the girls and reuniting them with their families," says Shehu. "When the government of Muhammadu Buhari gave strict directives for the Nigerian armed forces to root out Boko Haram and bring an end to the insurgency in our country's northeast, the kidnapped girls from the Government Secondary School in Chibok were foremost in his mind."
As the two-year anniversary of the Chibok girls' abduction approaches, a degree of international attention will undoubtedly return to the unresolved issue. Yesufu says she is hopeful that the prominence will assist in the girls' return and maintains it is a duty of Buhari's administration to find them. "However long it takes, the Nigerian government is responsible for 219 Chibok girls. Wherever they are...the government must ensure that they account for the girls because their abduction is all about what is wrong with this nation. The fight for the Chibok girls is a fight for the soul of Nigeria," says Yesufu.