A federal judge first appointed and then promoted by Republican presidents slammed former President Donald Trump after a jury found a January 6, 2021, Capitol riot defendant guilty this week.
Judge Reggie Walton, the senior U.S. District Judge for the District of Columbia, was first appointed as an associate judge on the D.C. Superior Court in the 1980s by President Ronald Reagan. He was later appointed to the D.C. District Court by President George W. Bush in 2001.
The longtime federal judge oversaw the trial of capitol rioter Dustin Thompson, 38, of Ohio. Thompson was found guilty of all charges by a grand jury on Thursday after he was captured by surveillance cameras during the riot carrying a coat rack and a bottle of bourbon that he stole from the Senate Parliamentarian's Office.
"You know, I think our democracy is in trouble," Walton said at the conclusion of the trial. "Because unfortunately, we have charlatans like our former president, who doesn't in my view really care about democracy, but only about power. And as a result of that, it's tearing this country apart."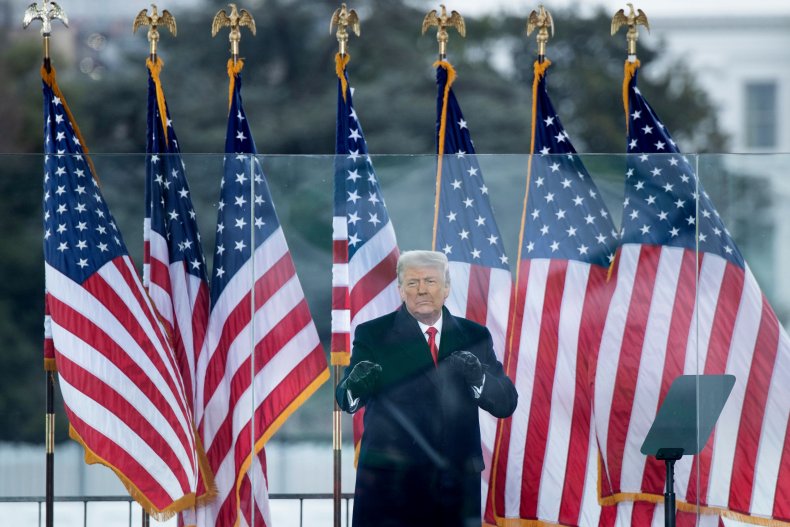 Walton described the pro-Trump violence targeting the federal government on January 6 as an "insurgency."
"I have a concern that we have, unfortunately, American citizens who were so gullible that they were willing to accept what was being said without any proof that the allegations about the election had any merit whatsoever," the judge warned. "People are just outraged at how they feel our system is not taking seriously what happened on that day because of their fear of the future of this country."
Hundreds of Trump's supporters stormed the U.S. Capitol a little more than 15 months ago in an apparent effort to disrupt the formal certification of President Joe Biden's Electoral College victory. The riot came directly after Trump told them at a nearby rally to "fight like hell" to save their country. For months, he had been saying that the 2020 election was "rigged" or "stolen" in favor of then President-elect Joe Biden.
While Trump and his allies have denied any wrongdoing or that they "incited" the attack, some of those involved in the Capitol riot have explicitly said they believed they were following Trump's orders.
"If the president's giving you almost an order to do something, I felt obligated to do that," Thompson said during his trial, NBC News reported.
As Walton pointed out in his rebuke of Trump, claims that the election was fraudulent are not supported by evidence. Dozens of election challenge lawsuits filed by the former president and his supporters failed in state and federal courts. Even judges appointed by Trump rejected the legal challenges. Audits and recounts across the country—including in areas where the election was overseen by pro-Trump conservatives—have consistently reaffirmed Biden's victory.
Former Attorney General William Barr, who was widely viewed as one of Trump's most loyal Cabinet members, has said repeatedly that there is "no evidence" to support claims of widespread voter fraud being behind Biden's win. Barr wrote in his memoir published in March that he told Trump directly to his face that the claims were "bulls**t."
In October of last year, Walton sentenced Capitol rioters Thomas Vinson and Lori Vinson, a married couple, to five years of probation, $500 in restitution and 120 hours of community service for their participation in the riot. The Vinsons were also each ordered to pay $5,000 in fines.
"I know that's a lot, but I want the sentence to hurt," Walton said at the time.
Newsweek reached out to Trump's press office for comment.
The former president has previously floated the idea of pardoning those involved with Capitol riot if he chooses to run for the White House again, and wins, in 2024.
"And if it requires pardons, we will give them pardons. Because they are being treated so unfairly," Trump said during a January rally in Texas.