GOP Governor Larry Hogan Blasts 'Completely Absurd' Republican Defense of January 6
Maryland's Governor Larry Hogan, a Republican, condemned fellow GOP lawmakers "completely absurd" defense of the events of January 6, when former President Donald Trump's supporters violently attacked the U.S. Capitol.
Hogan has frequently criticized Trump, particularly amid the president's response to the COVID-19 pandemic and in the wake of the January 6 insurrection against the federal government. The Maryland governor called out GOP lawmakers who have defended and downplayed the violent actions of the former president's supporters during an episode of CBS News' The Takeout podcast published on Friday.
"We have to get to the bottom of exactly what happened [on January 6]. And there's no whitewashing," Hogan asserted. "We need to get all the facts and find out exactly what happened. But there's no way to just overlook this and say it didn't happen. The nonsense about 'these were just peaceful tourists' is completely absurd," he said.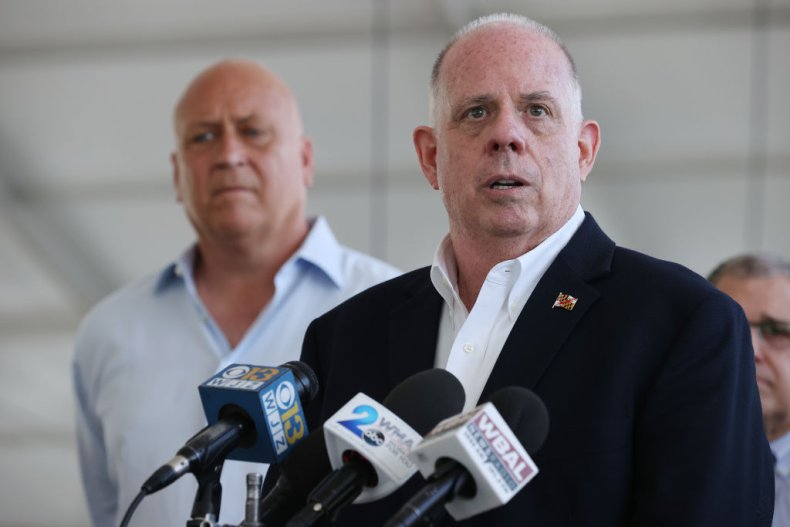 Hogan also expressed support for GOP Representative Liz Cheney of Wyoming, who was ousted from her leadership role as House Republican Conference chair in May due to her staunch opposition to Trump.
"I have a great deal of respect and admiration for Liz Cheney. I think she showed a lot of courage when there were not too many examples of profiles of courage," Hogan said. The Maryland Republicans said he would "try to help her in every way" he can as she seeks reelection in 2022.
While most Republicans have downplayed or attempted to move on from the events of January 6, Hogan, Cheney and a number of other high-profile GOP leaders have repeatedly condemned the events of that day and blamed Trump for what unfolded. The violence ensued after Trump urged his supporters at a nearby rally to "fight like hell" to keep him in office. Many in the crowd openly expressed a desire to harm or assassinate top Democratic and Republican lawmakers—including Vice President Mike Pence.
Senate Republicans blocked a bipartisan commission to investigate the events of January 6 from moving forward. Speaker of the House Nancy Pelosi, a California Democrat, then launched a select committee with less power given to GOP lawmakers. She also appointed Cheney to serve on the committee.
In February, Hogan urged fellow Republicans to move beyond Trump and his divisive style of politics. "I think we've got to move on from the cult of Donald Trump and return to the basic principles that the party has always stood for," he said in an interview with NBC News' Meet the Press.
The Maryland governor later in May described Trump's presidency as the "worst four years" ever for the Republican Party.
"I think we've got to get back to winning elections again, and we have to be able to have a Republican Party that appeals to a broader group of people. And we have to get back to having a bigger tent as [former President Ronald] Reagan talked about and not continuing to—look, we had the worst four years we've had, ever, in the Republican Party [under Trump]," Hogan told Meet the Press.
Hogan pointed out that his party lost "the White House, the House of Representatives and the Senate" during Trump's tenure.
Newsweek reached out to Trump's press office for comment but did not immediately receive a response.