GOP Governor Larry Hogan Cautions Against Trump Involvement in 2022 Midterms
Republican Maryland Governor Larry Hogan raised concerns about potential negative impacts resulting from former President Donald Trump being heavily involved in campaigning for GOP candidates during the 2022 midterm elections.
Hogan spoke to CNN on Sunday, praising Republican Governor-elect Glenn Youngkin in Virginia for running a campaign that distanced itself from Trump while also maintaining the backing of the former president's supporters.
"There's no question, Glenn Youngkin did a good job of not alienating that base, but Trump never stepped foot in the state, which was a great thing for Glenn Youngkin and for the country," Hogan said on State of the Union.
Hogan has long been critical of Trump, taking particular issue with the former president's handling of the COVID-19 pandemic and then his refusal to concede his loss in the 2020 election. The GOP governor said that he is worried about Trump's potentially negative influence in the 2022 midterms, suggesting Republicans should follow the example of Youngkin's campaign.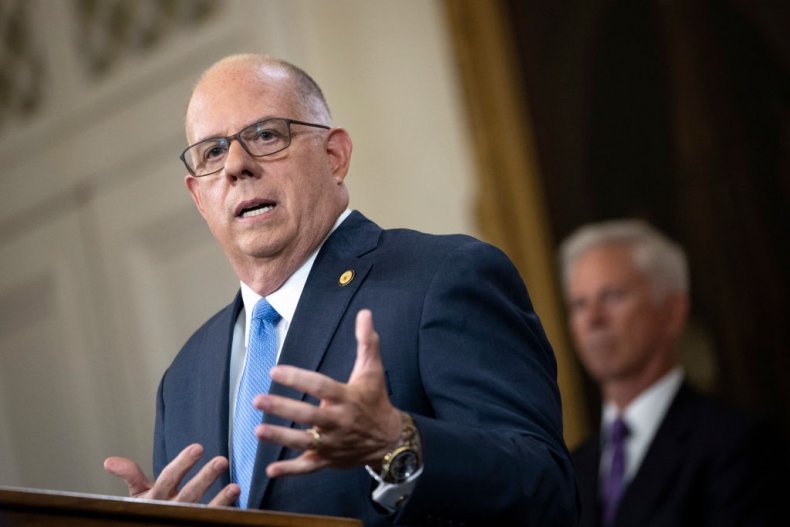 "Well I'm concerned about [Trump's involvement]," Hogan said. "It's obviously an issue to contend with. And if the former president interferes with primaries and tries to help nominate folks that are unelectable in swing districts and purple states, that's gonna hurt," he cautioned.
However, Hogan noted that this is a "constant problem." He pointed out that he easily won reelection in Maryland in 2018 as a Republican governor despite Trump losing there in 2016 and again in 2020 by a wide margin. "So it is possible," he asserted.
"The Democrats have been trying to make it all about Trump and I think that's a mistake."
Hogan also admitted that despite his sentiments, Trump is "likely not going away."
Polls consistently show that Trump remains widely popular with most Republican voters. But Hogan and other moderates are concerned about the sentiments of independents and moderate GOP voters who have been turned off by the former president's divisive style of politics.
Hogan has been highly critical of Trump's false claims that the 2020 election was "rigged" in favor of President Joe Biden. The Republican governor has also slammed Republicans who have attempted to downplay the severity of the January 6 attack against the U.S. Capitol by a mob of pro-Trump supporters.
"We have to get to the bottom of exactly what happened [on January 6]. And there's no whitewashing," Hogan said in a July appearance on CBS News' The Takeout podcast. "We need to get all the facts and find out exactly what happened. But there's no way to just overlook this and say it didn't happen. The nonsense about 'these were just peaceful tourists' is completely absurd."
During his interview with CNN on Sunday, Hogan urged fellow Republicans to move on from the 2020 election.
"We gotta look to '22 and '24 and we've gotta have a message that appeals to more people," he said. "It's not about the former president."
Newsweek reached out to Trump's press office for comment but did not immediately receive a response.