Arkansas Governor Asa Hutchinson, a Republican, said Sunday that President Donald Trump's messaging about the importance of mask-wearing during the ongoing COVID-19 pandemic has been "confusing," noting that leaders need to be "truthful."
The U.S. has seen a surge in new COVID-19 infections over the past couple weeks, breaking new records with daily infections soaring past 80,000 cases on Friday and Saturday, according to Johns Hopkins University's tracker. Meanwhile, Trump has continued to send mixed messages about masks and the seriousness of the outbreak.
The Quote
During an interview with CBS News' Face the Nation on Sunday morning, Hutchinson was asked by host Margaret Brennan if "the fact that the president doesn't wear a mask and endorse it ... does that hurt your ability to persuade your constituents to do what you are telling them is best for them?"
"Well, it makes it confusing," the GOP governor responded. "I mean, he's made it very clear that wearing a mask is important," Hutchinson said, noting that he'd seen the president wear a mask "going into the polls yesterday."
"But obviously with the rallies, there is confusing messages there. The president, leaders in crisis, always need to do two things. One is to be truthful and realistic and everyone knows that we are going through a very difficult crisis and it is going to likely get worse as we go into the winter," Huthinson said. "Secondly, you've got to give the American people hope. And that is the vaccine that the administration's working incredibly hard for."
"So they're working hard at the White House level, but the communication as to what we need to do is an important part as well," the Republican governor added.
Why It Matters
Face coverings and masks have been shown by scientific studies to significantly reduce the transmission of COVID-19. In August, Assistant Secretary for Health at the Department of Health and Human Services Admiral Brett Giroir, a medical doctor, told NBC News that a high-level of mask-wearing within the population could be as effective as a complete shutdown.
"Wearing a mask is incredibly important but we have to have like 85 or 90 percent of individuals wearing a mask and avoiding crowds. That...essentially gives you the same outcome as a complete shutdown," Giroir explained.
As coronavirus infections spread, with public health experts warning that the situation could become much worse in the winter, masks are seen as one of the best tools to combat the pandemic. But many Americans, particularly a sizable minority of right-wing supporters of the president, have opposed masks—arguing that being required to wear them violates their personal freedoms. While the president has expressed support for mask wearing, he and his family have declined to wear them in settings where they were required. Trump has also continued to hold large crowded rallies, where many people don't wear masks, and voiced support for individuals opposing face coverings.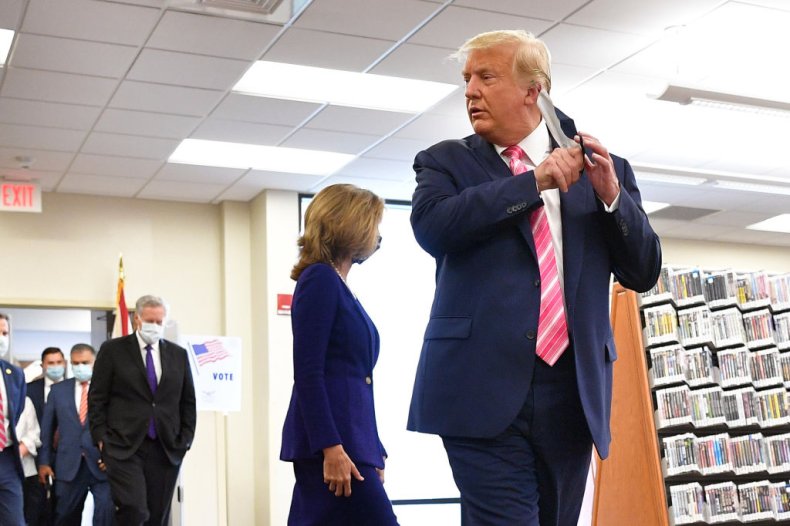 Opposing View
Administration officials and Trump supporters have defended the president's stance on masks, saying that he regularly wears masks when it's necessary. In August, the president's re-election campaign sent an email to supporters, telling them they should wear masks. Trump also posted his support for masks to Twitter.
"I don't love wearing them either," Trump wrote in the email to his supporters. "Masks may be good, they may be just okay, or they may be great."
Newsweek reached out to the White House for further comment, but it did not respond by the time of publication.
Correction 7:21 PM ET: to indicate that Asa Hutchinson is the governor of Arkansas, not Alabama as an earlier version of this story mentioned. We regret this error.