GOP Introduced More Than 260 Bills to 'Subvert' Elections After Trump's 2020 Loss: Report
The nonpartisan States United Democracy Center outlined Republican efforts to "subvert" free and fair elections, highlighting that more than 260 bills to interfere with elections have been put forward in states across the country, in a year-end report released this week.
Former President Donald Trump and right-wing allies falsely claim that the 2020 election was "rigged" or "stolen" in favor of President Joe Biden. Pro-Trump Republicans have used that conspiracy theory to justify new voting and election reform legislation, which critics have warned could undermine the democratic process.
"As one of the most challenging years in modern American history draws to a close, the emerging threat posed by efforts to subvert free and fair election administration has come into sharper focus," the opening paragraph of the States United Democracy Center end-year report explains. "To put it simply, the future of fair, professional, and nonpartisan elections is on the line and the erosion of public trust in our democracy is deeply concerning."
The report goes on to explain that "there have been at least 262 bills introduced in 41 states that would interfere with election administration—and 32 of these bills have become law across 17 states."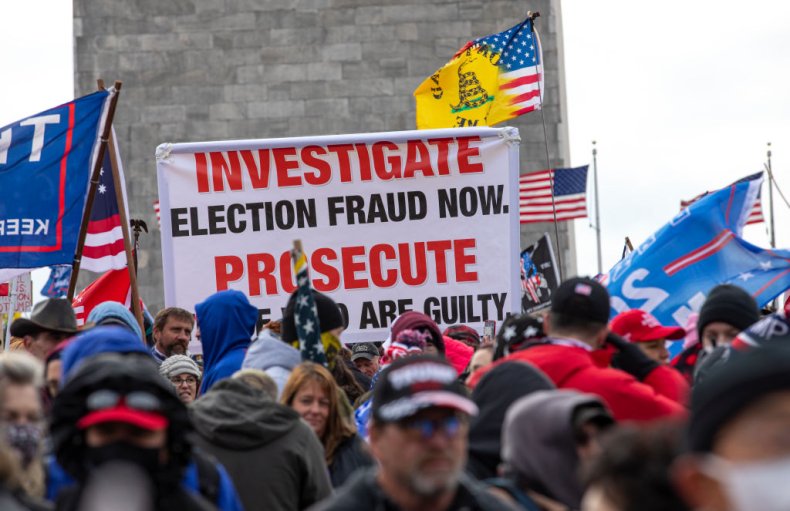 "The number of proposed bills that fall into the categories we have identified as promoting election sabotage has continued to grow and the number of bills enacted into law has also increased, despite the fact that most state legislatures went out of session mid-year. Additionally, the variety of ways that state legislatures now endeavor to undermine independent election administration is evolving," the report warns.
The organization behind the document was co-founded by former New Jersey Republican Governor Christine Todd Whitman, former Deputy Attorney General Joanna Lydgate of Massachusetts and Norm Eisen, an attorney who previously served in the administration of former President Barack Obama. The advisory board includes a number of prominent Democrats and Republicans, including former Democratic Governor Steve Bullock of Montana and former Republican Governor Tom Ridge of Pennsylvania.
"While many damaging proposals and efforts were beaten back in 2021 and pro-democracy officials from both parties continue to use every tool available to fight for free and fair elections, we again renew our warning ahead of 2022: we have a democracy crisis is in the making," the group's report warns.
Although Trump and many conservative allies claim that the last presidential election was rife with widespread voter fraud, they have not brought forward evidence to substantiate the allegation. To the contrary, dozens of their election challenge lawsuits have failed in state and federal courts. Even judges appointed by Trump and fellow Republicans have rejected the legal challenges.
Further, audits and recounts in key battleground states—including in places where the election was overseen by pro-Trump Republicans—have consistently reaffirmed Biden's victory. Former U.S. Attorney General William Barr, a key Trump Cabinet member who ordered the Justice Department to investigate claims of voter fraud last year, concluded in December of 2020 that there was "no evidence" of malfeasance that would change the election results.
"People who deny the results of the 2020 election want the power to be able to overturn the will of the voters in future elections if they don't like the outcome," Lydgate, the CEO of the States United Democracy Center, told Newsweek in an emailed statement.
"We won't let this election hijacking fly under the radar. We have trusted, pro-democracy leaders from both sides of the aisle in our states who held the line in 2020. This is the time to uplift, empower, and support them," she said.
This article has been updated with a statement from Joanna Lydgate.