Representative Fred Upton, a Michigan Republican, criticized Sunday the "MTG element," a reference to GOP Representative Marjorie Taylor Greene of Georgia, saying she and others make it "hard" to govern.
Upton was among the 10 House Republicans to vote to impeach former President Donald Trump for inciting his supporters to attack the U.S. Capitol on January 6, 2021. After more than three-decades serving in Congress, the Michigan Republican announced his retirement on April 5 in the face of a Trump-endorsed opponent as well as redistricting that significantly changed his constituency.
In an interview with NBC News' Meet the Press, the GOP lawmaker said that he is confident his party will take back control of the House after the midterms later this year. Upton added, however, that whether Republicans will be able to govern effectively will depend on the kind of majority they hold.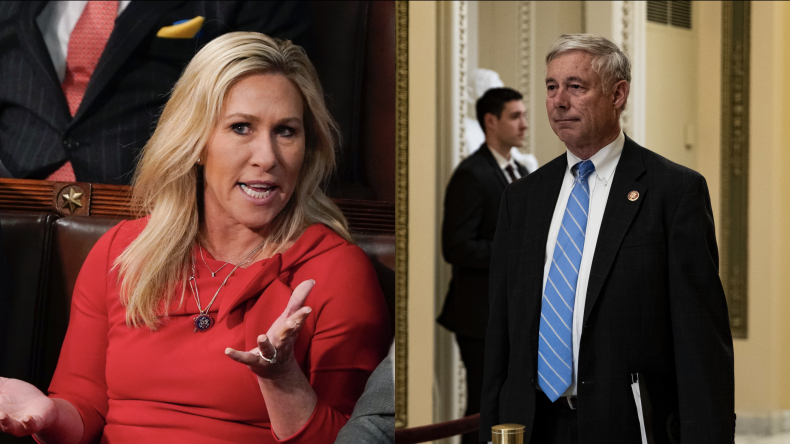 Host Chuck Todd asked Upton if GOP House Minority Leader Kevin McCarthy, of California, can effectively represent Upton, a moderate Trump critic, as well as Greene, a staunchly pro-Trump lawmaker.
"He can if he gets the margin," Upton responded. "That's why this over-under number is so important. Are we [Republicans] going to be over or under 230 [seats after the midterms]? If it's under 230—it will be very hard to govern for Republicans if we're under 230 knowing that we've got the MTG element that's really not a part of a governing majority."
Upton went on to say that he doesn't think Republicans have ever had "as many" representatives elected to Congress in "that wing" of the GOP—referring to the likes of Greene as well as Representatives Lauren Boebert of Colorado and Paul Gosar of Arizona. "I think they're very popular back at home," he pointed out.
Asked by Todd what that tells him about the Republican Party, Upton replied: "Troubled waters, I guess you could say."
Greene, Gosar and Boebert, along with several other prominent Trump loyalists, have faced substantial backlash during their tenure in Congress. Gosar and Greene spoke at a white nationalist event in late February, drawing criticism from Republicans and Democrats. Boebert and Greene have also both been widely associated with the QAnon conspiracy theory, although the two Republican lawmakers have said they do not ascribe to it.
Greene was expelled from her House committee assignments in early February 2021 after social media posts and videos of her promoting bizarre conspiracy theories resurfaced. The GOP congresswoman also previously harassed a Parkland shooting survivor and appeared to endorse a death threat against House Speaker Nancy Pelosi, a California Democrat. Upton joined 11 House Republicans and Democrats in supporting the decision to remove Greene from her committee roles.
"UPTON QUITS!" Trump said in a statement after Upton announced his retirement earlier this month,"4 down and 6 to go. Others losing badly, who's next?"
The former president has repeatedly slammed the 10 House Republicans that joined with Democrats in support of his second impeachment. He has backed primary challengers to all of them except GOP Representative David Valadao in California.
"Someone asked my wife Amey what would be the next chapter? She responded, 'And they lived happily ever after.' Indeed we will. I thank Amey, our two kids and three grandkids for giving me so very much to look forward to," Upton said as he announced his retirement in a House floor speech. "Thanks again to the people of my district who placed their faith and confidence in me all these years."
Newsweek reached out to Greene's spokesperson for comment.