Gov. Kristi Noem to Appeal Court's Ruling Banning July 4 Fireworks at Mount Rushmore
Republican South Dakota Governor Kristi Noem has promised to appeal a Wednesday court ruling banning fireworks at Mount Rushmore.
U.S. District Judge Roberto Lange ruled against Noem's lawsuit suing the U.S. Department of the Interior (DOI). Noem sued to overturn the National Park Service's (NPS) refusal to let her state hold a July 4 fireworks at the iconic national monument.
Lange, an appointee of Democratic former President Barack Obama, refused to issue an injunction against the NPS' decision. Lange said Noem failed to prove that the agency's refusal was "arbitrary and capricious" as she had claimed. Rather, Lange wrote in his 36-page decision, the NPS had provided rational reasoning for its refusal.
The NPS denied South Dakota's request last March. The agency said a fireworks display could risk the health and safety of the park and everyone in it. The NPS also mentioned objections from local Native American tribes.
"I am disappointed that the court gave cover to this unlawful action with today's decision. But rest assured, this fight is not over," Noem said in a statement after the decision.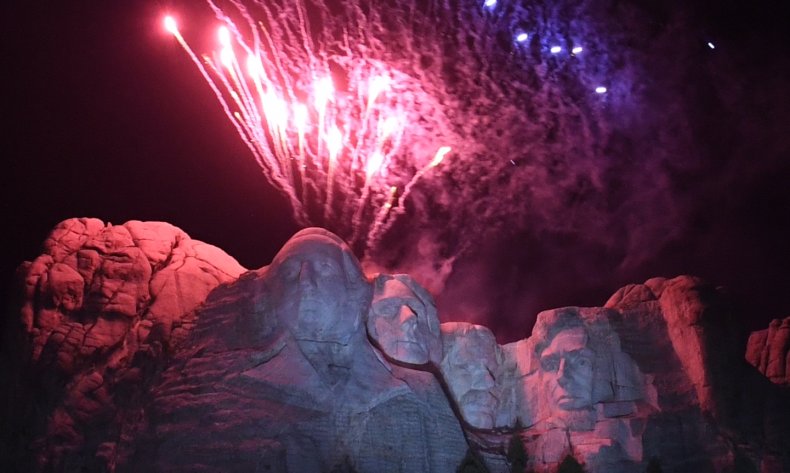 "My legal team will appeal this incorrect decision so that we can return the Fireworks Celebration to Mount Rushmore and celebrate our nation's birthday at America's Shrine to Democracy for next year and in the future," she added.
On April 30, Noem announced her intention to sue. She said the Biden Administration hadn't responded to her proposed Memorandum of Agreement to host a safe and responsible event either.
Despite a 10-year hiatus on fireworks celebrations at the national monument, last year, South Dakota got the DOI's approval to do a fireworks display as part of a July 4 event. Republican President Donald Trump spoke at the event and railed against "cancel culture."
Trump's event attracted thousands of attendees. Most didn't wear masks or observe social distancing. Critics worried it might become a COVID-19 superspreader event. However, health officials from the South Dakota Department of Health told ABC News that they didn't see an uptick in cases two weeks after it occurred.
Trump reportedly wanted his face carved into Mount Rushmore too, but there is no more carvable space upon the memorial's hillside. The iconic sculpture bears the faces of Presidents George Washington, Thomas Jefferson, Theodore Roosevelt and Abraham Lincoln.
The monument has been historically controversial. The Black Hills are considered sacred grounds by the Sioux tribe, and some have criticized the memorial for depicting two presidents who owned slaves.
"Mount Rushmore is a symbol of white supremacy, of structural racism that's still alive and well in society today," Nick Tilsen, a member of the Oglala Lakota tribe told the Associated Press. "It's an injustice to actively steal Indigenous people's land, then carve the white faces of the colonizers who committed genocide."
However, a 2020 Rasmussen Reports poll found that 75 percent of 1,000 likely voters didn't think Mount Rushmore should be closed or changed. The survey was conducted from June 29 to 30, 2020 and had a 3 percent margin of error.
Newsweek contacted the National Park Service for comment.