Here's How Much the Presenter and Performers at the Grammys Get Paid
The Grammys 2022 are coming to CBS on April 3, with Trevor Noah set to host the American music industry's biggest night.
Trevor Noah joins a list of former hosts that includes such big names as Frank Sinatra, Whoopi Goldberg and James Corden. The job is a pretty high-pressure one, and attracts some big names—so you might expect it to pay well.
But you would be wrong. Award ceremonies (and the Super Bowl half-time show) are less lucrative than you might think. Though the frequent articles that you see claiming that artists do not get paid at all are not strictly accurate, stars still receive a fairly small paycheck for the gig.
This also applies to the performers, who this year include such massive names as BTS, Billie Eilish and Lil Nas X.
How much Grammys presenters are paid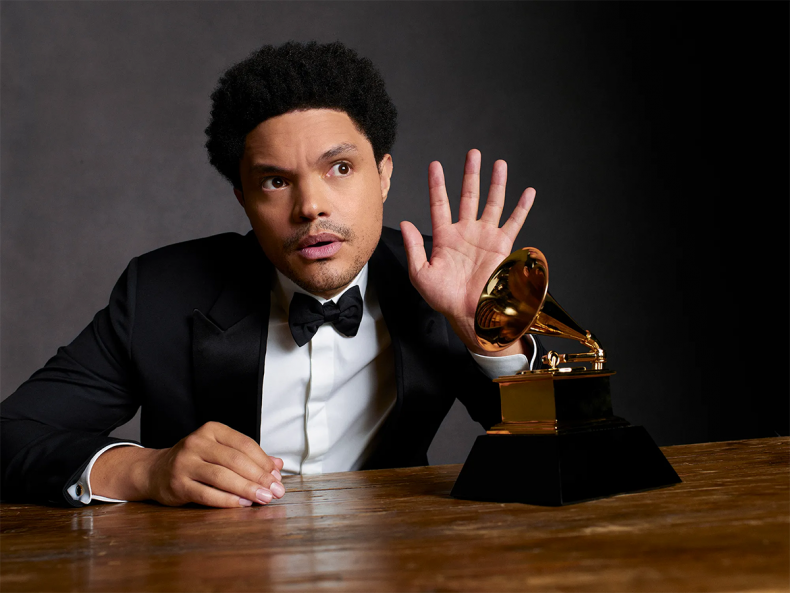 The least that a Grammys presenter can be expected to be paid is around $5,000. This is due to hosts being members of the SAG-AFTRA union, which sets minimum rates that its members have to be paid for work. Presenters will also usually get their travel expenses paid.
In 2017, Forbes reported that the total a host may make from the ceremony once all the rehearsal time and other behind-the-scenes work is factored in is around $20,000. A significant sum for most of us for more, but nothing compared to the $16 million Noah makes per year thanks to his Daily Show contract.
So why do hosts do it? Exposure is one key element—even though award ceremony viewing figures are on the slide, they are still higher than any other show a host is likely to helm. There is also likely a sense of professional obligation. The Daily Show airs on Comedy Central—owned by Paramount, owners of CBS, which is airing the Grammys.
This explains why so many recent Grammys hosts have had a link to CBS, whether it be James Corden, or LL Cool J (who stars in the network's NCIS: Los Angeles).
The Grammys hit headlines in 2021, in fact, for how little they were willing to pay the host. This was thanks to Tiffany Haddish, who revealed she turned down the offer to host the pre-show. She told Variety that they had offered not to pay her, including for her make-up and wardrobe expenses. She said:" All of that would have to come out of my pocket...I think it's disrespectful."
In reaction Recording Academy president Harvey Mason Jr. ​​posted an apology on his Instagram that read in part: "I'm frustrated by that decision. It was a lapse in judgment, it was in poor taste, and it was disrespectful to the creative community. I'm part of the creative community. I know what that feels like, and it's not right."
However, this apology only covered the fact that the talent booker had not offered to cover her costs—it did not suggest that hosts would be paid more in the future.
How much are performers paid for the Grammys?
A Recording Academy spokesperson told Variety that it was a not-for-profit organization, and that all performers and presenters had traditionally not been paid (apart, presumably, for the SAG-AFTRA minimums). This presumably includes any dancers or musicians supporting the headline artists, though many of these will receive payment from the artists' record label as part of contracts they have to work with that artists on their tours and other appearances.
The incentives for artists to perform are more obvious—a hyped performance at the Grammys can lead to a huge boost in record sales and concert tickets. This is also why record labels are happy to put money into making performances into lavish spectacles— it is considered an investment in their artists. As Lil Nas X proved with his recent series of provocative award show performances, they can buy weeks of publicity.
Billboard reported in 2020 that the performers in that year's ceremony received a collective sales boost of 266 percent after they had taken to the stage.