How a Texan Mom's Fight for Her Trans Son Left Her 'Financially Devastated'
One Texan family moved across the country to protect their transgender child as Republicans in their home state attempt to introduce anti-trans laws, and it cost them everything.
Katie Laird and her family, including Noah, 16, made the decision to leave Texas when they realized their son's life was "literally in the hands of political desires" and the hospital where they were accessing care stopped offering gender-affirming health care
They agreed to document this process for the NBC OUT documentary Dear Noah: Pages from a Family Diary.
Texas has introduced more anti-trans bills than any other state and its legislature considered, but failed to pass, a ban on gender-affirming health care for trans people under 18.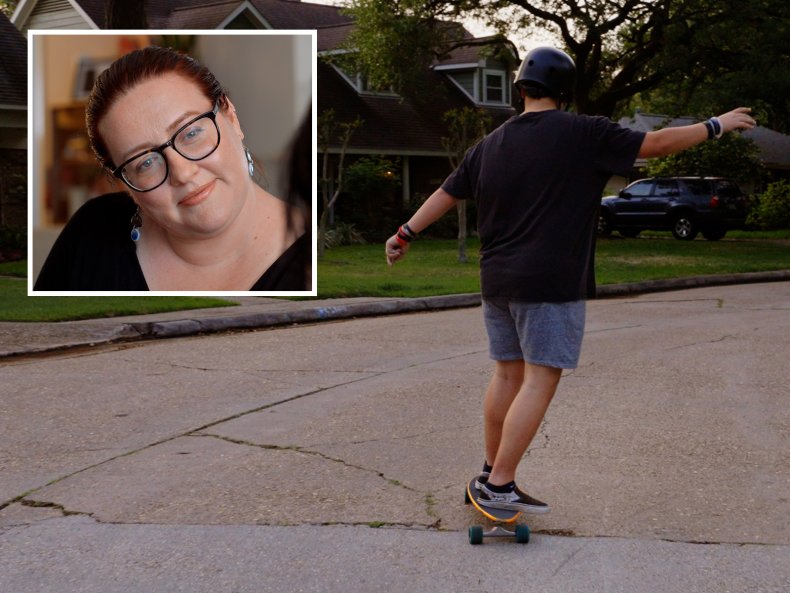 Texas also introduced a directive to investigate parents of trans children who might still be trying to provide that health care. The directive, signed by Republican Governor Greg Abbott, was in response to an inquiry from the Texas House of Representatives which asked if certain "medical and chemical procedures on children" could fall under the category of child abuse.
As a result, there was a 150 percent increase in calls by LGBTQ+ youth last year to the Trevor Project, a crisis support service for the community.
"I am furious about what is happening to these children. I have been very noisy, and noisy means a lot of [letter] writing and a lot of media appearances on both the local and national stage... because many families have been forced to go under the radar," Laird told Newsweek.
Gender-affirming health care based on the World Health Organization's definition is a wide-ranging term that refers to a range of social, psychological, behavioral, and medical interventions "designed to support and affirm an individual's gender identity" when it conflicts with the gender they were assigned at birth.
Medical interventions such as puberty blockers or hormone therapy are decided based on a child's cognitive and physical development as well as parental consent, according to the Association of American Medical Colleges.
Surgical interventions like reducing the size of an Adam's apple or altering genitalia to align with their true gender are very rarely performed on people under the age of 18.
Gender-affirming care is often deemed as "life saving" because of the positive mental health effects it has for trans youth who are at higher risk of mental health issues, including suicidal ideations, than their peers whose gender identity corresponds to that assigned at birth, according to research by the American Academy of Pediatrics.
The American Medical Association slammed the Texas bills and other similar bills across the country. It wrote to legislators to warn that it was "imperative that transgender minors be given the opportunity to explore their gender identity under the safe and supportive care of a physician."
Texas lawmakers introduced 52 anti-LGBTQ+ bills in 2021 and 2022, including banning trans kids from participating in sport, which Abbott indicated was a priority for his government.
Even though many of these bills did not pass, Republicans are looking to line up more legislation targeting the trans community in January's legislative session.
Whether or not they pass, the harmful rhetoric can take a toll on mental health for trans youth.
"Put yourself in the point of view of a young child who is overhearing snippets of adult conversation or reading random headlines from the news, where even before he's able to feel comfortable coming out to us, he's already feeling attacked and bullied by adults in power," Laird explained.
The family left behind their support network, including family and friends, a little more than three months ago to move to Colorado to start a new life where Noah could get the life-saving gender-affirming care he needed.
Given the urgency of the situation, they moved with very little planning or time to save money which has been "devastating for us financially and socially," Laird explained.
"There has been a notable shift in how some of our closest friends and family have viewed us and have treated our son. And in my mind, it is based purely on this hurricane of hateful rhetoric of attention grabbing headlines, to stoke fear and anger and activate a voter base," she said.
"We have felt the very personal effects of what language and public discourse can have on how a person is viewed as a human and treated as a community member."
It's been a whirlwind couple of years for the family who are not only navigating life with a transgender child in the middle of the global COVID-19 pandemic, but have put themselves at the forefront at campaigning for law reform and raising awareness of transgender rights, including testifying at Capitol Hill.
That has not come without its risks as Laird reveals those who speak up for transgender children face death threats, public heckling and even doxxing — publishing someone's personal information such as address or phone number online with malicious intent.
"It's really, really scary and we made the decision to put ourselves out there. I do not regret it. But it is difficult," Laird admitted.
It has not stopped her resolve to advocate for her son, which is laid bare in Dear Noah: Pages from a Family Diary.
The short film documents the family's journey amid the uncertain political landscape and as they grappled with the decision whether or not to leave Texas when Noah's gender- affirming health care was stopped.
The teenager was just as adamant about sharing his story to help other families in their situation.
"I mean, it was hard for all of us. But he saw the value in being able to share his experience... and he wanted to be able to show what it can be like when a family commits to an action and supports them," Laird explained.
"It was very important to him."
Laird was also terrified authorities would take her son away and put her under investigation just for "seeking best practice medical support" for her son's gender dysphoria.
"They're wanting to turn us into felons, wanting to send us to prison for 10 years, and wanting to take all of our children away and put them in a broken foster care system," she said.
"So that, as you might imagine, put us on edge and then the question became as proud native Texans in love with our home state, 'is it worth staying here?'"
Laird revealed the "final straw" was when the Texas Children's Hospital paused gender- affirming care indefinitely, "for fear of losing state funding," and "decided to bow to political pressure and removed our ability to seek medical care for our child."
"We once more had politicians with no legal grounds trying to push this harsh reality, to erase the personhood of our children," she said.
Supporting her son's gender-affirming journey was never in question for Laird and her family who said that Noah from the age of 5 years old had a "very clear sense of his gender identity."
"That shift was so absurdly simple, but it really was looking our son in his eyes, and seeing the person that he was deep inside," she said.
"When we embraced our son as our son, when we affirmed his gender, everything shifted for him. We were able to more easily work through his bouts of depression, bouts of self harm, because he was empowered to be who he was, which is such a basic, but essential thing that I think so many of us take for granted."
The mom also had a message for people who might not agree with her or those who support transgender rights.
"It starts and ends with our shared humanity," Laird said, and added, "I would suggest to focus on that humility to focus on the golden rule, 'how would we want to be treated in our collective infinite diversity'?"
"This is an already at risk group who was already going through so much, who should just be left alone."
Despite the challenges of raising a transgender child in a hostile political and social climate, Laird remained positive.
"As a mom I feel like this is what I was born to do—to raise and love my children no matter what. And this is that no matter what," Laird declared.
"We take care of our babies, and we listen to them, we learn from them. That's our story."
Newsweek has asked Texas Health and Human Services for comment.
Dear Noah: Pages from a Family Diary premieres at the Meet the Press Film Festival at DOC NYC on November 15. The short film will later air on NBC News NOW on Friday, November 18 at 10:30 p.m. (ET) and also be available to stream on Peacock.
If you are in need of LGBTQ+ mental health support please call the Trevor Project's 24/7 toll-free support line at 866-488-7386 or call the National Suicide Prevention Lifeline at 800-273-8255 or text 741741.