Hairdresser Working With Coronavirus Symptoms Potentially Exposes 84 People
A stylist at a Great Clips hair salon in Springfield, Missouri may have potentially exposed 84 people to COVID-19 because they continued working despite having symptoms of the virus.
The stylist worked alternating morning and afternoon shifts at the hair salon franchise. Now, the Springfield-Greene County Health Department is trying to warn anyone who may have come in contact with them.
The hairstylist and their clients were reportedly wearing face masks during the infected employee's work shifts, possibly minimizing the number of potential coronavirus exposures, though it's not yet clear if any new cases have been traced back to the stylist's workplace.
The health department has said that other patrons of the salon during this time were probably at very low risk of exposure.
"Our priority is the well-being of customers and stylists," Great Clips said in a statement to Newsweek. "Our franchisees are building upon a history of proper sanitization and salon licensing requirements by following all federal, state/provincial and local requirements as salons resume operations."
The company said the stylist is following medical advice and taking appropriate actions.
"In addition," the company continued, "the franchisees have closed the salon to undergo additional sanitization and deep cleaning, consistent with guidance from the Springfield-Greene County Health Department and the CDC. They remain in close contact with the local health department and will reopen the salon based on guidance from that agency."
Additionally, the health department has notified recent patrons of a local Walmart, Dairy Queen, CVS and a 10 Fitness gym because symptomatic patrons recently visited various locations of those businesses over the last week as well.
The health department has said that people should monitor themselves for COVID-19 symptoms, but discouraged self-quarantining unless symptoms develop.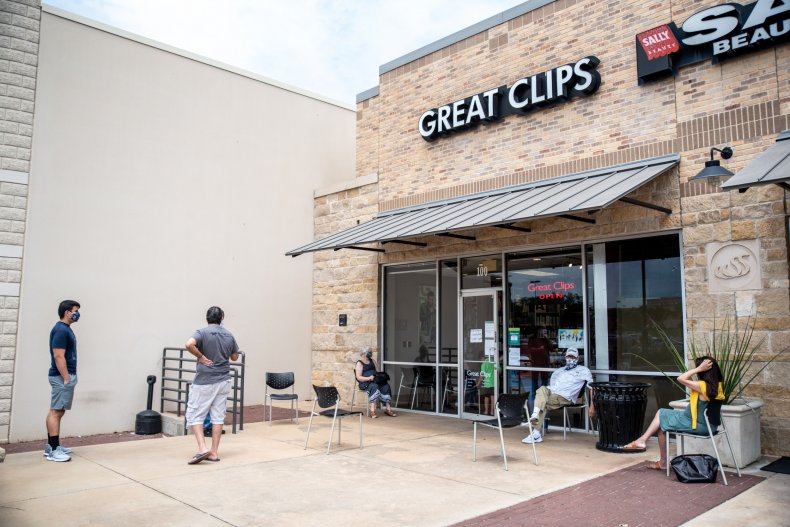 The salon was allowed to operate under the now-expired "Stay Home Missouri" implemented by Republican Governor Mike Parson from April 6 until May 3. Missouri's reopening plan requires businesses to observe social distancing measures and other precautions to slow the virus's spread.
As of May 22, Missouri has had 11,558 confirmed coronavirus cases and 671 deaths. Greene County, where Springfield is located, has had 102 cases and seven deaths as of the same date.
Amid differing lockdown and reopening plans for states and cities nationwide, hair salons have emerged as an unlikely battleground for the rights to commerce and public health during the ongoing epidemic.
On Wednesday, Cat Thibodeau—owner of Modern Barber and Shave, a barbershop in Pawcatuck, Connecticut—reopened her business in defiance of Governor Ned Lamont's executive order closing all non-essential businesses to slow the spread of COVID-19.
Similarly, 77-year-old Owosso barber Karl Manke reopened his barbershop last Monday in violation of Michigan Governor Gretchen Whitmer's executive order shutting down all non-essential businesses.
Both Manke and Thibodeau said they could no longer survive without making an income and pledged to observe safety guidelines to minimize customers' possible exposure to coronavirus.
In Texas, Shelley Luther, owner of Salon Á La Mode in north Dallas, was imprisoned for several days after she continued to operate her business.
The Texas Supreme Court eventually ordered her release after Texas Governor Greg Abbott rewrote his executive order to forbid future arrests for businesses that violated his executive order.
Hairdresser Working With Coronavirus Symptoms Potentially Exposes 84 People | U.S.