Harris, Under Fire at Home and Abroad, Touts Progress in Migrant Crisis Diplomacy
Vice President Kamala Harris is touting the Biden administration's progress on dealing with the influx of undocumented immigrants at the U.S.-Mexico border amid criticism from within the U.S. and abroad.
Harris emphasized the "root causes" of migration during her two-day trip to Guatemala and Mexico. Mexican President Andrés Manuel López Obrador met with Harris for more than an hour on Tuesday but did not attend a press conference where the vice president said she was "optimistic about the potential for progress." During an interview with NBC's Lester Holt, which was taped in Guatemala on Monday and aired on Tuesday, Harris insisted that progress had already been made.
"I would suggest to you that we have seen progress already," Harris told Holt. "When we have 12 of the biggest corporations of America... I've convened them in my office and they have agreed to help us work on this issue. Success so far is the bringing together of community-based organizations, not only United States, but here in Guatemala."
"Today that was one of my meetings, with civil society leaders," she continued. "To let them know we see them. We understand their concerns about corruption and we also understand their role of leadership to help us, in terms of how we prioritize our work in this region."
Harris deflected a question that has been repeatedly asked by U.S. conservatives since President Joe Biden put her in charge of efforts to reduce migration, telling Holt that she did not "understand the point" of asking whether she planned to personally visit the Mexican border. She committed to a personal visit during Tuesday's press conference.
"Yes, I will [visit the border]," Harris said. "And I have before... I've spent a lot of time on the border, both going there physically and [being] aware of the issues. But the reality of it is that we need to prioritize what's happening at the border. And we have to prioritize why people are going to the border."
"When the President asked me to deal with this issue, it was about addressing the root causes of migration," added Harris. "And the root causes are based on the problems and the challenges that people are facing in countries like Guatemala, which is why I was there."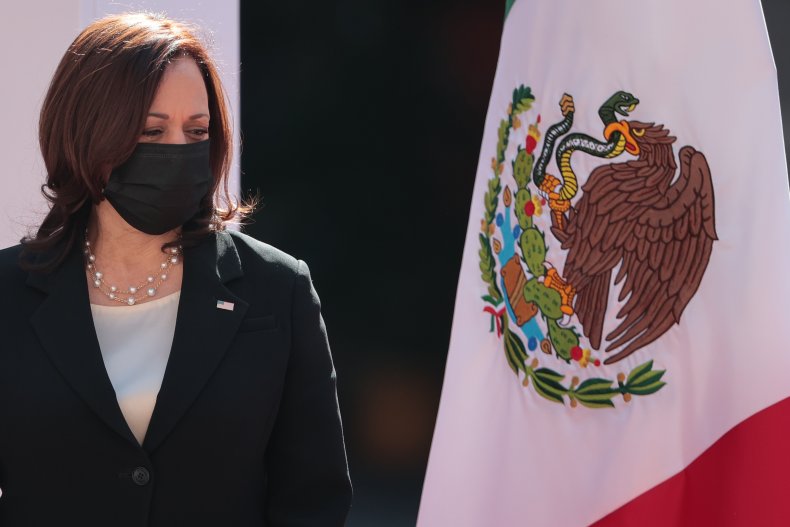 Harris received a mixed reception during her visit to Guatemala. A small group of protesters carried signs falsely claiming that former President Donald Trump "won" the 2020 election while urging her to "mind your own business" prior to her meeting with Guatemalan President Alejandro Giammattei.
One day before his meeting with Harris, Giammattei criticized the Biden administration's approach to the migration issue, telling CBS that "the coyotes here were organizing groups of children to take them to the United States" immediately after the new president promised to "reunite families" and "reunite children."
In March, López Obrador said that the administration's approach had convinced migrants that it was "easier" to cross the border than during the Trump administration, implying that the perception helped increased profits for Mexican drug cartels and gangs involved in human smuggling. He said that the two countries shared "a common humanist vision" after meeting with Harris on Tuesday.
An initiative to combat human smuggling with partnerships between Mexican and U.S. law enforcement agencies was one of several bilateral agreements that Harris announced on Tuesday. Agreements were also made concerning efforts to address the root causes of migration in Central America, boosting the economy in Southern Mexico and increasing dialogue on economic and security issues.
While the Biden administration's immigration policies have received nearly constant criticism from U.S. conservatives, criticism has also come from the American left. Harris faced heavy backlash from prominent progressives after warning prospective migrants that they should "not come" to the border in Guatemala on Monday.
Rep. Alexandria Ocasio-Cortez (D-N.Y.) described the vice president's comments as "disappointing" while criticizing American foreign policy in Latin America by saying that the U.S. "can't help set someone's house on fire and then blame them for fleeing." Rep. Rashida Tlaib (D-Mich.) accused Harris of promoting a "stay there and die" approach to immigration.
Newsweek reached out to the White House for comment.