Few literary works inspired the fervor of the Harry Potter book series in the late 1990s through 2007. With each new novel's release, fans would queue outside their local bookstores, often tailing around the block, hoping to grab the first copy at midnight.
The release of the final book, Harry Potter and the Deathly Hallows , was a major cultural event that was covered fervently on news broadcasts: the scores of young readers dressed as witches and wizards, the thrill of author J.K. Rowling's special midnight reading of the novel to select fans, and the extra postal workers put on duty to deliver all of the pre-ordered copies on the day of release.
Nine years later, a new Harry Potter book is already inspiring similar anticipation as, at midnight on Sunday, fans across the U.K. will finally be able to find out what Harry Potter did next. This time, however, it isn't a novel that fans will be clamoring for—but a script of the new London stage play Harry Potter and the Cursed Child, penned by Rowling and screenwriter Jack Thorne, and billed as the eighth story in the series.
Ahead of release, just as Rowling's original books did, the script for Cursed Child is already breaking records. It is the most pre-ordered book, in print and electronically, on Amazon in the U.K. and U.S., while American retailer Barnes & Noble said it was the most pre-ordered book in company history—a title previously held by Deathly Hallows.
Potter fans hoping to be part of the magic of the latest book release will be pleased to know that there will be special measures and events around the Cursed Child script release late Saturday and into the early hours of Sunday.
Read on for Newsweek 's guide to the Cursed Child release:
Why is this a big deal?
Harry Potter is undoubtedly one of the most lucrative entertainment franchises in history, spawning books, eight films, theme park rides and a studio tour. The news of an eighth story in the world by J.K. Rowling was always bound to be a huge cultural event for both fans old and new.
To put it into numbers:
11 million: The number of copies Harry Potter and the Deathly Hallows sold in its first 24 hours of release worldwide in July 2007.
450 million: The number of Harry Potter books sold around the world.
$7.7 billion: How much the eight Harry Potter films released by Warner Bros. grossed at the box office between 2001 and 2011.
And now we can add a new figure to the list: 4.5 million, which is the number of copies Cursed Child 's U.S. publisher Scholastic has printed in anticipation of demand Sunday.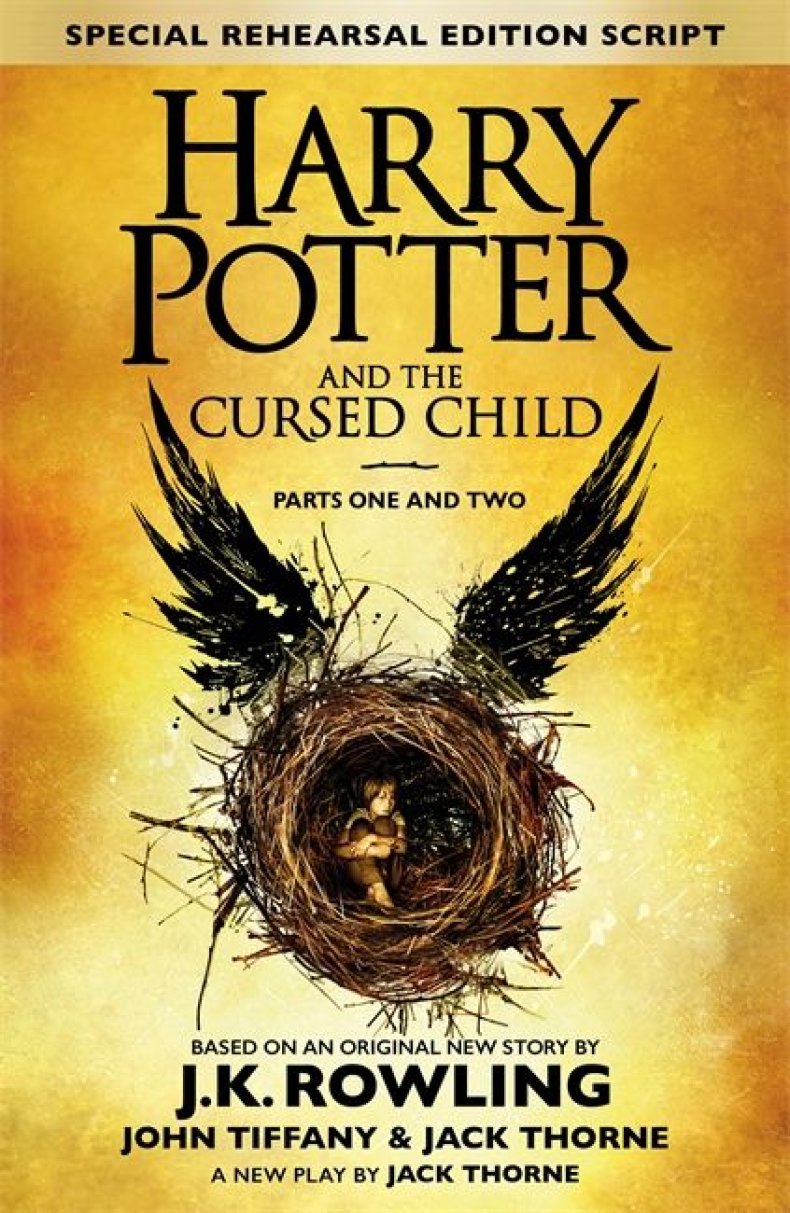 How to buy it
If you're not one of the lucky fans able to see Cursed Child performed at the Palace Theatre in London's West End—tickets are sold out through May 2017—then reading the script is your next best bet.
Most retailers will be selling the book from midnight on July 31, staying open or opening especially for its release.
Online retailer Amazon, which already provides free one-day delivery through its Amazon Prime service, is even offering a special midnight delivery slot through its Prime Now app for fans who want Cursed Child in their hands as it's released. "Prime Now will start accepting pre-orders at 9.45 p.m. local time on July 30 and orders must be placed prior to 11.30 p.m. on July 30," Amazon said. The script will then be delivered between midnight and 2 a.m. local time.
Join the magic
If you want to be part of Potter-mania, release events will be taking place from late Saturday evening through the early hours of Sunday morning at bookstores across the U.K.
Just across the road from the Palace Theatre, where Cursed Child celebrates its official opening night Saturday, Foyles' flagship store in Charing Cross will host an event fit for fans of all ages. Guests are invited to take part in a quiz testing their knowledge of Rowling's enchanted universe, enjoy Potter -themed food and drink and then stick around for the midnight release of Cursed Child . The celebration begins at 9 p.m.; however, it is a ticketed event.
Foyles will also be hosting smaller events for children during the day Saturday at its Royal Festival Hall and Waterloo stores in London, as well as its Grand Central, Birmingham and Cabot Circus, Bristol stores.
Around 150 Waterstones stores across the U.K. will play host to evening parties where fans of the boy wizard are encouraged to don fancy dress. These parties, leading into midnight, will include quizzes, a screening of the movie Harry Potter and the Deathly Hallows: Part 2 and readings from the Deathly Hallows novel. For a full list of stores participating click here.
Fittingly for the release of Cursed Child , WHSmith will host a midnight event at its store inside King's Cross railway station—home to Platform 9¾. The store is running a competition to give away a signed copy of the script and four tickets to the Making of Harry Potter studio tour just outside London.
Blackwell's , meanwhile, is hosting events at stores in Cambridge, Edinburgh and Manchester to mark the occasion.
Building anticipation
If you're struggling to contain your excitement for Sunday midnight, Newsweek has got you covered. Check out some of our Harry Potter-related content at the links below:
Harry Potter and the Cursed Child is onstage now at the Palace Theatre in London. The script of the play is published on July 30.