Here's What Happens if Democrats' Worst Case Midterms Scenario Comes True
Republicans may be on track to win significant victories in the upcoming midterm elections and the party could be preparing to give President Joe Biden a major headache for the next two years.
In the worst case scenario for Democrats, the GOP would gain control of both the House of Representatives and the Senate in the elections that are less than two weeks away.
Poll tracker FiveThirtyEight's analysis finds that Republicans are favored to win the House but the race for the Senate remains a dead heat as the parties compete in tight elections in Georgia, Nevada, Pennsylvania and elsewhere.
GOP control of both chambers would open the door to two years of legislative gridlock where Republicans would likely stymie Biden's agenda while trying to implement their own.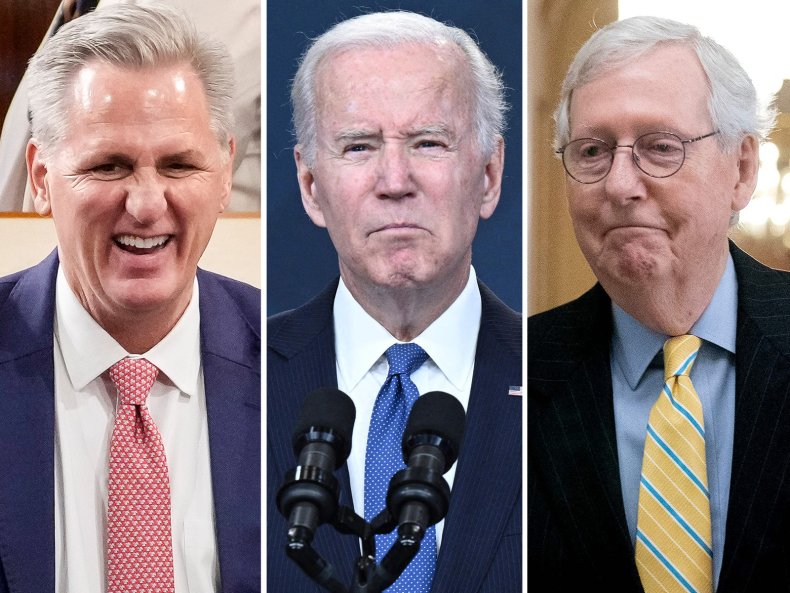 Republicans, many of whom are still fiercely loyal to former President Donald Trump, could also launch a series of investigations into the Biden administration and even attempt to remove him from office.
Here are some of the things Americans might expect to see if Republicans win big on November 8.
Legislative Paralysis
Biden faced challenges in getting important parts of his agenda passed over the past two years despite Democrats controlling both the House and Senate. With a GOP majority in either chamber, Biden is unlikely to rack up any legislative achievements.
"If the Republicans take the House and flip the Senate—and they have a better than even chance of both—we know what will happen legislatively: we'll be in for two years of paralysis," Mark Shanahan, an associate professor at the University of Surrey in the U.K. and co-editor of The Trump Presidency: From Campaign Trail to World Stage, told Newsweek.
"The GOP will stymie the Biden agenda at every turn, stamping down hard on public spending and will push their own legislative plans, particularly around making some of the time-constrained tax cuts from the 2017 Trump Tax Cuts and Jobs Act permanent," he said.
"In turn, as long as the GOP doesn't have a Senate supermajority, the President will impose his veto to hold back the conservative agenda," Shanahan added.
"Unless Democrats pull off an upset and keep control of both houses, Biden's legislative agenda will be severely constrained," said Paul Quirk, a political scientist at the University of British Columbia in Canada.
"Republicans controlling either house will block any liberal-leaning legislation. Congress will not pass voting-rights legislation intended to promote participation or prevent Republican voter suppression," he told Newsweek.
"New spending on health care, social services, and education that was blocked in the current Congress will remain blocked in the next one," Quirk said, but he added that Republicans won't be able to pass major cuts in Social Security or national restrictions on abortion.
"Biden will veto any contentious Republican measures," he said.
Investigations
If Republicans gain control of congressional committees, they are widely expected to use those committees' investigative powers to launch probes of the Biden administration on a wide array of issues.
One of the most likely topics of investigation would be President Biden's son, Hunter Biden, whose foreign business dealings have long been the subject of scrutiny among Republicans. Any investigation of Hunter Biden would almost certainly probe accusations of the president's involvement in his business affairs.
"The House Oversight Committee is going to be all over Hunter Biden," Republican Representative James Comer told Politico in April. "We're going to focus on Hunter Biden not for political reasons, but because we feel he's a national security threat."
Comer would likely become chair of the Oversight Committee if the GOP wins the House.
But congressional probes may not be limited to Biden and his son. Republicans have indicated an interest in investigating Dr. Anthony Fauci, director of the National Institute of Allergy and Infectious Diseases, the Departments of Justice and Homeland Security, and the U.S. withdrawal from Afghanistan, among other matters.
Shanahan told Newsweek to expect resolutions "around both immigration and the less-than-glorious withdrawal from Afghanistan" and he linked these potential investigations to another issue: impeachment.
"Republican control of the House of Representatives, with a McCarthy speakership, will produce two years of performative chaos," Quirk told Newsweek.
"The Republicans may conduct constructive investigations into some of the failures and controversies of the Biden administration—the mismanaged withdrawal from Afghanistan, the flow of refugees and illegal immigrants at the border with Mexico, and the massive inflationary spending programs, among others," he said.
Impeachment
Trump was impeached by the House twice and twice acquitted in the Senate. The lack of a necessary supermajority to convict and remove Trump did not prevent Democrats from bringing articles of impeachment against him and may not discourage a GOP majority from impeaching Biden.
"The fear for Biden is impeachment," Shanahan said. "There's a strong groundswell among Trumpist Republicans to impeach the President around the legitimacy of his 2020 election, exploding his legacy and tilting the 2024 Presidential race firmly in favor of the Republican candidate."
Last year, Republican Representative Marjorie Taylor Greene introduced a resolution in the House to impeach Biden but Shanahan described that as "a toothless, symbolic shot across the bows."
"With a Democrat House Majority, it got nowhere. But if the Republicans prevail, POTUS can expect new Resolutions with far stronger teeth," he warned.
Biden may not be the only official who's facing impeachment. More than 30 House Republicans have co-sponsored a resolution to impeach Homeland Security Secretary Alejandro Mayorkas, while Representative Greene has also suggested impeaching Attorney General Merrick Garland.
Some Republicans want to impeach Mayorkas over what they see as his failure to deal with problems along the U.S.-Mexico border, while some critics have accused the Department of Justice, which Garland leads, of wrongly treating some parents as extremists.
Shanahan told Newsweek there was "every chance" that an impeachment resolution against Biden could advance.
"Once again policy will go out the window as the Trumpist congressional foot soldiers fall in line to deliver what '45 wants most: revenge," he said, referring to Trump, the 45th president of the United States
Quirk said that Republicans "have vowed to launch several different impeachment proceedings, based more on the urge to give Democrats payback for the Trump impeachments than on any credible evidence of impeachable offenses."
Blocking Judicial Nominees
In 2016, then Senate Majority Leader Mitch McConnell refused to hold hearings on then President Barack Obama's nominee to the U.S. Supreme Court, Merrick Garland.
As a result, Garland was not appointed to the Court and the vacancy was held open and later filled by former President Trump. McConnell's decision was a key factor in creating the 6-3 conservative majority on the nation's highest court.
If the GOP controls the Senate in 2023 and McConnell returns as majority leader, it's difficult to see how Biden could successfully name anyone to the Supreme Court if a vacancy arose through the retirement or death of a justice.
Last year, McConnell suggested he would block a nominee to the Court in 2024, which is a presidential election year.
"I don't think either party, if it controlled, if it were different from the president, would confirm a Supreme Court nominee in the middle of an election," he told talk radio host Hugh Hewitt.
A Debt Ceiling Fight
Republicans have indicated they may use the issue of raising the federal debt ceiling as a means to extract concessions from the Biden administration. The ceiling will have to be raised some time next year so that the U.S. government can borrow enough money to pay for spending that has already been agreed by Congress and the White House.
Republican members of the House, including House Minority Leader Kevin McCarthy, have suggested in interviews this month that a GOP majority would make demands of the administration in exchange for raising the debt limit.
"You can't just continue down the path to keep spending and adding to the debt," McCarthy told Punchbowl News.
He added that when it comes to the debt ceiling "just like anything else, there comes a point in time where, OK, we'll provide you more money, but you got to change your current behavior."
"They are already talking about holding up a debt-limit increase, threatening a catastrophic default on government bonds," Quirk told Newsweek.
He said that tactic "blew up on them during the Obama administration."
If the debt ceiling is not raised, the U.S. risks defaulting on its debt, which would have major global implications and would likely lead to a recession. In a more partisan atmosphere than former President Barack Obama's administration, it remains unclear if Republicans would be willing to risk a default.
Quirk told Newsweek that the overall conduct of a Republican majority "may get a generally negative public response."
"The few responsible, non-MAGA Republicans may cry out, 'Stop us, before we investigate again,'" he said.