Herschel Walker Warned My Baby Was in Danger if I Didn't Abort—Ex
A woman who says Herschel Walker "pressured" her to have an abortion during their six-year relationship has claimed that threats were made against her and the unborn child if she proceeded with the pregnancy.
The woman, who has only been identified as Jane Doe, made the allegation during a press conference on Tuesday, alongside her lawyer Gloria Allred.
Referring to Walker with tears in her eyes, the woman said: "I also had multiple conversations in which he spoke about threats to me, and the baby, if I went through with the pregnancy."
Doe said she told Walker "I want to just go home" and he replied "saying they could 'have his heart' by threatening me and the baby. He even told me he thought they would try and take the child away from me."
It is unclear who the "they" referred to was.
Herschel Walker has been contacted for comment.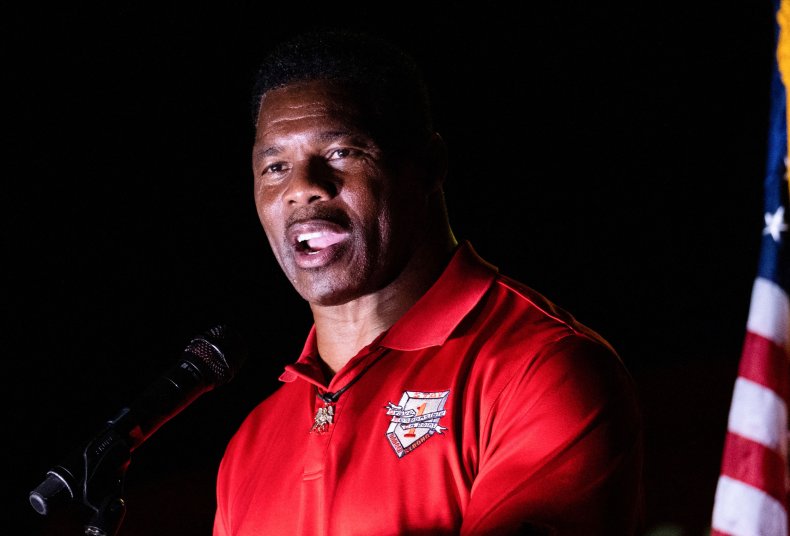 Doe first claimed Walker "pressured" her into getting an abortion during a press conference on October 26.
She commented: "Herschel Walker is a hypocrite, and he is not fit to be a U.S. senator.
"Herschel Walker says he is against women getting abortions, but he pressured me to have one.
"I am coming forward now because I heard Herschel deny claims by another woman who said he paid for her abortion."
Walker denied Doe's claim, commenting: "I'm done with this foolishness. I've already told people this is a lie and I'm not going to entertain it."
During Tuesday's press conference Doe produced letters and audio recordings, which she said proved she'd been in a relationship with Walker.
In one voicemail recording a man purported to be Walker said: "This is your stud farm calling, you big sex puppy you."
Walker was first accused of paying for an abortion by a former partner in October, when a woman told the Daily Beast he had funded her procedure in 2009. To protect her identity the woman, who is the mother of one of Walker's children, was not named.
Walker is hoping to replace incumbent Democrat Raphael Warnock as a Senator for Georgia.
The race will be decided by a runoff on December 6, after neither Walker nor Warnock secured an outright majority in the initial vote on November 8.
If Warnock secures re-election the Democrats will have 51 Senators, versus 49 for the Republicans. Thus, they will no longer be reliant on the vice-president's tie-breaking veto for their Senate majority.
An AARP poll of 500 likely voters, conducted between November 11 and 17, put Warnock on 51 percent of the vote, versus 47 percent for Walker.
A video of Walker mistakenly saying "this erection is about the people" went viral on Wednesday, receiving more than 2.8 million views on Twitter.
Former President Barack Obama is due to campaign for Warnock in Atlanta on December 1.