Are 'He's All That' Co-Stars Addison Rae and Tanner Buchanan Dating IRL?
Fans may be wondering whether Addison Rae and Tanner Buchanan—the stars of He's All That (a remake of the 1991 film She's All That)—are dating in real life.
The pair shared a kiss at the 2021 MTV Movie & TV Awards while presenting the award for "Best Kiss."
MTV tweeted a video of the kiss, with the words: "Confirmed: the chemistry between @HesAllThatMovie castmates @whoisaddison & @_TannerBuchanan is!!!!"
The latest film is a gender flipped version of the 1991 film, in which Zack Siler (played by Freddie Prinze Jr.) is given a dare to make Laney Boggs (played by Rachael Leigh Cook), a slightly awkward art student, prom queen.
He's All That sees Rae as Padgett Sawyer, a young TikTok star who agrees on a bet to make the unsociable Cameron Kweller (played by Buchanan) into prom king.
In an interview with Harper's Bazaar, shared on the magazine's YouTube channel on August 27, Buchanan spoke about their onscreen chemistry.
Noting the pair got to speak to each other briefly on the night before they did a "chemistry read" for the film, Buchanan said: "We instantly kind of connected, even when we first met. And we really tried to get to know each other fast," so that "that chemistry would be there," he said.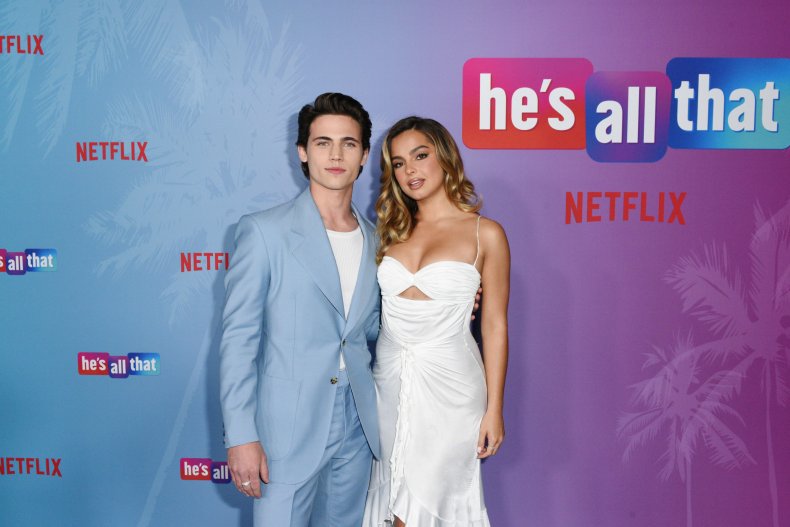 Are Tanner Buchanan and Addison Rae Dating?
The co-stars are not dating in real life. Buchanan, spoke about his actual girlfriend, who he named as Lizze Broadway (who is also an actor) in an August 16 episode of Anna Faris' Unqualified podcast.
During the episode, Tanner was joined by Broadway and they spoke about their relationship, including how they met, their life during the COVID-19 pandemic and their breakup in their teen years.
The couple knew each other when they were 9-years-old and met through a mutual friend, Broadway said on the podcast, recalling: "He looked 10 years younger than I did, when we were the same age."
Broadway recalled later seeing Buchanan in a class and thinking: "Wow, you grew up. You're looking fine."
Before Broadway joined the podcast, describing "his worst heartbreak," Buchanan said he cried every night for about a month straight following a breakup when he was around 17 or 18 years old.
"And I don't mean just cry, I mean like bawl until I tired myself out and made myself go to sleep and just had a bunch of breakdowns," he said.
Asked whether he'd asked for this person to come back into his life, Buchanan told Faris: "Oh, absolutely [laughs]," later noting "we're together now, she's upstairs currently...her name is Lizze Broadway."
Noting Broadway had broken up with him at the time, Buchanan said: "I will admit, it was my fault. I was actually kind of being an a** during that time," so she "had every right to [break up with me].
"That was definitely a reality check for me...I felt like I'd truly lost everything. And I don't ever want to act that way or be that person again. It was a very big learning experience," he said.
Asked about how Buchanan won her back, Broadway recalled Buchanan gave her "an ultimatum" and she was "too afraid" to lose him at the time.
"You [Buchanan] were like 'I can't talk to you anymore if we don't get back together," Broadway recalled, noting they had been together for six years at that time.
Admitting she was "an a** too" at the time, she said: "Being so young, you don't know anything. You just instinctively know that 'I can't lose this person.'"
Asked how quarantining together has been for the couple and whether they had grown closer over the last year of the pandemic, Buchanan told Faris: "Yea, we learned a lot about ourselves and each other."
Buchanan said they spent a lot of time talking about their relationship and "what we could do better" during the quarantine period.
Broadway noted Buchanan took care of her for four months during the quarantine period. "I was really sick. I don't know what was wrong with me, I was having all these stomach issues....and this guy took care of me on my deathbed, it felt like," she told Faris.
Asked what advice he'd give to other couples, Buchanan said: "Communication. That was a big thing for me. I've gotten a lot better at it. I still need to work at it for sure. But communication for me was a big game changer."