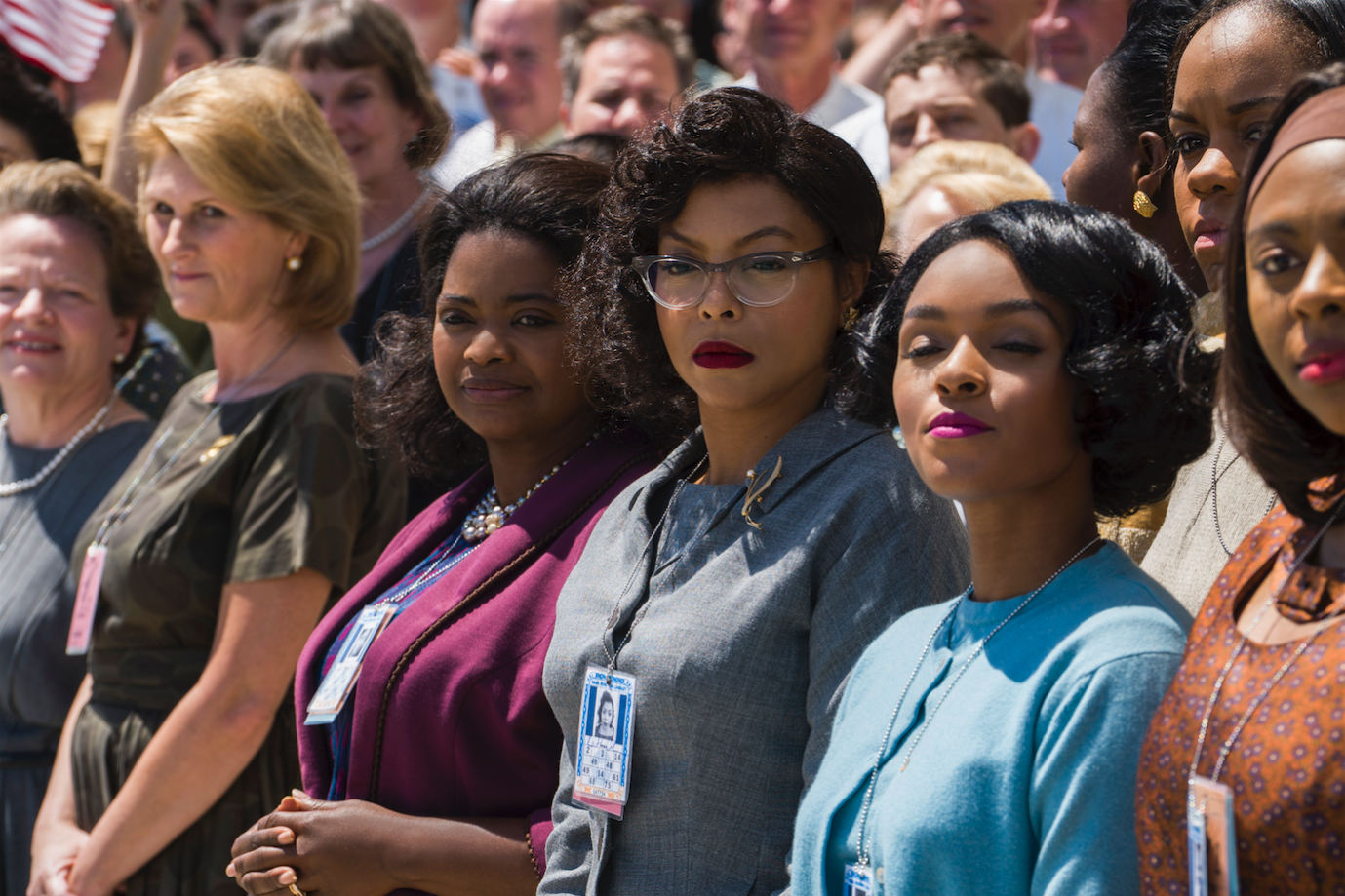 "They are hidden figures no more," actor Taraji P. Henson declared at the Screen Actors Guild Awards in January, where the film Hidden Figures, about three black female scientists, won outstanding performance by a cast.
Many of us are familiar with the names of famous male astronauts Neil Armstrong, John Glenn and Alan Shepard. But less is known about the highly educated women who worked at NASA's Virginia headquarters—crunching the numbers that helped put their male counterparts into space. The women were referred to as "computers," because they would do the menial calculations that would later become obsolete when real computers came along.
Three of those computers were Katherine Johnson, Dorothy Vaughan and Mary Jackson, played respectively by Henson, Academy Award winner Octavia Spencer and the singer-turned-actor Janelle Monae.
Set in the 1950s, Hidden Figures celebrates the work the three women did for NASA and culminates in the true story of how Johnson's calculations helped Glenn become the first man to orbit the Earth. The film also explores the racial tensions and segregation the women faced at NASA where they were forced to use "colored only" bathrooms.
Hidden Figures has been nominated for best picture and best adapted screenplay at the Oscars on February 26. Co-written by screenwriter Allison Schroeder and director Theodore Melfi, the script is based on a book about Johnson, Vaughan and Jackson: Hidden Figures: The American Dream and the Untold Story of the Black Women Mathematicians Who Helped Win the Space Race by Margot Lee Shetterly.
By presenting black female characters as highly skilled scientists and mathematicians, the film is a refreshing change from historical dramas which often feature black characters purely as housemaids or slaves.
Speaking to Newsweek, Schroeder talks about her own experiences at NASA and how Hidden Figures has proved that diverse stories can win at the box office.
Congratulations on your Oscar nomination. This is the first big feature film you've written, too. That is an incredible feat.
Yes, it's completely surreal. I'm still pinching myself and wondering how it all happened. But I'll take it!
Where were you when you found out you'd been nominated?
I have a little baby girl, who was 10 weeks old at the time. I had just finished nursing her and was getting back to sleep. My sister, who was staying with us, ran into the room and shouted, "You did it, you did it!" and I was utterly confused about what I had done. And then it hit me. It was quite a party in the bedroom.
Related: The story behind Oscar-nominated documentary 'Life, Animated'
Your grandparents worked at NASA and you interned there as a teenager. It seems you were born to write this script...
[NASA is] a huge part of my life. The producer, Donna Gigliotti, had no idea [when I met her] and I told her about my background and convinced her I was the one for the job. Once she knew I also studied math in college, she couldn't deny it.
It helped tremendously with the writing, because I knew the culture of NASA. I had been in the original mission control, I stood on the launchpad, I've been in the vertical assembly building, I've played on a Mercury capsule in prototype growing up. I remember sitting inside of it and wishing I could launch myself into space. So that was luckily all of the groundwork I had when I started writing.
You were writing the script at the same Margot Lee Shetterly was writing her book. That must have been a challenge? Usually screenplays are adapted from a completed book.
There's pros and cons. Margot was able to give me all of her research so I could dive into her source material and interviews. It wasn't too overwhelming but now there are things I read in the book, I think, "Well, if I'd known that…"
But it was pretty clear from the start the spine [of the story] would be Katherine Johnson. Katherine Johnson's formal request was that it not just be about her, but other women as well, so that's how we got Mary and Dorothy.
I pulled from the source material and checked with the author if it was OK that there were some things we had to fictionalize.
There was one scene where Janelle Monae's character, Mary, goes to high school and the professor says: "This curriculum isn't designed for a woman." And she says, "Well, you teach it just like you teach a man." That happened to me in my studies in economics, so I was able to put in my own experiences as a woman in math. There wasn't a lot known about Mary Jackson and Dorothy Vaughan, so it was trickier to come up with their scenes.
Although Katherine Johnson (Henson) is the lead, all three characters feel so fully formed and fleshed out. What were the most fun scenes to write for Katherine, Dorothy and Mary?
Each of them had a scene I was looking forward to. This was wish fulfillment for me because I love strong, female protagonists. I was like, wait, what are the odds of getting to write three in a big film? It's pretty rare.
I was really looking forward to Katherine Johnson running those numbers for John Glenn at the end [when he is in space, orbiting Earth].
For Mary, I couldn't wait to see her in front of that judge in the courtroom [to get permission to attend a white-only school to study engineering].
And for Dorothy, it was the moment she figures out how to program that [IBM 7090] computer and brings her girls along [to the programming department].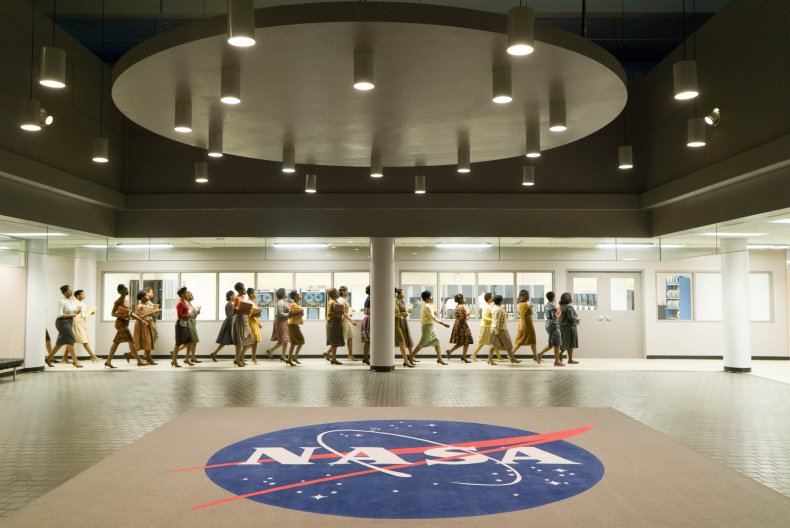 Katherine has a huge scene where she erupts at her white colleagues for ostracizing her and explains how far she has to walk to another building to use a colored bathroom. Where did the inspiration for those words come from?
It was a combination of a few things that happened in real life. The white women chuckling about the [colored] bathroom being far away and then realizing it was about half a mile away happened to Mary Jackson. When I read that and thought about them wearing nylon stockings and high heels in the summers of Virginia, I thought, this has to be included. So we weaved it into Katherine's storyline to show how far she was as an outsider.
Katherine has a lot of grace and elegance, she was more put her head down and do the work. When she started, [a] white engineer did move away from her, but she decided not to take issue with it. We wanted her character to really do that, try not to take vocal issue with anyone in the room and keep her head down. But this keeps happening over and over again and there's just this moment where she stands up for herself. We all have a moment where we wish we could tell off a boss for being so oblivious to something. But even in that monologue she had a certain grace and dignity to it. It was very Katherine.
Related: August Wilson's widow talks 'Fences,' the Oscars, Denzel Washington and Viola Davis
All three actors inhabit their roles with such conviction. How did you feel seeing your words be brought to life like that?
At the time [I was writing the script] I was watching a lot of actresses say they wanted meaty roles for themselves and as I was writing, I would say, "It's coming, ladies! It's coming!"
Octavia Spencer was the first one to read the script—she read it very early on before it was even with [movie studio] Fox. She thought it was a work of fiction and when she found out it was true, she was horrified and said, "We have to make this."
Taraji is magical to watch on set—she is a big personality and she speaks her mind. So to see her transform that way is incredibly powerful. One of the first scenes I saw was the end scene in mission control [when Johnson runs the numbers for Glenn]. I got teary-eyed and thought, this is going to work.
It was also fun to see these three women in these serious scenes where they're being oppressed and then you'd go cut, and they'd all start laughing and complimenting each other. They are modern women with agency. Octavia was talking about that—she doesn't have to hold her tongue as much anymore and the times have changed.
Hidden Figures has been so successful critically and commercially at a time when diversity is such an important discussion point in Hollywood. How has it been seeing the positive reaction to it?
The audience response has been the best thing for me—seeing little girls dress as the characters or seeing [school] field trips going [to see it]. It made me realize we need more stuff like this. We need more diversity—we need more African-Americans on screen, Latinos, Asians, different religions. We have to be better about reflecting what our world looks like.
Audiences of all ages and races are going to see this. In a lot of movies African-Americans are either maids or slaves, but that's not all they were. We need to show that. And we can't keep erasing history. So seeing them as mathematicians and scientists diverts the stereotype so much.
In the U.S., Hidden Figures was No.1 at the box office, grossed over $100 million and has earned more money at theaters than Oscar favorite La La Land. Do you feel like this proves that films with black actors, and women, can be box office draws?
I hope so. I'm thrilled this has happened. The problem actually starts with who gets hired and what is getting bought. I can't tell you the number of stories I've told with a female protagonist don't get bought, or they do get bought and get changed drastically. Or, I will literally write into the script different races and they get cast all-white. I hope that stops and it opens the door for more voices to be heard in movies. It's tricky to get a studio to take a risk on something that's not pre-existing [intellectual property.]
A lot of films with female leads tend to be the teen action heroine or a comedy role. What nontraditional roles do you hope to write for women going forward that?
I want to do movies with strong, complicated, layered female protagonists and male characters that are not intimidated by that—because that exists [in real life].
Why do you think Hollywood is so afraid of that…?
I don't know if Hollywood is afraid but there are these formulas and tropes that have been going on for so long you have to shake the establishment and say, "What about this?" I've been rewritten on past projects and thought: That's not what she was—she was this really powerful woman and there's nothing wrong with that. I'm going to keep writing them and hopefully people will start making them.
Hidden Figures is in theaters across the U.S. and U.K. now.