Hillary Clinton Mocks Trump, Talks Email on 'The Tonight Show'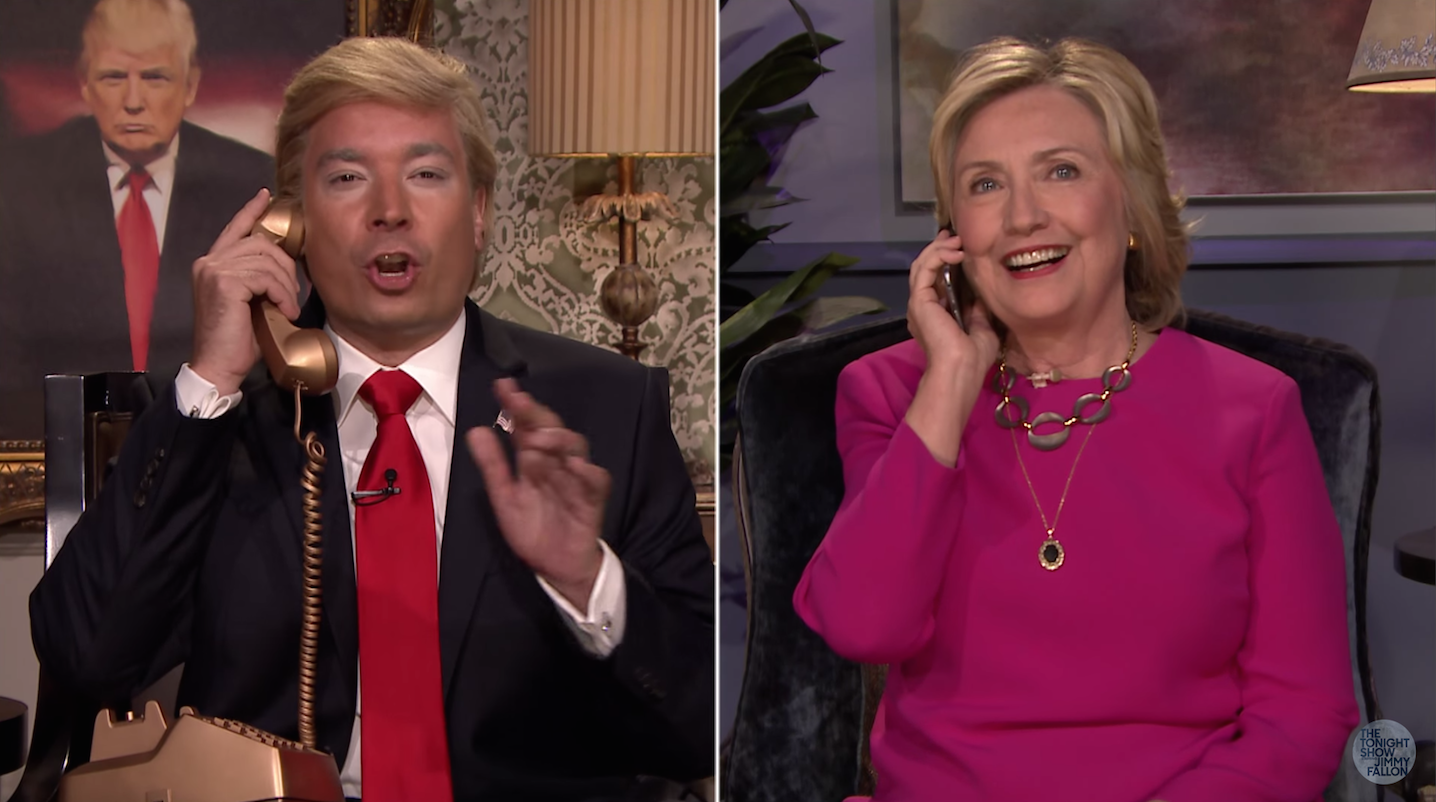 As if three hours of presidential hopefuls trying in vain to appear human wasn't enough, about 30 minutes after Wednesday night's second Republican debate ended, Hillary Clinton appeared on The Tonight Show Starring Jimmy Fallon.
With all the recent news surrounding late-night television—Stephen Colbert's first Late Show, the all-male Vanity Fair cover, Trevor Noah taking over The Daily Show—a late-night appearance has become something of a requirement for the headline-generating candidates. Jeb Bush has already appeared on the Late Show, while Donald Trump and Clinton declined the former Comedy Central host's invitation in favor of sitting down next to the much more image-friendly Jimmy Fallon. Trump appeared on The Tonight Show on September 11 (and has reconsidered and will appear on The Late Show on September 22). Though nothing has been announced, Clinton will likely appear on The Late Show at some point, as well, but on Wednesday night it was Fallon's turn to interview the Democratic frontrunner.
Clinton's favorability numbers among voters are not what they were when she first booked the appearance. A slowdown in momentum, increased concern over her email practices while secretary of state and a growing interest in the candidacy of Bernie Sanders have called into question her status as the clear-cut Democratic front-runner. Wednesday night on The Tonight Show, she responded by going after Trump. Before sitting down with Fallon, the two peformed an SNL-esque split-screen bit in which Trump (Fallon) called Clinton to interview her before Fallon could—because Fallon, of course, is a "lightweight."
As is usually the case when Clinton is thrust into the uncomfortable realm of entertainment, on Wednesday night she had the air of a wide-eyed child just discovering this thing called "comedy." Despite her lack of grace, it was hard for her not to come off favorably to anyone who had just witnessed the three-hour GOP circus that had just aired on CNN. Sometimes forced comedy is better than unintentional comedy.
Trump remained the focus once Clinton sat down for her interview. "That is one of the great things about this country," she said in reference to his campaign, tongue firmly planted in cheek. "If you're over 35 and you're eligible as an American citizen, you can actually run for president. He's making the most out of it. I'm having a good time watching it. I find it amazing."
After the idea was brought up of someone running into the Kremlin and lamenting what President Trump had just said, Clinton laughed off the terrifying hypothetical. "I love scenarios," she said awkwardly.
Clinton even impersonated Trump when Fallon brought up the GOP front-runner critizing her for relying on a teleprompter when speaking:
The interview wasn't all Trump talk. Clinton was also asked to discuss the imbroglio surrounding her emails, and she brushed it off as a misunderstanding, pointing to the fickle and often incidental nature of how certain information is classified or unclassified. This was followed by Fallon asking Clinton a series of "rapid fire" questions. When the host asked her what her campaign is actually about, referencing Bernie Sanders' focus on big business and Trump's obsession with immigration, Clinton proudly said, "Raising Americans' income"—an answer no one is likely to argue with.
And Fallon's final question?
"Where do you see yourself in five years?"
There was only one answer, of course:
"Sitting right here, talking about running for re-election."