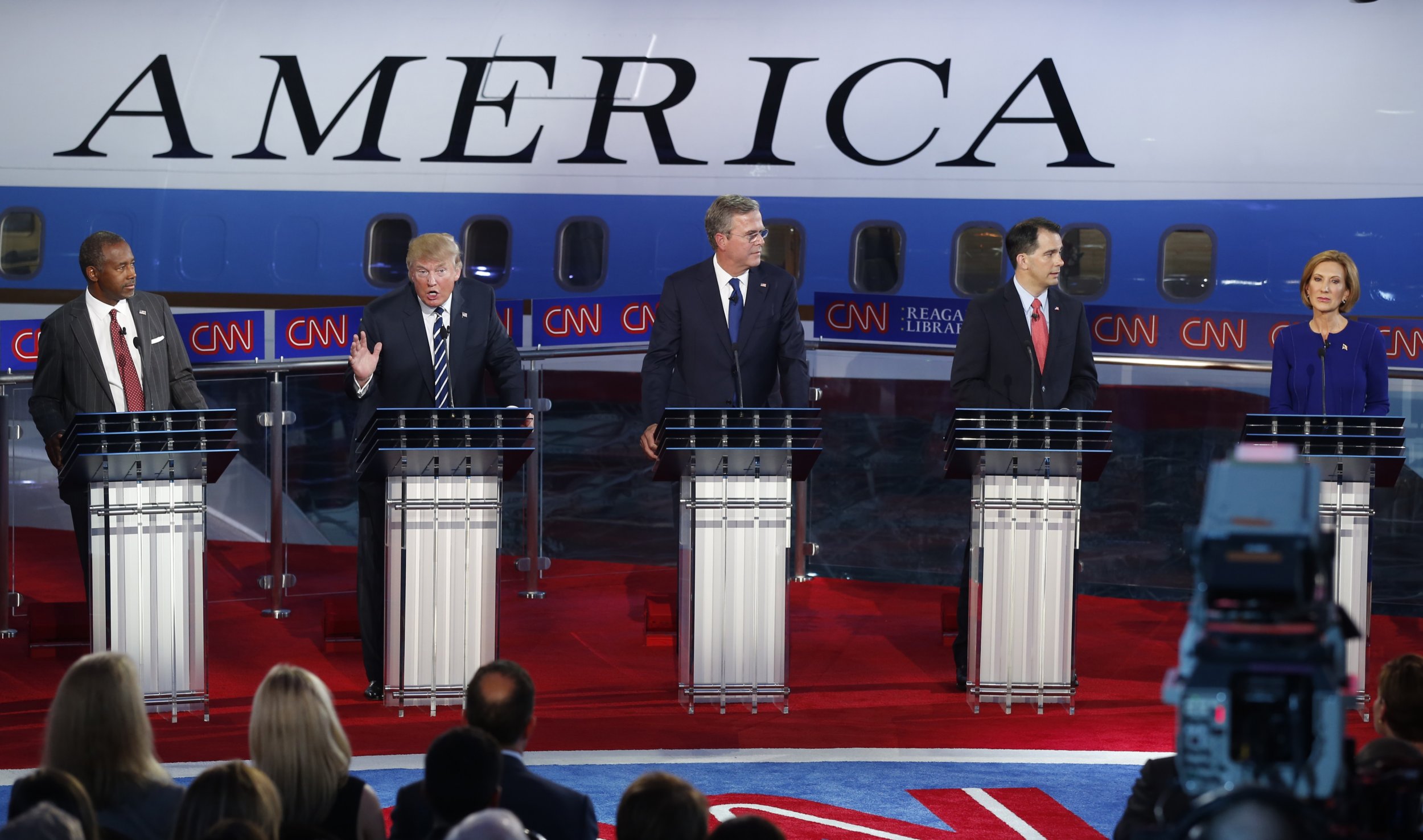 It was a face-off between the political class and the outsiders in the Republican Party's second presidential debate at the Ronald Reagan Presidential Library in Simi Valley, California, Wednesday night. And the outsiders had the edge.
On a crowded stage, 11 GOP presidential hopefuls jostled for airtime to deliver their message and counter their critics over the course of two hours. Inevitably, real estate tycoon Donald Trump dominated the conversation, even when he wasn't the one talking. CNN moderators Jake Tapper and Dana Bash repeatedly pushed the rest of the Republican field—those with poll numbers high enough to qualify for the prime-time debate—to respond to Trump's campaign statements and policy proposals. But two other political neophytes, former Hewlett-Packard CEO Carly Fiorina and retired neurosurgeon Ben Carson, also demonstrated the unique appeal that's helped them surge in the polls.
Fiorina displayed the crisp speaking style and steely demeanor that helped elevate her from the consolation round of the first debate to the main stage Wednesday night. She spoke knowledgeably about the factions battling in Syria and passionately about her desire to defund Planned Parenthood, the women's health provider that has been in conservatives' sight lines over its practice of harvesting fetal organs. That drew some of the loudest applause of the night.
Fiorina had one of the debate's other big applause lines, from part of her response when asked about Trump's disparaging remarks about her appearance in his recent Rolling Stone interview. Instead of hitting back, she simply noted, "I think women all over this country heard very clearly what Mr. Trump said."
That had Trump pipe up: "I think she's got a beautiful face, and I think she's a beautiful woman."
Related: Read Newsweek's coverage of the second Republican debate
Carson, for his part, mostly avoided tangling with his fellow candidates, instead maintaining the even keel GOP voters have found so appealing. The accomplished doctor refused to take a hard line on many of the issues being debated, saying, for example, that he'd be open to raising the minimum wage if he could get the sides together on the issue. And although Carson has critiqued Trump's proposal to send home the 11 million undocumented immigrants in the country, on Wednesday Carson said he wouldn't rule out that option if someone could present an affordable way to do it.
If Carson was conciliatory, most everyone else onstage was ready for a scrap. And Trump was in the middle of almost all of it. He sparred with Fiorina over who had the better business acumen. "She can't run any of my companies," he sneered, accusing her of destroying both Hewlett-Packard and Lucent Technologies. He lobbed insults at Kentucky Senator Rand Paul, who questioned whether he had the judgment to be president. And he repeatedly butted heads with former Florida Governor Jeb Bush—over their respective immigration plans; over whether or not he lobbied for casinos in Florida; over comments he's made about Bush's wife, a native of Mexico; and over the record of Bush's brother George W. Bush.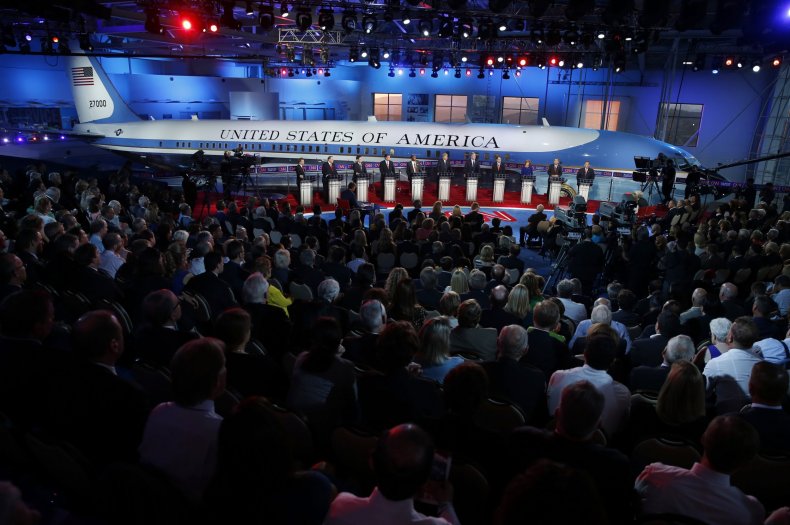 Trump had the upper hand for most of it, brushing back Bush despite the former governor's clear efforts to show a feistier side. But Bush finally landed a punch that silenced Trump—and drew cheers—when he defended his brother's record in office after Trump attacked the war in Iraq. "As it relates to my brother, one thing I can say about him, he kept us safe," Bush retorted, genuinely worked up. And he got in a zinger at the end, telling Tapper that if he was president, he'd want his secret service code name to be "Ever Ready."
"It's high energy, Donald," he added, with a smile at Trump, who regularly knocks him for being "low energy."
Related: At "Kids Table" Debate, Republicans Joust to Be Heard
Trump had one other moment of weakness during one of the several extensive foreign-policy discussions—not his strong suit. Asked about his well-publicized failure to identify a number of important Middle Eastern leaders during an interview with conservative radio host Hugh Hewitt, Trump responded defensively. "There were few people anywhere, anywhere who would know those names," he retorted. But then he backtracked, perhaps showing a bit of humility. "I will know more about this," Trump promised.
With Trump sucking up much of the oxygen, other candidates struggled to get airtime. Ohio Governor John Kasich seized every opportunity he got to tout his record boosting his state's economy and serving as the House Budget Committee chairman in the 1990s. Former Arkansas Governor Mike Huckabee sought to burnish his credentials as a social and religious conservative, defending Kim Davis, the Rowan County, Kentucky, clerk who was arrested for refusing to issue marriage licenses because of her opposition to gay marriage, Huckabee also promised litmus tests for Supreme Court judges. Texas Senator Ted Cruz and Wisconsin Governor Scott Walker also had limited opportunities to seize the spotlight.
Despite all the theatrics, the debate did manage to air some substantive policy differences between the candidates, particularly on tax reform, the war on drugs, the use of force abroad and the wisdom of forcing a government shutdown over funding for Planned Parenthood. Trump challenged Republican orthodoxy, proposing to raise taxes on the rich. "I know people making a tremendous amount of money and paying very little in taxes, and I think it's unfair," he said. Other candidates argued for a flat tax.
On drug criminalization, Paul argued that the "federal government has gone too far" and that this "has had a racial outcome." He called out people he deemed hypocrites, who have used marijuana but now want to keep it criminalized. The Kentucky senator hesitated when asked who he was referring to, but Bush raised his hand. "He's talking about me," the governor said sheepishly, acknowledging he tried pot decades ago and apologizing to his mother. "But here's the deal: We have a serious epidemic of drugs that goes beyond marijuana," Bush added. That turned into a lengthy back-and-forth between Paul, Bush and New Jersey Governor Chris Christie over whether the federal government should regulate medical marijuana or leave it to the states.
Kasich, an instrumental figure in the 1995 government shutdown, warned those senators willing to risk another shutdown over Planned Parenthood to rethink their position. "The president is not going to sign this, so all we're going to do is shut the government down, and then we're going to open it up and the American people are going to shake their heads and say, 'What is it with these Republicans?'"
Christie castigated his colleagues for picking a fight with one another on Planned Parenthood funding, instead with the Democrats. "Here's the problem: We're fighting with each other," he complained. "We agree." Indeed, while President Barack Obama took many of the hits, there was little mention of Hillary Clinton, compared with the first debate.
One other source of universal agreement: Ronald Reagan was one of the country's greatest leaders. In front of Reagan's Air Force One jet and with the president's widow, Nancy, in the crowd, the debate wrapped up with the candidates one by one declaring their fealty to Reagan's legacy. No matter that many of them were barely out of high school when Reagan was elected. "I turned 18 in 1980, and my first vote was for Ronald Reagan," Christie reminisced. "Boy, am I glad I did it."