A 2018 warning from Hillary Clinton on the potential impact Justice Brett Kavanaugh's confirmation to the U.S. Supreme Court could have on Roe v. Wade has resurfaced online with many pointing to it as an eerily accurate prediction of what may now come to pass.
On Monday, Politico published what is alleged to be a draft Supreme Court majority opinion authored by Associate Justice Samuel Alito that could potentially see the 1973 decision that legalized abortions in the U.S. overturned.
The ruling is reportedly also calling for the 1992 decision in Planned Parenthood v. Casey, which upheld Roe, to be overturned, with the Supreme Court potentially handing down its final decision this summer.
An unnamed source, cited only as a "person familiar with the court's deliberations" told Politico that Justices Clarence Thomas, Neil Gorsuch, Brett Kavanaugh and Amy Coney Barrett had voted with Alito in conference.
Kavanaugh's inclusion on that list of names has prompted many to return to a warning former Secretary of State and First Lady Hillary Clinton tweeted on September 5, 2018.
"If Brett Kavanaugh becomes a Supreme Court justice, will he help gut or overturn Roe v. Wade, which legalized abortion in America? Yes, of course he will," she wrote.
In the eight tweet-long thread, Clinton went on to allege that prior to appearing on President Trump's shortlist for a new Justice Kavanaugh had "praised the dissent in the Roe v. Wade case and called former Supreme Court Chief Justice William Rehnquist his 'hero,' noting that 'he clearly wanted to overrule Roe.'" Rehnquist was a noted critic of Roe throughout his time in office.
"As a federal judge, Kavanaugh tried to prevent a young undocumented woman in government custody from exercising her right to an abortion," Clinton tweeted. "Kavanaugh ruled to let CEOs decide to deny their employees insurance coverage for no co-pay birth control."
She also noted that anti-abortion groups have endorsed Kavanaugh and considered him a "reliable vote to overturn Roe." She warned that his confirmation would be a "victory for activists who want to end a woman's right to make her own health decisions."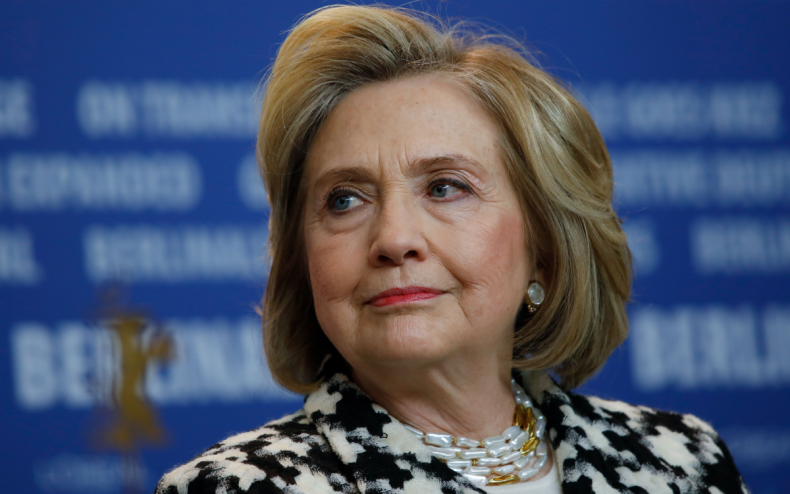 The Twitter thread has been widely shared on Twitter and Reddit in recent days by those angered at the leaked proposals, with many commenting on how Clinton's prediction now looks scarily prescient yet largely went ignored.
"She was right," Wanderlust_ds said alongside a retweet of the warning with FredSan56422496 adding: "she tried to tell us."
Tigerfly119 shared the tweet, commenting: "Sadly, this aged well" while CasMudde sarcastically wrote: "But those emails..." in reference to the email hacking scandal that hindered Clinton's campaign against former President Donald Trump.
BuffyLWillow said: "September 2018. Yes. She said it then. Who was listening?" with samlo_xo branding the apparent accuracy of Clinton's tweet as "chilling."
Elsewhere, actor and writer Alex Andreou commented alongside the tweet: "I want Susan Sarandon to be made to watch every interview in which she claimed Clinton would be no different to Trump."
Army veteran David Weissman wrote simply: "Hillary Clinton was right." while Rohita Kadambi added: "You don't have to like her to acknowledge she was right."
BaronFrankal, meanwhile, wrote: "Some things are foreseeable, and forseen. Decisions have consequences."
Clinton made her prediction while the Senate Judiciary Committee was conducting public hearings on Kavanaugh's nomination, which commenced a day earlier on September 4, 2018.
During those hearings, the committee released a 2003 email in which Kavanaugh appeared to reject the notion that Roe was "settled law."
"I am not sure that all legal scholars refer to Roe as the settled law of the land at the Supreme Court level since Court can always overrule its precedent, and three current justices on the Court would do so," he said.
Kavanaugh did seek to distance himself from those remarks at the time, explaining that they were the views of legal scholars rather than his own.
Ultimately the Republican Senator for Maine, Susan Collins, who supports abortion rights, cast the deciding vote in favor of confirming Kavanaugh after holding a two-hour meeting with the Supreme Court nominee in which she claimed he told her he agreed it was "settled law."
In a statement issued on Tuesday, Collins branded the leaked draft "completely inconsistent" with what both Kavanaugh and fellow President Trump appointee Justice Neil Gorsuch told her during their Senate Judiciary Committee hearings.
"If this leaked draft opinion is the final decision and this reporting is accurate, it would be completely inconsistent with what Justice Gorsuch and Justice Kavanaugh said in their hearings and in our meetings in my office," she said.
"Obviously, we won't know each Justice's decision and reasoning until the Supreme Court officially announces its opinion in this case."
Newsweek has reached out to the office of Hillary Clinton.