How HIMARS and Sanctions Are Choking Russia's Weapons Trade
Russia's poor military performance in Ukraine may exacerbate troubling long-term trends for Moscow's weapon makers; an industry vital to the Kremlin's soft power abroad.
President Vladimir Putin's claim of technological superiority over his Western adversaries looks increasingly less credible, as Russian forces struggle against Ukrainians armed with the latest weapons, including HIMARS, from NATO.
Reputational Risk
Russia's invasion of Ukraine—now in its seventh month—was expected to be a showcase for the world's fifth most expensive armed force. Instead, Russian forces failed to quickly take Kyiv, and became stuck in a quagmire.
Now questions are being asked about Russia's most advanced weapons.
Its air force struggled against adversaries despite significant numerical and (supposedly) qualitative superiority; advanced tanks have fallen victim to NATO's relatively cheap shoulder-launched weapons; its vaunted S-300 and S-400 anti-air systems failed to stop high-profile Ukrainian long-range strikes—including by the U.S.-made HIMARS; and its precision ballistic missiles have been used sparingly and often against soft civilian targets.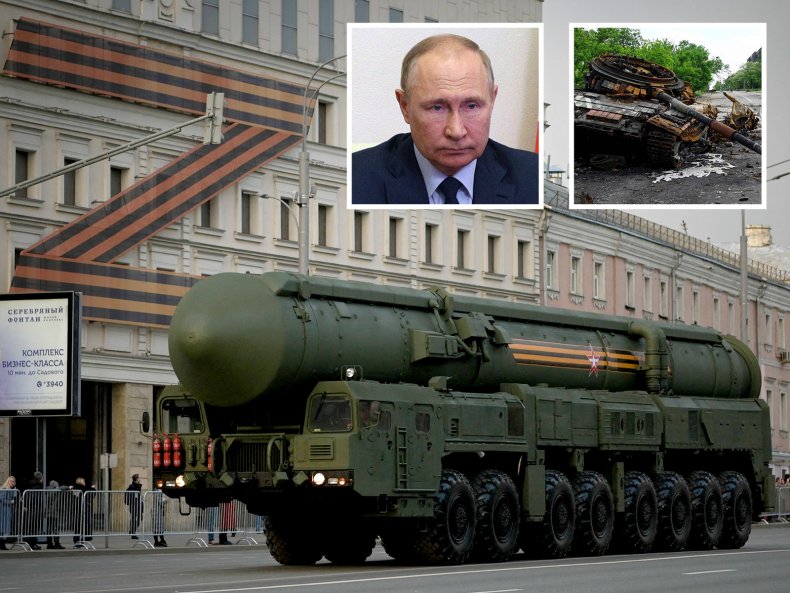 Russia's travails in Ukraine might ward off potential customers.
Former U.S. Ambassador Mark Green told Newsweek the war is doing "tremendous" reputational damage to Russia's military-industrial sphere while eating up valuable resources.
"It's going to be harder and harder for them to fulfil contracts—certainly to fulfil contracts in the sense of providing maintenance and replacement parts—because they're distracted," said Green, now the president of the Wilson Center think tank.
Russia's limited ground successes in Ukraine have been supported by massed artillery fire, wreaking destruction on urban centers.
"The unsophisticated nature of the weapons that they are using now—yes, they're causing unbelievable suffering and damage—but I don't believe that any third country looking at Russian dumb bombs that blow up a building will look at that and say: 'Oh, yes, that's what we want'," Green added.
"Increasingly they're turning to weapons which don't match up well to the sophisticated systems and weapons that Ukraine has access to...we're seeing more and more examples of leaked or overheard conversations among soldiers, making it clear that they're getting tired of not having sophisticated weapons."
Sanctions Stress
Russian military producers may struggle as international sanctions bite.
An August report by the Royal United Services Institute—based on analysis of 27 Russian systems captured in Ukraine—found 450 unique components designed and made outside of Russia. Replacing these with indigenous alternatives, RUSI said, is "nonviable."
Among the systems reliant on foreign technology are Iskander cruise missiles, Orlan-10 drones, and multiple radios, RUSI said. Other reports found French components in Russia's much-vaunted T-90s tanks, operating in Ukraine.
"Sanctions, plus the number of multinational companies that have fled or shut down in Russia, are making it hard for Russia to get the parts they need for many of their weapon systems," Green said.
"Not impossible, but it is certainly making it more expensive and more cumbersome for them." Brain drain, too, Green said, "is going to weigh on their economy for a long time to come."
Sanctions mean Russia will also struggle to replace its most advanced weapons. "The factory that produces Kalibr missiles, for example, has effectively ceased acceptance sampling during quality control of parts and components that it receives, because too many items were being rejected as faulty," a source with knowledge of the industry, who spoke on the condition of anonymity, said.
"Russia has three standards for quality control: civilian (also known as commercial), military, and space (or aerospace)," they told Newsweek.
"The usual protocol dictates that any materials going towards military needs would require a higher grade, no less than the military standard. So what this means in practice is that by lowering the standard of acceptance, the government has basically scrapped effective quality controls for parts of the military-industrial sector."
"At this rate, missiles won't just hit the wrong targets, but will start blowing up in the warehouses," said the source, adding that similar shifts appear to be occurring in other plants and factories.
The Russian Foreign Ministry has been contacted for comment.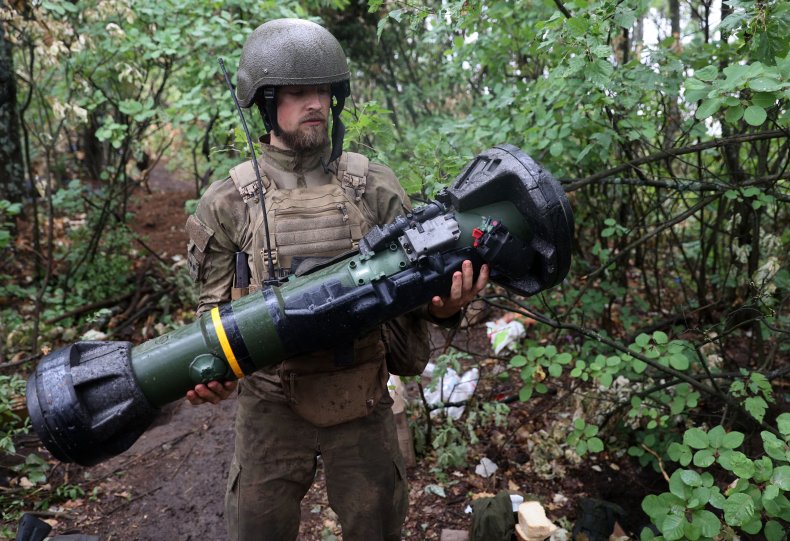 Self-Reliant China, India
Even before Putin ordered his latest invasion of Ukraine in February, the picture was "bleak" for the Russian arms export industry, according to Siemon Wezeman, a senior researcher at the Stockholm International Peace Research Institute.
Two of Moscow's biggest historic customers—China and India—have been investing huge sums in developing their own military industries in recent decades, shifting away from reliance on foreign powers that might undermine national security and constrain both giants politically.
This shift is an element of why total annual Russian arms exports have more than halved between 2017 and 2021, per SIPRI's latest data. Though Russia remains the world's second-largest military exporter behind the U.S., Wezeman said this may not last much longer.
"Probably in the future, we'll see more of a drop," Wezeman predicted. "It's very difficult to see where they will get the exports from," he added, noting that Moscow is struggling to compete with export rivals like the U.S., China, France, and South Korea.
"It looks pretty bleak for the Russians," Wezeman said. "I wouldn't be surprised if in five, six, seven years, they've been kicked out of the second position by the French."
Russia's Last Hope?
But Russian weapons are still inflicting serious casualties and damage in Ukraine.
"Russian weapons are still doing fine, they're still capable weapons," Wezeman said. "But when you buy weapons today, you look at things which will last for 10 to 50 years...There is a bit of a fear that Russia will not be able to deliver. And that's largely based on the fact that Russia's defense budget—the whole economy—isn't that big."
Russia and users of its military exports will conduct extensive after-action investigations in the months and years to come.
Retired Major General Ashok Kumar, an Indian defense analyst, told Newsweek it is too early for the Indian government to change its procurement strategy.
"Once the war is over and its lessons are fully absorbed, at that point of time what will be the deductions on the national interest? I think it will charter its own path," he said. " India as a country remains country-agnostic as far as defense procurement is concerned."
"As far as I know, India so far has not raised any issues with respect to the quality of Russian equipment." Kumar added that India will continue to shift away from foreign dependence, particularly if foreign partners cannot offer high-tech equipment.
Moscow will go to great lengths to protect its military exports, even while under pressure to replace equipment destroyed in Ukraine.
"We're in a state right now where it's more difficult to predict how sanctions are really going to impact Russia or their exports," Samuel Bendett—an adjunct senior fellow at the Center for a New American Security, and an advisor at CNA—told Newsweek.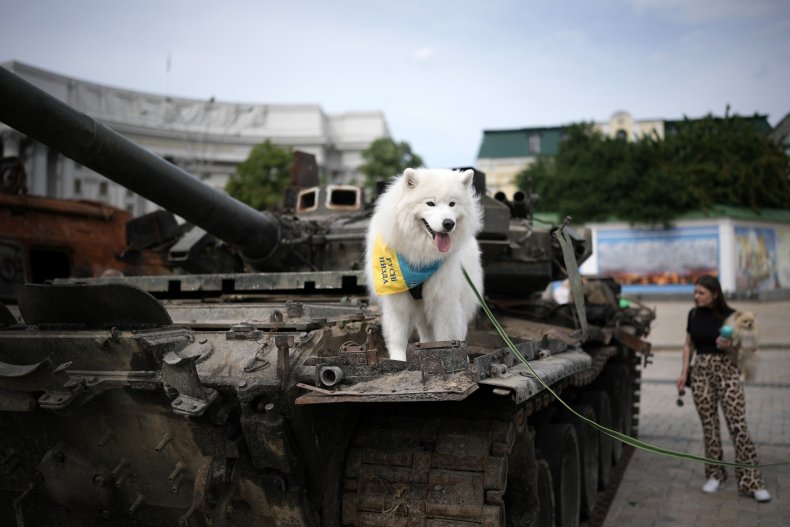 Its very unlikely, he said, that Russia would cancel exports to countries like Algeria, Vietnam, or India, because it has to reroute the resources to the war fighting efforts, suggesting it would be a "geopolitical disaster."
"In some ways Russia will lose out on a certain share," Bendett said. "In another sense, I think Russia will maintain its share, because losing that is not an option for the Russian defense industry, for its military industrial sector and for the government, where military-to-military contacts and military technical cooperation is a key and very central part of its foreign policy."
"We shouldn't necessarily anticipate that the Russian military export market is going to diminish significantly because of how much revenue it brings to Russia, because of what it means for their relationship-building around the world."
The West's revulsion at Russia's invasion of Ukraine is not universally shared. "They are always going to be countries that will view Russia's war in Ukraine as standing up to, and the beginning of the end of, U.S. hegemony," Bendett said. Russia's aim to play a defining role in a more multipolar world will encourage more weapons sales and deeper relations abroad.
If nothing else, foreign nations know Russia has a broad inventory. "Russia has telegraphed to the world that it has the entire weapons line up at its disposal in Ukraine," Bendett noted.
Russia's "legacy" clients, its remaining allies and countries intent on neutrality over the war, are likely to keep trading even if it means doing so on the black market.
But others might now think twice: recent high-profile cancellations of orders, including by India and the Philippines, are bound to get the alarm bells ringing in Moscow.