Russia Squandered Decades Worth of Soft Power Gains Over Ukraine War
Germany's carefully woven international relationship with Russia has rapidly unraveled in the three months since Vladimir Putin's invasion of Ukraine, one illustration of how Russia's aggression has damaged the country's global standing and influence.
Its ex-Chancellor Gerhard Schröder was last week strong-armed into relinquishing his place on the board of Rosneft following outrage at his friendship with Vladimir Putin and close ties with the Russian energy sector.
Before he joined German businessman Matthias Warnig in quitting the Russian energy giant's board, Schröder faced the ignominy of being blacklisted by the European Parliament he was once at the heart of. He was leader of the bloc's biggest country between 1998 to 2005.
In the latest sign of the world's horror at Putin's war, the often tense but pragmatic approach that Germany had toward its main energy supplier has gone as far south as the route of the now scuppered $11billion Nord Stream 2 gas pipe between them.
Major German companies including big automakers have suspended operations in Russia. Deutsche Bank, Adidas and, after a 170-year presence in Russia, Siemens, are leaving.
Other Western companies such as McDonald's, Microsoft and Starbucks have followed suit.
Meanwhile, after initially resisting calls to help arm Kyiv, Berlin last month did an about turn on its long-held policy of not supplying lethal weapons to crisis zones.
"Russia's soft power has certainly been diminished, most notably in Europe and most significantly in relation to Germany," said Alan Cafruny, professor of international affairs at Hamilton College in Clinton, New York.
"German public opinion has shifted against Russia. Moscow has lost its traditional base of supporters within the Bundestag," Cafruny told Newsweek. "Germany is carrying out a massive rearmament in close cooperation with the United States. Previously intense opposition to U.S. sanctions on the Nord Stream 2 pipeline has evaporated.
"It remains to be seen, however, whether these changes are permanent. Even if energy linkages are permanently severed, the Russian consumer market is very important to German industry," he said.
As opposed to hard power's coercive nature via military or economic might, soft power describes the ability to attract. It focuses on building networks, cultural and language exchanges and presenting a positive image on the world stage.
But the prospects of any warm and fuzzy images of Putin or Russia have probably been banished for good. Where once the Russian leader shared photo opportunities with French actor Gerard Depardieu and action star Steven Seagal, those celebrities have condemned him since the invasion.
Meanwhile, it seems Moscow no longer has the ear of lawmakers on either side of the Atlantic. After the White House slapped new sanctions on Russia, lobbyists representing the country were quick to exit.
Public strategy firm Mercury cut ties with Sovcombank and the EN+ Group, the energy and mining conglomerate once controlled by sanctioned Russian oligarch Oleg Deripaska.
The firm Venable ended its relationship with the state-run Sberbank. Meanwhile, the European Union is putting Russian lobbyists under new sanctions after 20 years of Moscow influencing Brussels.
"Russia never had much soft power to begin with—and whatever it had now largely evaporated. Who is going to follow a strongman who is so evidently weak?" said Andrew Latham, international relations professor, at Macalester College, Saint Paul, Minnesota, referring to the Russian leader's stalled military campaign.
He told Newsweek that Russia's soft power had been "limited to relatively small constituencies in the West" who saw Putin "as an avatar of the kind of strong man to defend traditional Western Christian values."
However, deprived of its soft power tools in the West, which include banned Kremlin propaganda news outlets like RT and Sputnik, the Kremlin is happy to coerce with hard power or the sharp power of manipulation.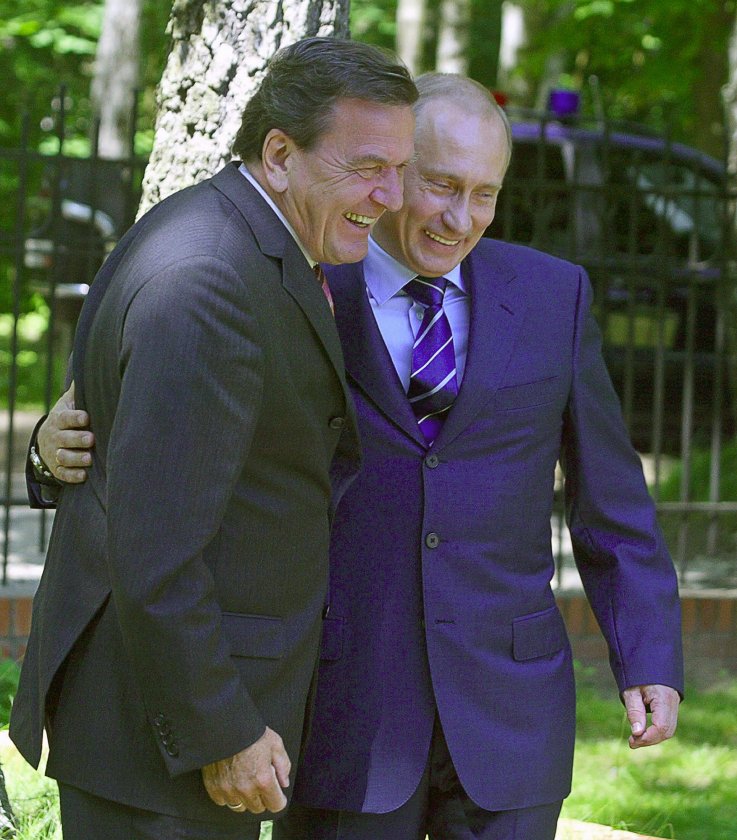 Russian President Vladimir Putin (R) greets German ex-Chancellor Gerhard Shroeder in Svetlogorsk on July 3, 2005.
Getty Images
Cut off from the SWIFT international banking system and access to almost half of its foreign currency reserves, Russia has said that easing sanctions is the only way it will end its blockade that has stopped 20 million tons of grain from leaving Ukraine's Black Sea ports.
Moreover, the attitude toward Russia is more complicated outside of Europe. While 141 countries in the United Nations General Assembly voted to condemn Putin's invasion, only three dozen enacted sanctions. India, China, South Africa and Brazil have refused to endorse the measures.
"Almost all leaders who were previously pro-Russian had to condemn the invasion—at least initially. But as things have dragged on, many have begun to revert to form," said Latham.
Many countries have sought to maintain trade links with Russia even as they are constrained by sanctions. "Russia maintains solid relations with leaders in India and China, for example, even if those leaders formally decried the invasion in the early days."
However, China is reportedly looking to control damage caused by its refusal to condemn Russia's war, with Beijing trying to shake its "pro-Russia neutral" reputation, while starting to show sympathy for Ukraine.
Since he came into office in 2000, Putin has worked hard to restore both the image and the reality of Russia as a great power that had been tarnished since the fall of the Soviet Union.
"Up until his invasion of Ukraine, it seemed as if he had succeeded. Russia was both feared and respected," said Latham. "Since his special military operation went pear-shaped, however, the mask of Russian greatness has dropped."
"Now Russia appears once again to be what many had thought it was in the early decades of the post-Soviet era—less a great power than a nuisance power or disruptive power. I can't see it becoming anything more than that for at least a generation."