Harry Potter Game 'Hogwarts Legacy' Under Fire Over Trans Character's Name
Trans people and their allies have slammed the name of the first trans character in the Harry Potter universe.
Sirona Ryan appeared in the new video game Hogwarts Legacy as the publican at Three Broomsticks, the pub in the fictional town of Hogsmeade.
Her appearance in the game has raised eyebrows, given Harry Potter author J.K. Rowling's controversial stance on transgender issues.
Players of the game interact with Sirona during a quest and her friend, a goblin named Lodgok.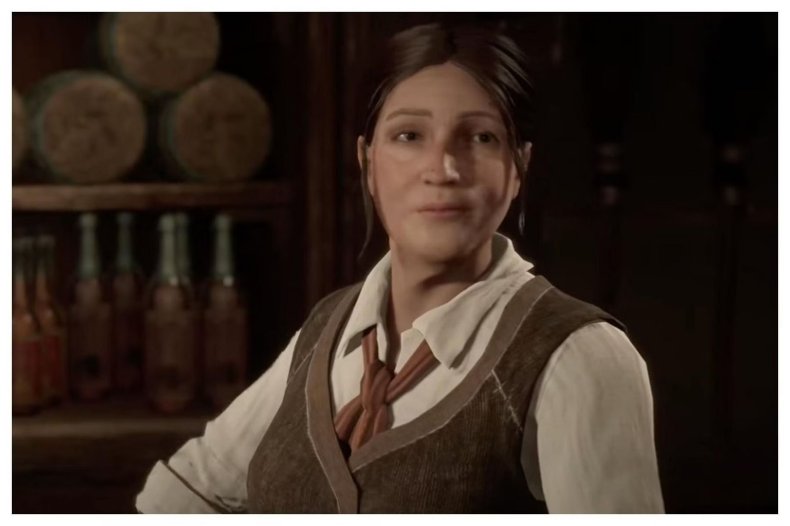 Sirona tells the player that Lodgok was the only one "to realize I was actually a witch," meaning he had recognized she transitioned even though he had not seen her in a long time.
"Hadn't seen him in years when he came in a few months ago. But, he recognized me instantly. Which is more than I can say for some of my own classmates. Took them a second to realize I was actually a witch, not a wizard," Sirona tells the player.
Many people were surprised to see the inclusion of a trans character, but that quickly turned to anger when they learned her name.
Some Twitter users even compared it to the racially stereotypical names, Rowling gave to characters in the book series, including Asian student, Cho Chang, and Black wizard, Kingley Shacklebolt.
"f****** hell they called the ONLY trans witch in like, ALL OF BRITAIN, SIRona RYAN, f****** call her Dudette McBro at this point," wrote one person on Twitter.
Another added: "we didn't win, it's the typical jk rowling name situation (SIRona RYAN) and apparently they're mistaken for a wizard by classmates as well."
And a third commented: "A token trans character called SIRona Ryan. REALLY? Getting tokenized is bad enough, but they're just taking the piss."
Other Twitter users hypothesized the character was named after the Celtic pagan healing goddess, Sirona.
Ahead of the game's release, Rowling's opponents and major LGBTQ organizations such as Stonewall UK and GLAAD called for people to boycott the game over the author's trans rhetoric.
Rowling was credited on the game's website as working closely with its developers to ensure that Hogwarts Legacy remains true to the wizarding world she created.
The author first faced backlash in 2019 for supporting U.K. tax specialist, Maya Forstater, who had been fired over tweets deemed anti-trans.
Rowling also wrote an essay on trans issue and proposed changes to the law for gender self-identification on her personal website in June 2020.
"When you throw open the doors of bathrooms and changing rooms to any man who believes or feels he's a woman—and, as I've said, gender confirmation certificates may now be granted without any need for surgery or hormones—then you open the door to any and all men who wish to come inside. That is the simple truth," she wrote.
Rowling later that month reacted to an article that described "people who menstruate," to be inclusive of trans men and non-binary people.
She tweeted in response: "I'm sure there used to be a word for those people. Someone help me out. Wumben? Wimpund? Woomud?"
Her critics described Rowling as a "TERF"—an acronym for trans-exclusionary radical feminist—but she refused to back down on the issue.

"If sex isn't real, there's no same-sex attraction. If sex isn't real, the lived reality of women globally is erased. I know and love trans people, but erasing the concept of sex removes the ability of many to meaningfully discuss their lives. It isn't hate to speak the truth," she tweeted at the time.
"I respect every trans person's right to live any way that feels authentic and comfortable to them," she went on. "I'd march with you if you were discriminated against on the basis of being trans. At the same time, my life has been shaped by being female. I do not believe it's hateful to say so."