Holly Madison: Hef Took Nude Photos of Women When They "Were Messed Up"
Holly Madison has revealed that her former boyfriend Hugh Hefner would take nude photos of women when they were "messed up" and distribute them.
The Girls Next Door alum made the claim during the September 5 episode of her Girls Next Level podcast, which she co-hosts with Bridget Marquardt, another of Hefner's girlfriends. The Oregon native was in the middle of discussing one Playboy Mansion resident's side hustles when she made the revelation.
"She had been there for a while, she really wanted to be a Playmate," the 42-year-old told listeners—without mentioning the woman by name—noting that Hefner "wasn't making the girlfriends Playmates anymore."
"I think she was just kind of, like, salty about the situation a little bit and was going into this like, 'OK, I'm going to make money off this no matter how I can,' which in a way is amazing, get your bag, but some of her side hustles were detrimental to other people."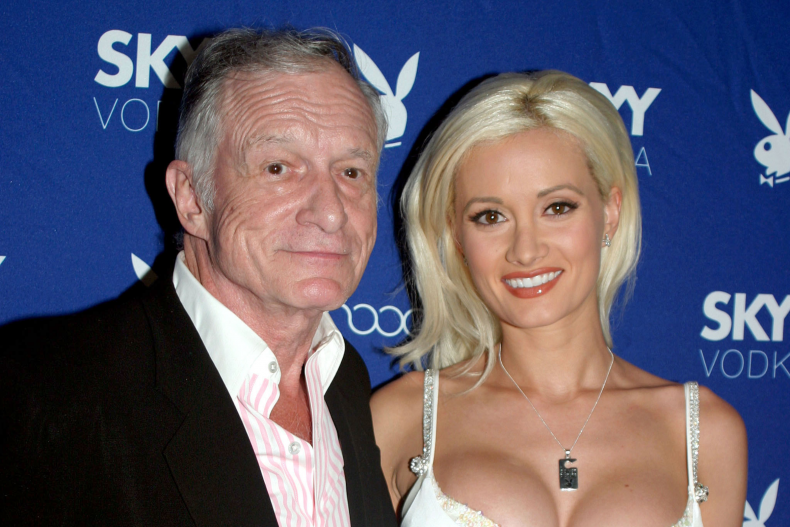 Madison explained that there was a "whole escorting scandal" at the mansion where the woman allegedly "recruited" people to join.
"If you want to work as an escort, more power to you, but I have not-so-great feelings about people who try to recruit people into it," she continued.
Madison added that the woman allegedly "started a website" selling nude photos that "Hef took of the girls."
"He would take nudes of us in the limo, like when people were messed up or in the bedroom," Madison claimed. "He would make copies of them and pass them out to all the girls who were out with us that night."
"She would take those photos and put them on the website without the girls' consent," Madison said, alleging that "she would put videos she took of the other girls nude on the website" too.
Madison said that when she confronted Hefner—Playboy magazine's founder and former editor in chief—and asked him to stop distributing the images, he reacted strongly.
"He was like, 'What? Why would I do that?' Like heaven forbid he be inconvenienced."
Hefner eventually told the woman to delete the website, but Madison said that he snitched on her in the process.
"He told her that I was the one who told on her, which is so messed up," the former Holly's World star said. "He knows what he's doing when he's doing stuff like that, so that girl had her claws out for me bad after that."
Marquardt, seemingly knowing who Madison was referring to, added that the woman was "an intimidating person."
Newsweek has reached out to Madison for additional comment.
Madison and Marquardt have been revealing behind-the-scenes secrets about their experiences at the Playboy Mansion since their podcast premiered on August 22.
On a previous episode, Madison revealed that she was "really wasted" the first time she was intimate with Hefner.
At the time, the mom of two—who shares kids Rainbow and Forest with ex-husband Pasquale Rotella—was hoping for a spot in the mansion.
"I just remember drinking so many vodka cranberries all night," she recalled about that night, admitting that she was "nervous."
As the evening came to a close, Madison was invited to Hefner's bedroom.
"And the first thing that happens is the recruiter says, 'Daddy...'—I'm gagging as I'm saying this—but everybody used to call him Daddy in the bedroom, which is so gross. So she'd be like, 'Daddy, do you wanna get the new girl?' And I s*** you not, next thing I know he's on top of me."
Marquardt added that having sex with the publisher was equivalent to a "chore."
"Everybody just wanted to make it go by as quickly as possible," she said.
Hefner died on September 27, 2017 at the age of 91 from cardiac arrest, his death certificate stated.