Holly Madison Says Producer 'Admitted' to Staging Drama With Her and Kendra
Holly Madison claimed a producer "admitted" to staging drama between her and Kendra Wilkinson.
The reality stars, along with Bridget Marquardt, appeared on the E! reality TV series the Girls Next Door for six seasons beginning in 2005.
Years later, Madison, 42, and Wilkinson, 37, embarked on their own spin-offs, Holly's World and Kendra respectively.
During an interview on Heather McDonald's "Juicy Scoop" podcast on Tuesday, August 16, Madison alleged that producer Kevin Burns purposely pitted the women against each other.
"Things got weird with me and Kendra, and I felt like he was encouraging that," the Oregon native told McDonald, 52, and Marquardt, 48, during their chat.
"He wanted us fighting, he wanted drama, he wanted me to come on her show and like brag about how much money I was making in Vegas so she'd get a little poke in the ass to take more jobs to make her show more interesting," Madison said. "That's what he told me."
Burns, who passed away in 2020, produced both E! spin-offs.
The mom of two—who shares kids Rainbow Rotella, 9, and Forest Rotella, 6, with ex-husband Pasquale Rotella, 48—said that the pair eventually had a "falling out."
"I was on the phone screaming with him, and he admitted to me that he wanted us to not get along because he thought it would be good publicity," she added of Burns. "And I'm like, I don't want any part of that bulls***, you know?"
At the time, Madison was pregnant and explained she didn't "want to be stressed out" and "fighting with people for publicity."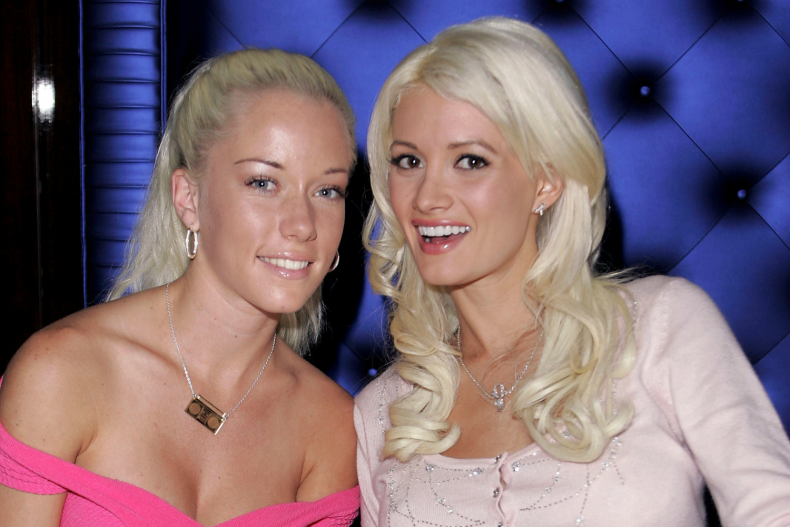 Madison and Wilkinson's relationship had been rocky since they lived in the Playboy Mansion during their relationships with Hugh Hefner.
Madison began dating Hefner in 2001 after she attended one of the mansion's pool parties. Meanwhile, Wilkinson worked at the Playboy Editor-in-Chief's 78th birthday party in 2004.
Although it's unclear what exactly happened between the two reality stars, Wilkinson divulged details about their bumpy friendship in 2015.
"At the end of the day, it's a very awkward situation 'cause it's not like we're The Spice Girls," the mom of two—who shares kids Hank Basket IV, 12, and Alijah Baskett, 8, with ex-husband Hank Baskett—told Fox 5's Good Day New York.
"We dated an 80-year-old man at the same time. It's very awkward. She probably wants to distance herself from that situation. God bless her, she should. It's embarrassing because I saw some things that she probably doesn't want me to talk about."
Madison and Marquardt were bridesmaids at Wilkinson's wedding to Baskett, and Marquardt said on the podcast that she even "threw her a baby shower."
During a 2012 interview with CNN, however, Wilkinson said she was "never even really friends" with the duo. "We're different." Madison later fired back at the model's remarks, calling Wilkinson "the fakest person [she'd] ever met" in her 2015 book, Down the Rabbit Hole.
"After that, I deleted her number from my phone," she wrote. "Kendra and I haven't spoken since, and I have to say, I don't miss her."
In an interview with Us Weekly, Kendra slammed the memoir, telling the outlet it's a "shame that someone can't be appreciative of what something like that has given them."
Newsweek reached out to Madison and Wilkinson for additional comment.