Homebuyer Shocked After Purchasing Home and Receiving Entire Neighborhood
A Nevada homebuyer was shocked to discover that after purchasing a nearly $600,000 home, she accidentally received the entire neighborhood.
The single-family home is located in a Toll Brothers development and was valued at $594,481, according to Reno Gazette-Journal. But due to what's being called copy-and-paste error, she got so much more than just one house.
Home Buying in 2022
A trends report published by the National Association of Realtors found that 43 percent of homebuyers in 2022 are married couples between the ages of 23 to 41 years old.
The report also found that 90 percent of homebuyers are born in the United States, 82 percent are white and more than half have a bachelor's degree or higher.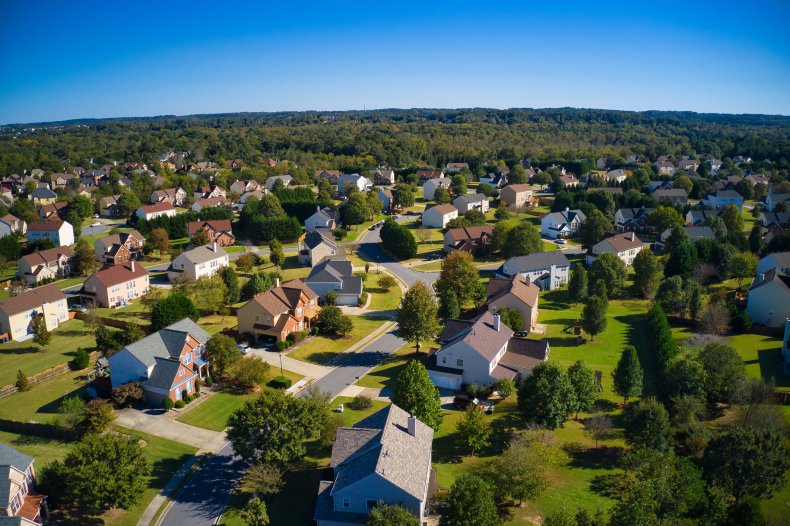 According to the report, 81 percent of first-time home buyers were between the ages of 23 to 31, with a median home price of $305,000.
"It's a pretty tough time to be a first-time homebuyer now," Moody's Analytics Chief Economist Mark Zandi told Newsweek.
"High mortgage rates are combining with high house prices, and affordability is being crushed. So, first-time homebuyers are getting locked out of the market," he said. "Straight-up buyers are locked in because they'd have to sell the home with a low mortgage rate and buy a home with a higher mortgage rate. And that's very difficult to do."
$594,481 for a Neighborhood
After purchasing the single-family home, the Nevada homebuyer discovered that her name was placed on the deed for an additional 84 lots and two large common spaces.
The transaction was flagged once the office realized the mistake and immediately contacted the title company to correct the error.
"It appears Westminster Title out of Las Vegas may have copied and pasted a legal description from another Toll Brothers transfer when preparing (the homebuyer's) deed for recordation," Chief Deputy Assessor for Washoe County Cori Burke told RGJ.
He added that while mistakes caused by copy and pasting aren't entirely uncommon, it does not often result in an incorrect title chain transfer of 85 properties.
To add to the difficulty, several of the properties already had finished homes that were sold to other buyers.
In order to correct the titles, the homebuyer must transfer the title of the properties back to Toll Brothers. RGJ reported that once these documents are recorded, the new property owners will take over the process.
"On August 9, 2022 true and rightful ownership was returned through a new document recorded by Westminster Title," Burke told Newsweek on August 12. "The Assessor's Office has updated the ownership on all of the associated parcels."
Newsweek reached out to Toll Brothers and the Washoe County Recorder for comment.
Other Homeowner Stories
In what was referred to as a "disaster mistake," a homeowner claimed workers tore the roof off the wrong house.
An Idaho family experienced a similar predicament after returning home to find their roof was removed after a contractor went to the wrong house.
Meanwhile, a couple in San Francisco recently battled it out with the city after they were ticketed for parking in their own driveway.
Updated 08/12/2022, 12:05 p.m. ET: This story has been updated with a statement from Chief Deputy Assessor for Washoe County.