A recently leaked memo from House Republicans shows that the GOP is urging its politicians to blame recent mass shootings on the left, while downplaying the role of white supremacy.
According to the Tampa Bay Times, who obtained the memo, the document offers talking points in response to common questions Republican representatives may face after the recent mass shootings.
The paper describes most of the offered responses as "boilerplate Republican arguments against tougher gun restrictions." However, the Times spotlights the answer the memo suggests in response to the question "Do you believe white nationalism is driving more mass shootings recently?"
"White nationalism and racism are pure evil and cannot be tolerated in any form," the document said. "We also can't excuse violence from the left such as the El Paso shooter, the recent Colorado shooters, the Congressional baseball shooter, Congresswoman Giffords' shooter and Antifa."
The El Paso shooter, identified as Patrick Crusius, killed 22 people at a Walmart. In statements to police, Crusius said he was targeting "Mexicans." A manifesto linked with Crusius posted to 8chan ranted against the "Hispanic invasion of Texas" and argued for the murder of Latinx immigrants.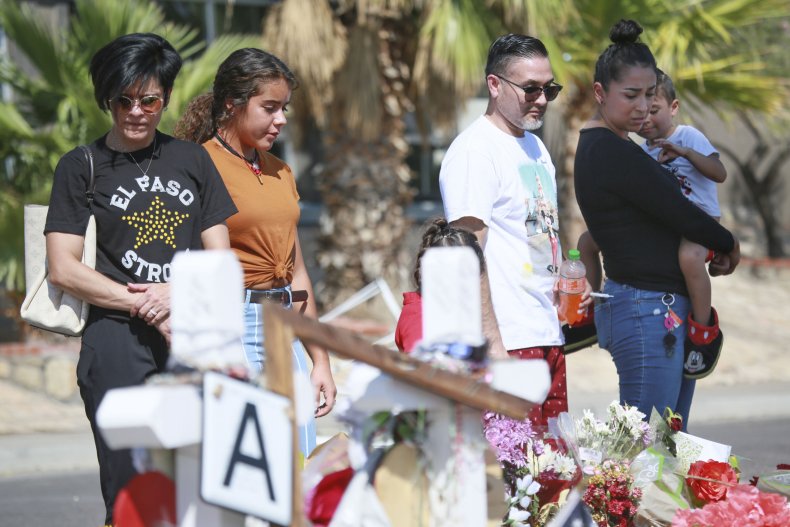 Rep. Gus Bilirakis of Palm Harbor, Florida included these points in a newsletter this week. Summer Robertson, a spokeswoman for the representative, told the Times the points were "provided by the House Republican Conference," which is behind the party's messaging strategy.
"We have sadly seen violence from ideological extremists on both sides and that is completely unacceptable and must be condemned," Robertson told the paper. "Congressman Bilirakis has always been clear that he denounces bigotry and hate speech, regardless of its source, including from white nationalists."
Robertson said the reference to El Paso was a mistake, and that Bilirakis meant to refer to the Dayton, Ohio shooting which happened hours after the incident in El Paso. Connor Betts, the alleged shooter, was reported to have protested at a Ku Klux Klan rally, and is described as a democratic socialist. Betts was reportedly obsessed with death and violence, however, and made a "kill list" of women he wanted to murder.
Though the shooter at the 2017 Congressional baseball game was identified as a left-wing activist targeting Republicans, the other shootings named in the GOP memo have a more ambiguous connection to the left.
Rep. Giffords is a Democrat, and the shooter in that instance was determined to be paranoid about government in general—his politics were mixed between right and left, and not believed to be a factor, according to an investigation by law enforcement. The Colorado incident this May is also believed to not have been motivated by politics.
Conservative commentators have downplayed the connection between recent shootings and white supremacy. Fox News host Tucker Carlson was placed on leave after calling white supremacy "a hoax." Trump official Kellyanne Conway defended Carlson, saying that white supremacy received "outsized coverage."