How 'Game of Thrones' Created That Incredible Balerion Skull in Season 7 'Stormborn' Episode
One of the most impressive scenes in Sunday's Game of Thrones (Euron Greyjoy's bloody massacre at sea aside) was the sight of legendary dragon Balerion's skull, stored in the cellars of the Red Keep as a trophy.
In the episode, "Stormborn," Queen Cersei (Lena Headey) and her mad scientist Qyburn (Anton Lesser) paid old Balerion, also known as the Black Dread, a visit as they pondered how to take on Daenerys Targaryen's three dragons in the impending war for the Iron Throne.
In GoT lore, Balerion was the largest and most-feared dragon commanded by the Targaryen dynasty, and his reputation has descended through the generations. Daenerys's (Emilia Clarke) ancestor Aegon I used the might of Balerion to conquer and unite six of the Seven Kingdoms and named himself king. Of course, the Iron Throne would remain under Targaryen rule for hundreds of years until Dany's father, the Mad King Aerys, was overthrown by Robert Baratheon.
The skull of Balerion seen in "Stormborn" is incredibly impressive on screen and fans will be even more impressed by the sheer extent of detail that went into the sculpture, though Balerion appears in the episode for mere minutes. (It is this level of intricacy that demonstrates why GoT has the most Emmys in history for a drama series.)
Related: How eunuch Grey Worm and Missandei are able to get intimate in GoT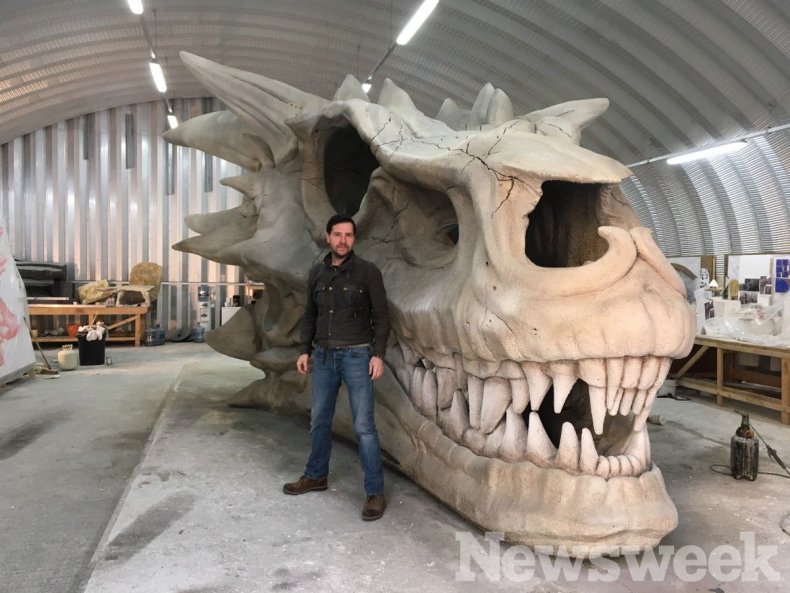 Darren Fitzsimons, Game of Thrones' head of department sculptor, tells Newsweek that to create the skull, he "worked with a team of four sculptors over six weeks from start to finish."
Fitzsimons—pictured above with the skull at GoT 's homebase of Titanic Studios in Belfast, Northern Ireland—says that the process of creating Balerion's skull started with a simple illustration.
Says Fitzsimons, "Firstly, the art department, under the direction of production designer Deborah Riley, created a concept illustration and a digital model of the skull that was approved by Dan [Weiss] and David [Benioff, executive producers]—they were keen that the skull have the detail of an evolved creature."
Next, he and his team of sculptors got to work. "We set out a grid and drew a front and side elevation of the skull," Fitzsimons explains. "We then calculated that we needed 30 poly blocks that are each 2 feet by 4 feet by 8 feet. These were all glued together. A basic shape was then created using hot wires, followed by an assortment of hand tools to carve the detail on the interior and exterior.
"We worked in tandem with [the special effects team] to create the cavity needed for the piece that would explode when the bolt hit it," Fitzsimons says, referring to Qyburn shooting a spear through the skull in Sunday's episode by using his new dragon-slaying weapon.
"It does not have any internal metal armature," Fitzsimons continues. "The teeth are the supporting structure on which the rest of the sculpt sits. It was then plastered, painted and cut up for transport from Belfast, Northern Ireland, to Seville, Spain. It was reassembled on site in a day and a half."
The final skull is "32 feet by 20 feet by 15 feet high," the sculptor says.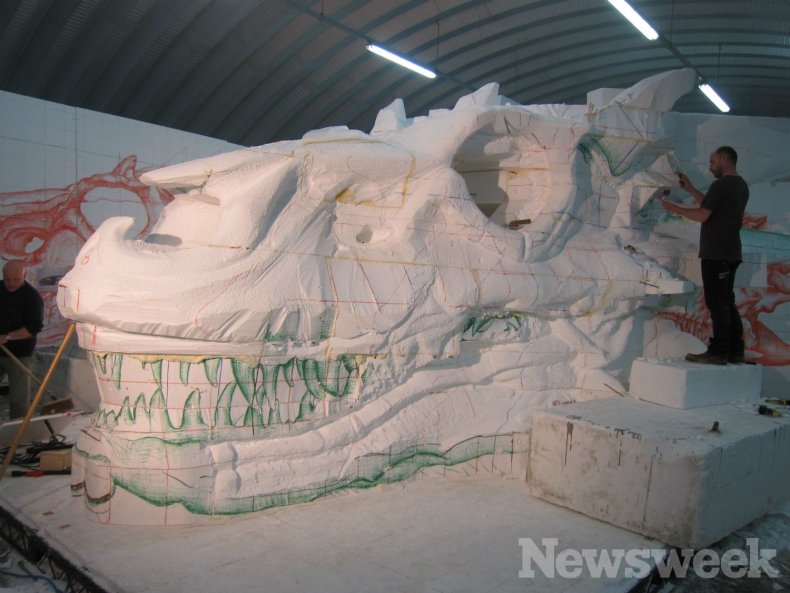 "It is the most challenging piece that the sculpture department hafs created," Fitzsimons adds. "There was a lot of sculpture work in Season 7, and time was a problem. There was no time to sculpt a clay maquette; we worked directly from the digital model, which proved very tricky and challenging."
As for Reddit chatter about how Balerion's size measures up to the size of Dany's dragon, Drogon, he adds: "We calculated that it would be about the same size as Drogon is in Season 7."
After all of the team's hard work on the sculpture—there is only one skull in existence—Fitzsimons says he was not disappointed to see it speared in the scene with Qyburn and Cersei.
"It was not sad for me to see the skull damaged in the action, actually the opposite," he explains. "I enjoy being a sculptor for film and having my work interactive and play a role in telling the story. The way it is to work on camera has to always be my focus."
Game of Thrones airs Sundays at 9 p.m. on HBO.
Read Newsweek 's deep-dive of Episode 2, "Stormborn," here. For more Game of Thrones coverage on Newsweek, click here.