Meghan Markle made a stylish debut at the 2023 Invictus Games tournament in Germany on Tuesday, marking her first official public appearance since being involved in a New York City paparazzi car chase in May.
The duchess apologized to attendees for not arriving sooner at a reception for the injured, sick and wounded veterans taking part in the sports events, citing taking care of Prince Archie and Princess Lilibet as her excuse.
The games started on September 9, with Harry making the centerpiece address at the opening ceremony at the Merkur Spiel-Arena. Meghan flew into the city of Düsseldorf from California on Tuesday.
Taking to the stage with her husband in the evening, Meghan made a chic style statement, wearing a simple black shirt dress from the American label Banana Republic.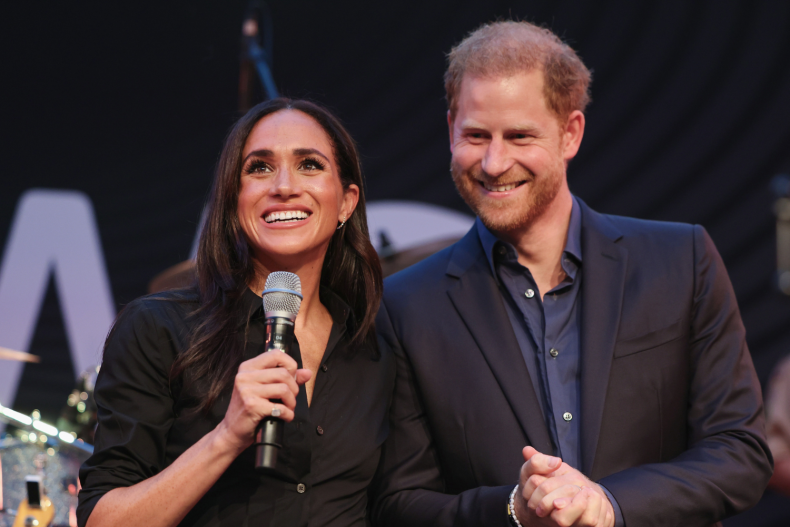 The dress was simply styled with a pair of matching black high-heeled pumps and black leather belt. To accessorize, the duchess wore two mainstays of her personal jewelry collection: a gold Cartier "Love" bracelet and gold Cartier "Tank" watch.
Journalist Victoria Ward, from Britain's Daily Telegraph, took to X (formerly known as Twitter) to reveal that for the duration of the events Meghan is doing her "own hair & makeup."
Meghan is known to take personal pride in maintaining overall control of her appearance for public events. In 2021, messages between the royal and her aide, Jason Knauf, which were submitted to a London court as part of a tabloid lawsuit, revealed her displeasure at reports she used a stylist.
"You know how personally frustrating I find the 'stylist' narrative," she wrote. "(as it's the only thing I seem to still have any control over—my personal styling)."
In her brief on-stage speech, Meghan told members of the Invictus community that she was "thrilled" to be with them for her first event of this year's games, and referenced the support networks that the veterans competing had who were rooting for them around the world.
In a closing reference, the duchess noted how she was looking forward to one day making the games a family affair.
"We can't wait to one day be able to bring our kids also so they can experience just how amazing this is," she said.
Meghan's speech was not broadcast as part of the live coverage of the games, which has been made available for the first time this year to access globally through the official Invictus website and on YouTube.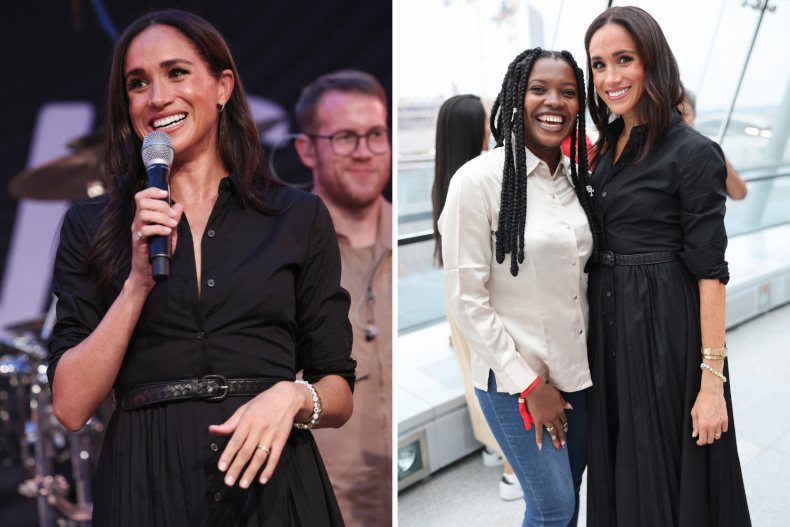 Her appearance comes as she has faced a number of personal setbacks over the past year, including the paparazzi encounter in May.
The royal had been in New York with Harry and her mother to accept a Women of Vision Award in Midtown when after the ceremony their car was followed by photographers.
A day after the event took place the couple's spokesperson condemned the paparazzi's conduct, describing the pursuit as a "near catastrophic car chase" that lasted "over two hours," resulting in "multiple near collisions involving other drivers, pedestrians and two NYPD officers."
"While being a public figure comes with a level of interest from the public," the spokesperson said. "It should never come at the cost of anyone's safety."
The pursuit drew parallels with the treatment faced by Princess Diana in the 1990s who eventually died as a result of injuries sustained in a car crash while being chased by photographers.
The account from Harry and Meghan's spokesperson however, attracted negative attention as comments made by the NYPD and New York City Mayor Eric Adams, appeared to present a more conservative account of events.
Meghan has made a number of private appearances in the following months, including visits to farmers' markets in the Santa Barbra area and most recently to watch the Beyoncé Renaissance tour in Los Angeles with Harry.
The couple are expected to attend a number of the Invictus Games events throughout the week together, with the possibility that Meghan will follow examples set in past years by making an official address during the closing ceremony which will take place on September 16.
James Crawford-Smith is Newsweek's royal reporter, based in London. You can find him on Twitter at @jrcrawfordsmith and read his stories on Newsweek's The Royals Facebook page.
Do you have a question about King Charles III, William and Kate, Meghan and Harry, or their family that you would like our experienced royal correspondents to answer? Email royals@newsweek.com. We'd love to hear from you.