2016 Democratic National Convention in Philadelphia: What You Need to Know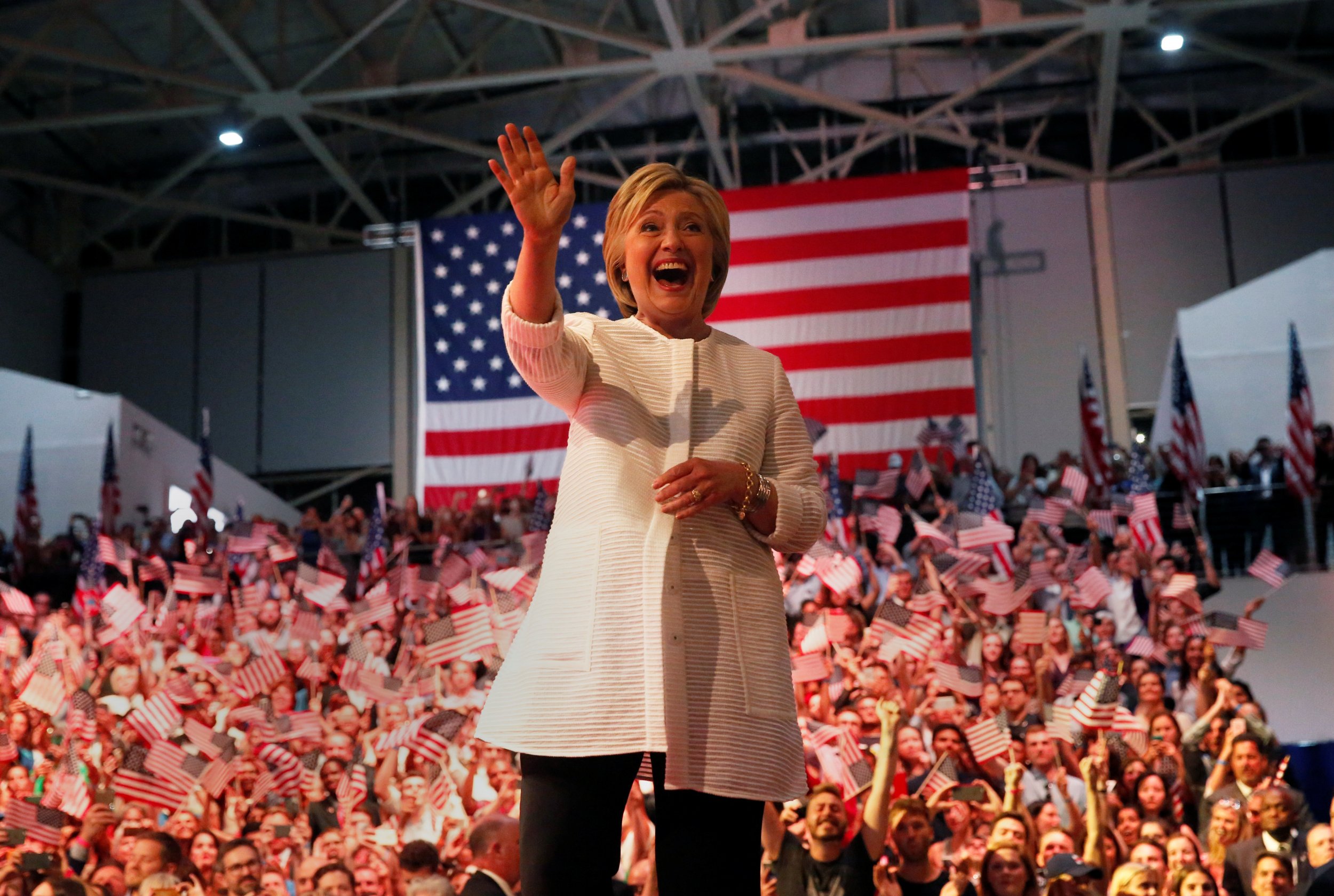 Welcome to the 2016 Democratic National Convention in Philadelphia, where Hillary Clinton is set to become the party's presidential nominee. Here's what to expect during the four-day event.
Why Philadelphia?
At the beginning of 2014, six cities—Birmingham, Cleveland, Columbus, New York, Philadelphia and Phoenix—submitted bids to host the quadrennial event. Philadelphia ultimately won, beating the other finalists, Columbus and New York City. With a key location in a swing state, Philadelphia is considered a presidential prize with historical value.
The gathering will be the second political convention so far this century in "the city of brotherly love and sisterly affection." There, in 2000, at what formerly was known as the First Union Center, Republicans nominated George W. Bush before his first term as president.
Where and When Will Most of the Action Take Place?
The convention begins Monday and lasts through Thursday night, and it will take place inside the Wells Fargo Center. Each day's session will begin in the later afternoon hours and rally around Clinton's slogan of "Stronger Together." The gavel time on Monday and Tuesday is scheduled for 4 p.m. Eastern time, and on Wednesday and Thursday the convention will begin at 4:30 p.m. By the end of the week, the Democrats will have voted on and approved a platform, and they will have officially nominated their presidential candidate, who will face off in the November general election against Donald Trump. The New York billionaire formally became the Republican nominee last week in Cleveland.
Who Will Be There?
Clinton granted her former rival, Vermont senator Bernie Sanders, a speaking spot on the first night of the convention. After resisting for weeks, Sanders endorsed Clinton. His decision angered some of his supporters. But while he held onto his presidential bid, the senator called for major concessions on various issues of the party's platform, including a carbon pricing regime to combat climate change and a $15 hourly federal minimum wage. Monday's theme will be "United Together,"​ with a focus on American families. First lady Michelle Obama will speak that night.
Clinton's husband, former President Bill Clinton, is slated to speak Tuesday at the convention, along with mothers whose sons died in police-involved incidents. That night's theme is "A Lifetime of Fighting for Children and Families."
Outgoing President Barack Obama and Vice President Joe Biden will address the crowd on Wednesday, when the theme is "Working Together."Also that day, Clinton's newly announced running mate, Virginia Senator Tim Kaine, likely will accept his nomination and give his first speech as a national figure.
The last day of the convention focuses on Clinton's "Stronger Together" slogan. The Clintons' daughter, Chelsea, is slated to introduce her mother onstage. It remains to be seen what role Clinton's family will play at her convention when compared with Trump's kin. All four of the Republican's adult children and his wife, Melania, spoke in Cleveland last week. Many credited his children with saving the Republican National Convention.
A slew of current and former Democratic political stars also are scheduled to speak throughout the week. Included in that list are senators Cory Booker of New Jersey and Elizabeth Warren of Massachusetts, and Colorado Governor John Hickenlooper, all of whom once were considered possible vice presidential picks.
The list also includes a few everyday Americans, such as Erica Smegielski, whose mother was fatally shot in the 2012 massacre at Sandy Hook Elementary School in Newtown, Connecticut, and Henrietta Ivey, a home-care worker who is helping lead the fight in Michigan for a $15-an-hour federal minimum wage.
Wondering Where to Watch From Home?
There are several different ways to follow the convention. CNN is offering 24-hour coverage across its platforms. Viewers can tune in daily to C-Span to watch the convention from noon until 9 p.m. Eastern time. Similar to the RNC, Twitter again has partnered with CBS News to offer live coverage on CBSN. PBS and NPR also are teaming up to offer coverage from 8 to 11 p.m. Eastern time each night of the convention. The major news networks will devote daily prime-time coverage to the event.
Both the DNC website and DNC YouTube channel will provide a livestream online.
What's Going on With Clinton?
After a week dominated by Trump and the Republicans during their convention, this week allows Clinton and the Democrats to set themselves apart from the real estate mogul's polarizing rhetoric. She is set to accept the nomination on Thursday.
What About Security?
Despite widespread fear leading up to the RNC, the protests in Cleveland didn't live up to the hype. Overall, it was a calm week for those gathered at the GOP event.
So-called Bernie or Bust supporters are expected to flock to Philadelphia to protest the DNC. And a group of Sanders supporters have vowed to stage a "fart-in" when Clinton accepts the nomination to show their disgust for party leaders and the Vermont senator's endorsement.
Tensions are high over the recent shootings of black men by police and attacks against officers in multiple states around the country. Philadelphia's police union slammed Clinton for including relatives of police shootings at the convention, but excluding relatives of slain police officers, The Philadelphia Inquirer reported. Clinton responded, saying two law enforcement personnel will speak at the DNC. City officials reportedly are working with protest organizers to minimize arrests.
As in Cleveland, the U.S. Secret Service will oversee security in Philadelphia. In addition to government authorities, about 6,600 local police officers will be present in Philadelphia, according to USA Today. The city recently prepared for extra security during Pope Francis's visit in September.