Humans For Sale: Libyan Slave Trade Continues While Militants Kill and Torture With Impunity, U.N. Says
Libya has become a lawless state in which fragmented armed groups kill and torture with impunity, the U.N. human rights office (OHCHR) has said, seven years after a revolution toppled dictator Muammar el-Qaddafi.
In a report to the Human Rights Council, the OHCHR said Libyans and migrants are still being detained in appalling conditions and sold in "open slave markets." With the country split between two rival governments, no authority is able to stop the rampant human rights abuses.
The open sale of human slaves—migrants, refugees and Libyans—shocked the world when it came to light in 2017. But without a capable government in the country, the practice has continued unabated while media interest ebbed.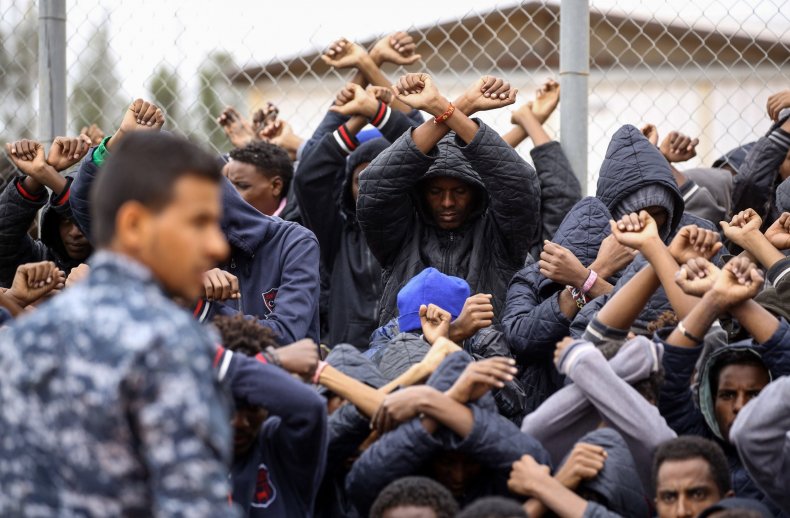 "Extrajudicial and unlawful killings are rampant," said Andrew Gilmour, U.N. Assistant Secretary-General for Human Rights, reporting to the council in Geneva. The port city of Benghazi—where U.S. Ambassador to Libya John Christopher Stevens and diplomat Sean Smith were killed in 2012—has become a center of extrajudicial killings.
"In what has become an increasing pattern in and around Benghazi over the last two years, more bodies with signs of torture and hands bound were found in the streets," Gilmour said.
The main perpetrators of human rights violations are armed militias that "act with almost complete impunity," and some of the worst offenses take place in detention centers run by armed groups "including those with links to ministries," Gilmour explained.
European Union diplomat Carl Hallegard said that the bloc is "deeply concerned" over the continued reports of slave markets, and that Libyan authorities should "investigate and hold persons responsible for those acts accountable."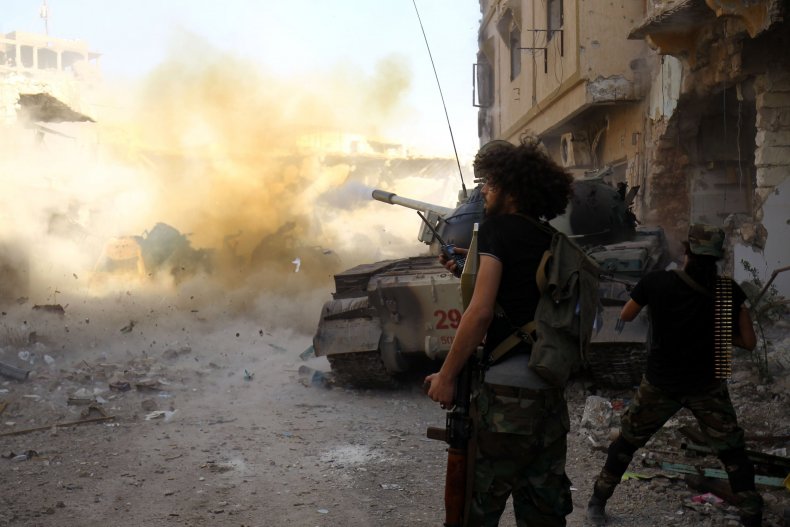 Libya's rival governments emerged from the chaos and lawlessness of the Civil War. The United Nations-backed Government of National Accord (GNA) is led by Prime Minister Fayez al-Sarraj and based in the capital Tripoli, but has failed to enforce its authority on the war-torn nation.
The Libyan National Army (LNA), led by General Khalifa Haftar, refuses to recognize the GNA, and continues to fight for control of Libya from its base in the eastern city of Tobruk. The rest of the country is ruled by a patchwork of local militias and Islamist groups, including those linked to ISIS.
In January, a video emerged depicting a mass execution in Benghazi, allegedly carried out by an LNA special forces field commander called Mahmoud al-Werfalli. The gunman shot 10 men one by one at point blank range, as they knelt blindfolded with their hands tied behind their backs. Wefalli had since been indicted by the International Criminal Court for overseeing the summary executions of several dozen prisoners.
Hanan Salah, Libya researcher for Human Rights Watch, condemned "raging impunity" and said that peace and the rule of law in Libya "seem elusive." She called for the council to appoint an expert to organize a dedicated monitoring and reporting mechanism for what is happening in the country.