How Joel Osteen's Prosperity Gospel Is Guiding Donald Trump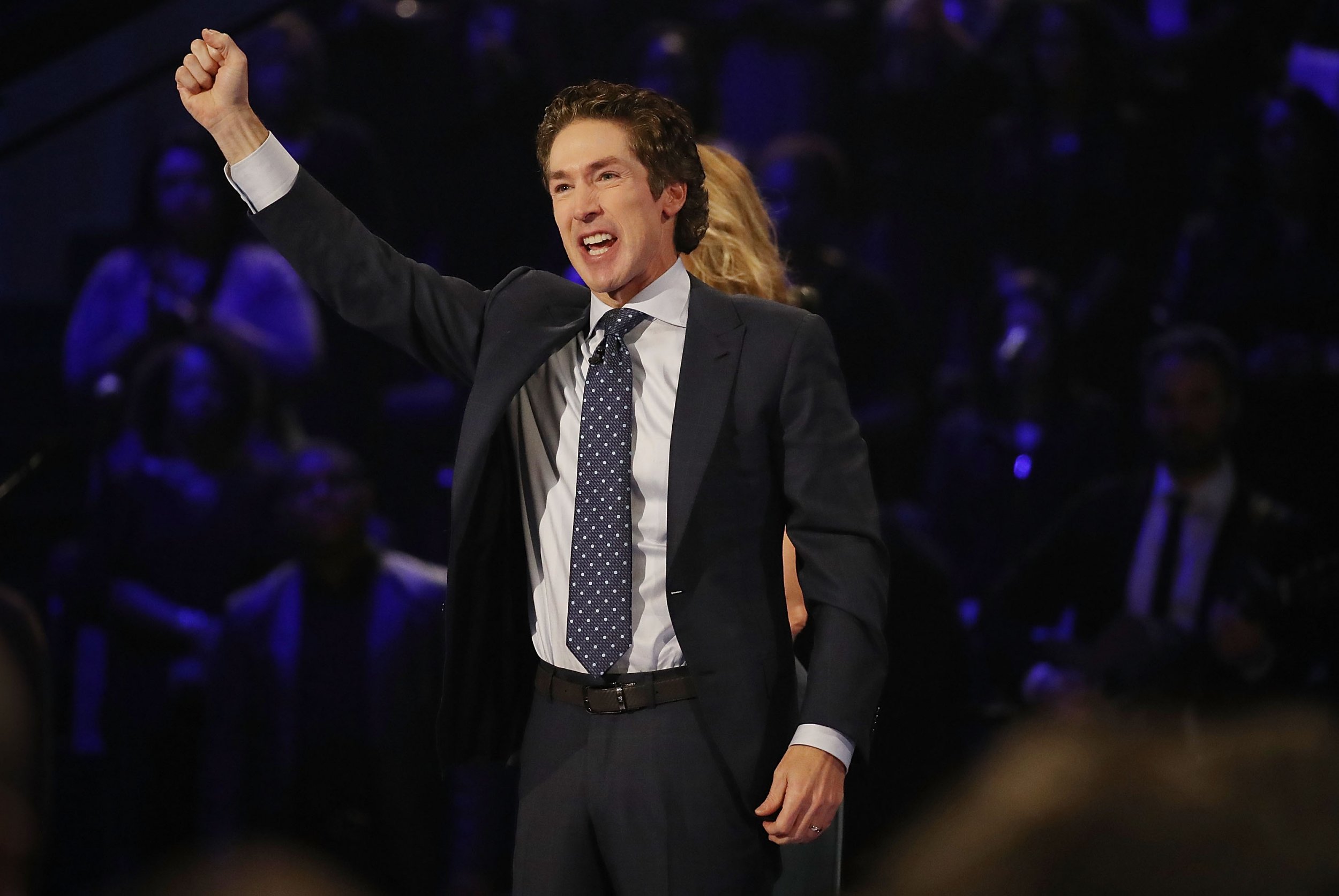 Joel Osteen has faced a storm of criticism since Hurricane Harvey hit Texas.
The Houston televangelist came under fire after the hurricane dumped 27 trillion gallons of rain on Texas, leaving tens of thousands homeless. Commentators slammed Osteen for delaying the opening of his 16,800-seater megachurch to flood refugees until four days after the storm made landfall.
Much of the anger focused on Osteen's own wealth, which has been estimated north of $40 million.
But Osteen was not fazed. The 54-year-old preacher said he had been a victim of a "misinformation" campaign and encouraged victims of Harvey to turn to their faith for solace.
As pastor of the United States's biggest church—Lakewood reportedly has a weekly attendance of more than 40,000—Osteen is used to coming under scrutiny. And as one of the best-known proponents of a controversial brand of Christianity known as prosperity theology, or the prosperity gospel, Osteen is no stranger to receiving flak, both from inside and outside Christian circles.
Prosperity theology has been characterized as the theological equivalent to the American Dream. The essence of the prosperity gospel is simple: Faith brings rewards, not only in the afterlife—as taught in all mainstream forms of Christianity—but also in the earthly life. These rewards can take the form of health, career success, and, most controversially, wealth.
Read more: "We've got the White House on speed dial." How evangelicals are influencing Trump
The movement grew out of 20th-century U.S. televangelism, among other influences. Preachers such as Oral Roberts and William Branham led major revivals across the country in the mid-1900s. The revivals would be spectacular events, including healings and promises of well being. John Osteen, the father of Joel, was part of this movement and founded Lakewood Church in 1959; Joel would succeed his father as pastor.
Osteen has previously denied being a prosperity preacher in the sense of wealth. "If prosperity means God wants us to be blessed and healthy and have good relationships, then yes, I'm a prosperity teacher. But if it's about money, no, I never preach about money," said Osteen in an interview with the Christian Broadcasting Network (CBN). Newsweek reached out to Lakewood and Joel Osteen Ministries for an interview with Osteen, but received no response.
But experts disagree. Kate Bowler, an expert on prosperity theology, tells Newsweek that Osteen falls into the category of "soft prosperity preachers," who focus on positive thinking as a means to achieve one's life ambitions, including wealth. But, according to Osteen's theology, "life's circumstances still depend on a believer's use of faith," says Bowler, a professor at Duke Divinity School in North Carolina and author of Blessed: A History of the American Prosperity Gospel.
Anthea Butler, associate professor of religious studies at the University of Pennsylvania, is more forthright. "At best he's a motivational speaker. He's in the line of Norman Vincent Peale and others who tell you how to live your best life now, God's going to bless you if you do certain things. He's prosperity gospel through and through," Butler tells Newsweek.
Perhaps Osteen should not be shy to admit his fondness for prosperity theology, since it appears to be popular with believers. While evangelical leaders have renounced it—a 2011 Pew Research Center report found that 90 percent of global evangelical leaders rejected the notion that God would grant health and wealth to those with enough faith—that does not appear to be the case among ordinary believers. A 2006 Pew survey found that 46 percent of U.S. Christians agreed that God grants believers material prosperity, while 56 percent thought believers would be rewarded with good health. Among Pentecostal Americans, the figures were even higher, at 66 percent for wealth and 68 percent for health.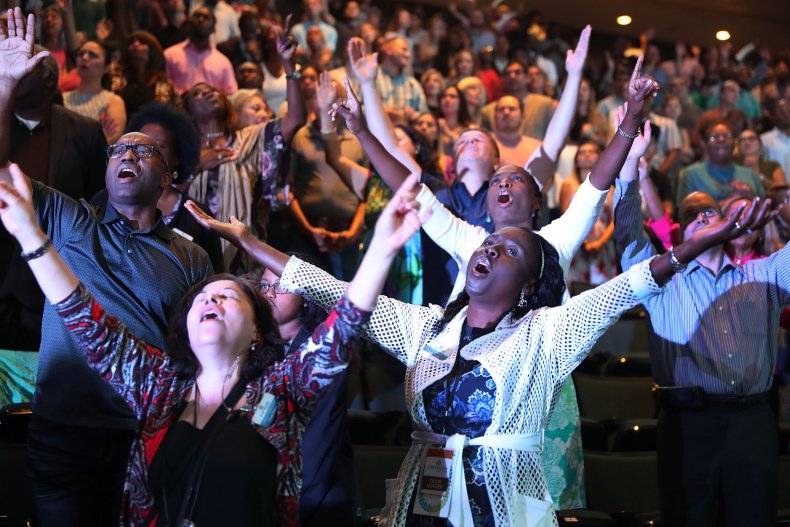 One person with whom the prosperity gospel appears to have found a home is President Trump. The Trump family attended Marble Collegiate Church in New York City, where the pastor was Norman Vincent Peale, author of The Power of Positive Thinking, a 1952 book that sold millions and was translated into more than a dozen languages. Trump has cited Peale as a mentor, telling the Iowa Family Leadership Summit in 2015 that he could listen to Peale "all day long. And when you left the church, you were disappointed it was over. He was the greatest guy."
The presidential board of evangelical advisers, convened by Trump in 2016 to help him (successfully) court the religious right vote, also comprises of several high-profile prosperity preachers. Trump's closest spiritual adviser, Paula White, the pastor of a Florida megachurch and popular Christian commentator, is one. White told an audience at a 2007 event: "Anyone who tells you to deny yourself is from Satan."
Kenneth Copeland, another Texas televangelist, teaches that "financial prosperity is God's will for you" and that believers should pray for financial provision from God. (Osteen is not on the board and never officially endorsed Trump's presidential bid, though he did describe Trump as a "friend of our ministry" and "a good man.")
Trump's mantra of making America great again, which emphasizes American exceptionalism; his championing of his own personal wealth; and his connections to Pentecostal prosperity theology make him the "first American president whose only religious impulses arise from the American prosperity gospel," said Bowler in a May lecture. "Trump is, in short, the prosperity gospel's religious trifecta," she said.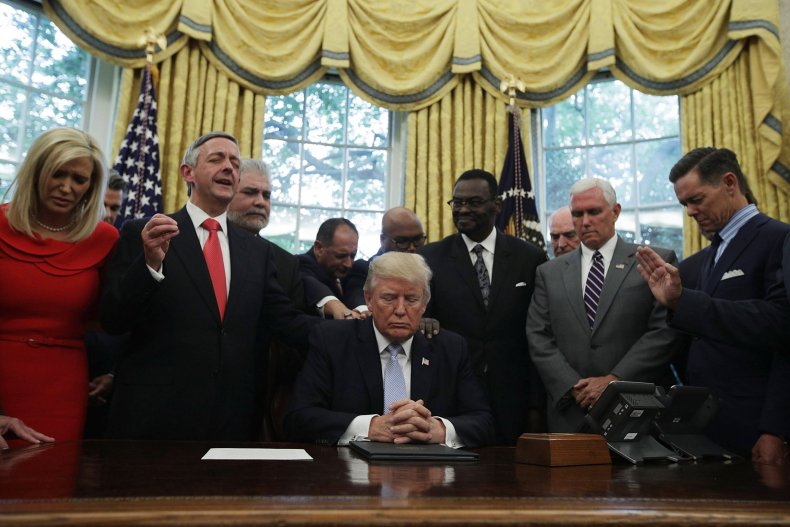 In religious circles, prosperity theology has long been controversial for seeming to equate poverty with falling out of God's favor and apparently contradicting outright many biblical verses. (The Beatitudes, a key segment of Jesus's teaching, begins : "Blessed are you who are poor, for yours is the Kingdom of God.)
But according to some experts, the theology also has political ramifications. Paul Djupe, associate professor at Denison University specializing in religion and politics, says that the ideas behind the prosperity theology—that an individual is responsible for their socioeconomic status, and that financial well being is an indicator of goodness—have permeated Republican politics. "It can be found in the anemic support for welfare and the safety net, weak support for regulations on business, weak support for organized labor, and positive feelings toward the wealthy," Djupe tells Newsweek via email.
Butler, who recently penned a New York Times editorial on Osteen's reaction to Harvey, says that prosperity theology leaves little room for compassion for the marginalized. She cites Trump's recent decision to scrap the Deferred Action for Childhood Arrivals (DACA) scheme—which protects some 800,000 undocumented immigrants born or raised in the United States—as an example. Trump previously said that he had a "big heart" for those protected by DACA and has tried to calm fears of those under the scheme since its rescinding was announced.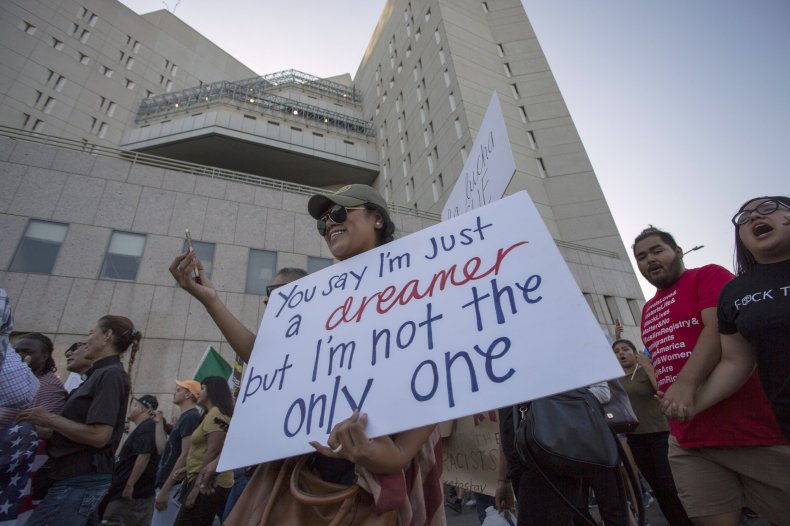 "You make a decision based on the fact that there's 800,000 people here who have only known America as their own country. So he can't have compassion for them and let them stay in?" says Butler. "That's part of the problem with these [prosperity gospel] people: they're rigid, they're unbending, they believe that their success is based on the fact that they have followed this formula. As we all know, sometimes formulas don't work."
In the wake of Harvey, Osteen and Trump were perhaps the two public figures who came in for most scrutiny. (Trump was criticized for not visiting victims during an initial visit to Texas, which he rectified on a later second visit.) But given prosperity theology's denunciation of negative thoughts and exaltation of the positive, the criticism is unlikely to have any lasting impact.
"Trump and Osteen are really two sides of the same coin," says Butler. "They're both selling the same thing. They're selling their success, their wealth: 'You can do it too if you just pay attention to me.'"