Hydroxychloroquine Doesn't Prevent COVID-19, Study Shows, Undermining Trump's Campaign for the Drug
A new study published by the New England Journal of Medicine shows that the use of the anti-malarial drug promoted by President Donald Trump is ineffective in treating COVID-19.
The double-blind study from the University of Minnesota, the first of its kind to look at hydroxychloroquine, randomly assigned 821 people to take either the drug or a placebo. Nearly half, 414 patients, were given a course of hydroxychloroquine for five days, with the remaining 407 people in the study given the placebo. Out of all patients, approximately 80 percent said they had a high-risk exposure to someone confirmed to have the disease.
The study showed that, of the placebo group, 14 percent developed COVID-19, compared to 12 percent of the group taking hydroxychloroquine. Though technically fewer patients who were taking the drug developed COVID-19, the difference is not statistically significant. No deaths were reported.
"Our data is pretty clear that for post exposure, this does not really work," lead researcher Dr. David Boulware told Reuters. Boulware is an infectious disease physician at the University of Minnesota.
Newsweek reached out to the University of Minnesota's Infectious Diseases and International Medicine department for comment. This story will be updated with any response.
Though other, less rigorous studies suggested that hydroxychloroquine could cause serious side effects or heart trouble—which had caused the World Health Organization to cease its trials last week—the Minnesota study found no evidence of these claims either.
"I think both sides—one side who is saying 'this is a dangerous drug' and the other side that says 'this works'—neither is correct," Boulware told Reuters.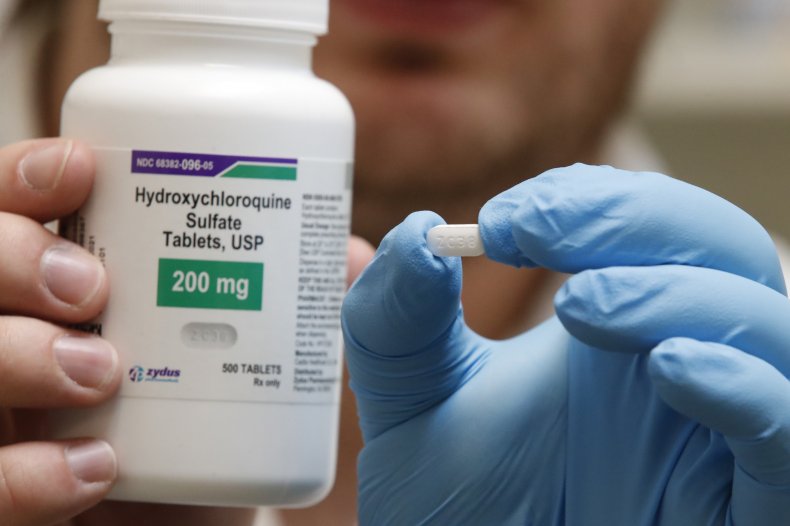 Hydroxychloroquine was promoted by Trump early in the pandemic, based on a study from French scientists. Trump first started to tout the drug after a lawyer appeared on Tucker Carlson Tonight, and wrongly claimed that the study had been peer-reviewed and that the drug had a "100 percent cure rate."
The day after the episode aired, Trump pushed hydroxychloroquine as a preventative drug, and claimed that hydroxychloroquine and azithromycin "taken together, have a real chance to be one of the biggest game changers in the history of medicine."
France, along with many other countries, approved preliminary use of the drug. However, last week, France withdrew a decree allowing doctors to give hydroxychloroquine to patients. However, some countries, including India and Brazil, have defended the drug and said they would continue to prescribe it.
In May, after some members of White House staff were diagnosed with COVID-19, Trump said he had started a course of hydroxychloroquine to prevent himself from contracting the disease.
"I've taken it for about a week and a half and I'm still here," Trump said at the time. "If it doesn't, you're not going to get sick or die."
Minnesota Senator Amy Klobuchar mocked Trump for taking the drug. However, her husband was also prescribed hydroxychloroquine after he'd been diagnosed with COVID-19.