Ifrah Ahmed: Fighting Genital Mutilation in GM World Capital Somalia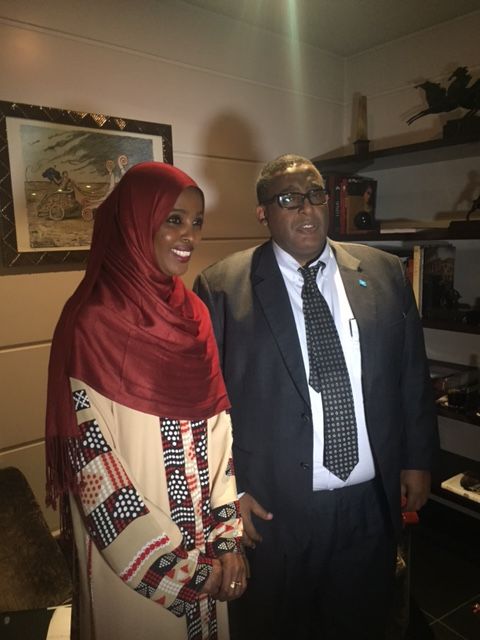 Ifrah Ahmed remembers confronting her aging Somali grandmother, whose decision it was that the former should undergo female genital mutilation (FGM) at the tender age of 8. Ahmed asked her grandmother why she had been forced to go through the traumatic procedure, which involved having her legs bound together and being circumcised along with nine other girls, one of whom later died due to bleeding.
"She explained to me that this is a cultural practice. It's not something that started with me or my older sister, it's something which started even before her generation. She said it's something that everybody in the family has gone through," says Ahmed, now 26.
Now, Ahmed—who had to undergo FGM a second time at the age of 13 due to complications—is trying to change the culture in Somalia that has seen the Horn of Africa nation become the FGM capital of the world. UNICEF data from 2013 estimates that 98 percent of Somali girls and women aged between 15 and 49 have undergone FGM, the highest prevalence across the globe. Despite the fact that the practice was banned under the constitution adopted by the government in 2012, it is still widespread in a country where certain types of FGM are considered as sunna—or part of the teachings of the Prophet Muhammad, according to Ahmed.
Ahmed, who was born in Mogadishu but fled to Ireland as an asylum seeker in 2006, was recently invited to become an adviser to the Somali Prime Minister Omar Abdirashid Ali Sharmarke on gender issues and sexual violence. The campaigner recently got Sharmarke to sign a petition that currently has more than 1.3 million signatures and calls on the Somali federal government to adopt a total ban on the practice. The petition cites the example of the Puntland government—an autonomous region in northwestern Somalia—which adopted an official policy in 2014 to outlaw all forms of FGM.
In her new role, Ahmed will be driving legislative attempts to get a new FGM bill passed by the government in Mogadishu and is ambitious about the timing. "My goal is to bring the legislation before the end of the year. If I cannot get the legislation passed by the end of 2016 or before, I have to put FGM on the Somali government's agenda. Whichever government will be in Somalia, they have to know FGM has to be a priority," says Ahmed, who is the head of the Ifrah Foundation in Ireland, which raises international awareness of the issue.
At least she has experience in the matter. Ahmed played a role in bringing the issue to the attention of the Irish government, which finally passed a law in 2012 outlawing all forms of FGM and also stating that anyone who takes a girl outside Ireland for the procedure would also be subject to prosecution.
Ahmed admits that it will be "very hard to change the mentality" of people in Somalia, but draws inspiration from the success of her and others' efforts to have the practice outlawed in her adopted home. "I came to Ireland, a country where I didn't even speak the language, and I never knew I could do such things," she says. "What I believe is that I did it in Ireland, why can I not do it in my country where I speak the same language?" Ahmed's work has thrust her into the public eye and led to her meeting with actress and humanitarian Angelina Jolie.
Ahmed has also appeared on Somali TV to discuss the issue and even interviewed Somali President Hassan Sheikh Mohamud about his commitment on the issues. But her public campaigning does not come without cost: when she returns to Somalia in the coming months to campaign on the issue, Ahmed admits that she is concerned about her safety, particularly with the uptick in attacks by the Islamist militia Al-Shabab. The armed group, which is affiliated to Al-Qaeda, enforces a strict version of Shariah law in areas under its control—which includes a strict dress code with full-face veil for women.
But Ahmed says she is convinced that she must keep campaigning, if only to protect young girls from the pain she and her friends had to undergo. "Truly, I believe that what happened to me shouldn't be happening to other girls. Why would I allow young girls to die of FGM when they can live a peaceful life?" she says.