Why 'Impeachment: American Crime Story' Episode 1 Features Ann Coulter As a Character
American Crime Story Season 3 features well-known actors giving their best impressions of the main players of the Clinton impeachment case. Few viewers, however, were expecting How I Met Your Mother's Cobie Smulders to appear as the conservative media pundit Ann Coulter twice in Episode 1 of the FX show.
Initially, Betty Gilpin of GLOW had been set to play Coulter in the show, before having to drop out due to scheduling conflicts brought on by COVID.
Coulter is in the Impeachment cast of characters because, before she became famous for her controversial, far-right opinions on immigration, abortion and Islam, she played a small but crucial role on the side of Paula Jones, who filed a suit on May 1994 claiming Clinton had sexually harassed her.
Here's how she plays into the story of Paula Jones (played by Annaleigh Ashford in Impeachment), Bill Clinton (Clive Owen) and Monica Lewinsky (Beanie Feldstein).
Why Ann Coulter is in Impeachment: American Crime Story
After Paula Jones filed her lawsuit, Coulter became an unpaid legal advisor on the case, working for Jones' head lawyer Joseph Cammarata writing legal briefs.
Prior to this time, she was what the Washington Post called "an obscure Senate aide." However, she was asked to help on the Jones case by her lawyer friend George Conway (future husband of Donald Trump campaign manager Kellyanne Conway).
In a 1999 interview with the Hartford Courant, Coulter would confirm one of her major contributions to the scandal—it was she who linked to the press Jones' description of Bill Clinton's penis.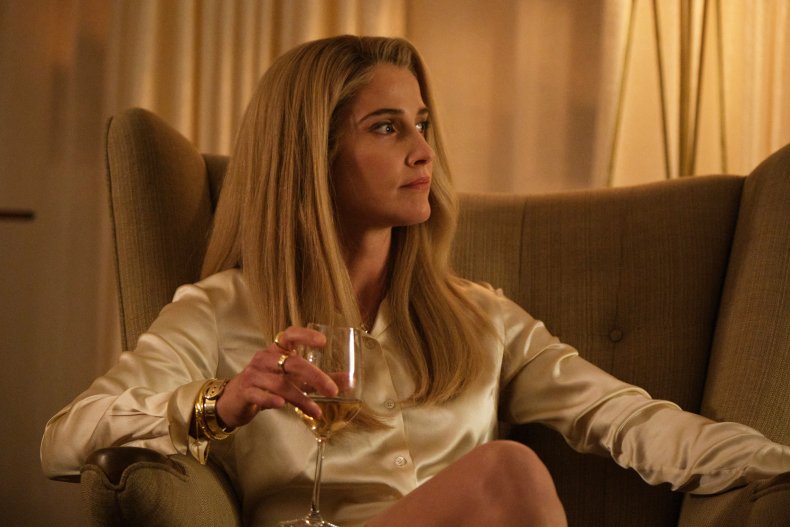 She claimed that she leaked in order to prevent Jones from settling. She told the interviewer, "I thought if I leaked the distinguishing characteristic it would show bad faith in negotiations. [Clinton lawyer] Bob Bennett would think Jones had leaked it. Cammarata would know he himself hadn't leaked it and would get mad at Bennett. It might stall negotiations enough for me to get through to [Jones adviser] Susan Carpenter-McMillan to tell her that I thought settling would hurt Paula, that this would ruin her reputation, and that there were other lawyers working for her."
In the book Uncovering Clinton by Michael Isikoff, Coulter is quoted as adding, "we were terrified that Jones would settle. It was contrary to our purpose of bringing down the President."
Another key event in the timeline that led to the Clinton impeachment took place at Coulter's house. Linda Tripp's attorney gave the tapes she had recorded of Monica Lewinsky confessing her affair with Clinton to Coulter and Conway. They listened to them there, making them the first people on Paula Jones' legal team to hear the tapes.
During this time, Coulter gained national fame after appearing on TV as an anti-Clinton spokesperson. This is the role we first see her in in Impeachment, where she appears on television criticizing Hillary Clinton (Edie Falco).
Impeachment: American Crime Story airs Tuesdays at 10 p.m. ET on FX.