In their final remarks before the impeachment trial begins, former President Donald Trump's legal team claimed that the House impeachment managers "glorify violence" by using media reports of the January 6 Capitol riot in their pretrial briefs.
"In a brazen attempt to further glorify violence, the House Managers took several pages of their memorandum to restate over 50 sensationalized media reports detailing the horrific incidents and shocking violence of those hours," attorneys wrote in a memo filed Monday.
In the 78-page brief, Trump's legal defense, led by Bruce Castor and David Schoen, argued that the Democratic impeachment managers "obfuscate the truth" by relying on news reports to build an argument against the former president.
"As the body vested with the sole poser to impeachment, the House serves as the investigator and prosecutor," the memo reads. "There was no investigation. The House abdicated that responsibility to the media."
The Capitol siege was widely covered, in real time, by the major networks. Footage taken by the rioters from inside the Capitol building, and featured in many media reports, also documented the day's events and was instrumental in shaping the public's understanding of what happened on January 6.
However, despite the concerns of Trump's legal team, the impeachment managers are expected to move forward with their strategy and present any relevant reports on the insurrection.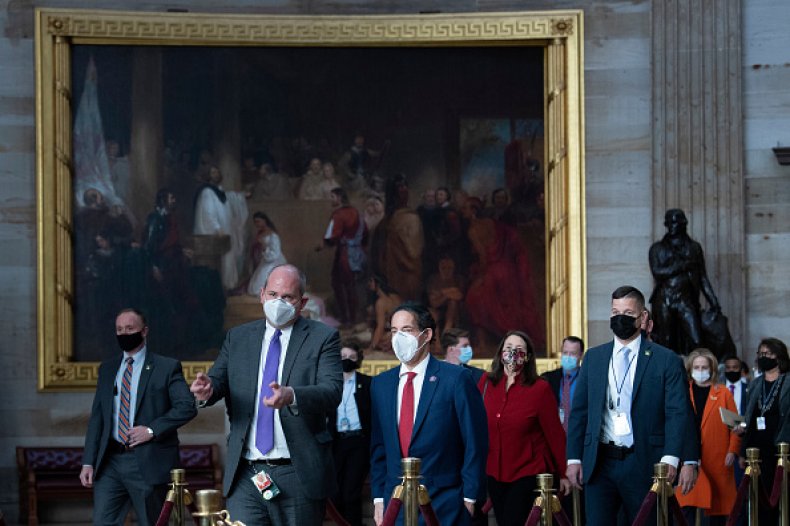 Castor and Schoen also claimed that Trump encouraged the crowd at a rally to "peacefully and patriotically" march to the Capitol. They contend that he cannot be responsible for the actions of the insurrectionists and dispute the single article of impeachment charging Trump with "inciting violence against the Government of the United States."
Trump's legal team said Trump was exercising his First Amendment rights, both at the rally that preceded the Capitol riot and leading up to it.
In response to the brief urging lawmakers to dismiss the charges against Trump, the impeachment managers pushed back, calling Trump's words "a frontal assault on the First Amendment."
The House impeachment team, led by Representative Jamie Raskin of Maryland, also clarified that the impeachment trial is not focused on protecting speech but on holding Trump accountable for the violence that took place last month.
"The House did not impeach President Trump because he expressed an unpopular political opinion," the managers wrote in their final response. "It impeached him because he willfully incited insurrection against the government. We live in a Nation governed by the rule of law, not mob violence incited by Presidents who cannot accept their own electoral defeat."
Trump's team has hinged it defense on whether the trial itself is constitutional now that Trump has left the office.
The former president's attorneys and the House impeachment managers are set to debate the issue on Tuesday, which will be followed by a simple majority vote before presentations begin on Wednesday.
Newsweek reached out to Raskin's office for comment but did not hear back before publication.