Iran Bringing New Missiles to Iraq and Syria to Defend from U.S. and Israel, Reports Say
Iran has reportedly begun moving missiles into Iraq while contributing significantly to the construction of a new missiles production facility in Syria. These actions are likely to be seen as provocations by the U.S., Israel and Saudi Arabia.
Citing three Iranian officials, two Iraqi intelligence sources and two Western intelligence sources, Reuters reported Friday that Tehran has begun supplying Shiite Muslim paramilitary groups in neighboring Iraq with short-range ballistic missiles. The missiles were identified as Zelzal, Fateh-110 and Zulfiqar models with ranges varying from 124 to 435 miles, making Riyadh and Tel Aviv viable targets should the weapons be fired from western Iraq.
The number of missiles was described as being in the tens by a Western source and "a couple dozen" by an Iranian official, who maintained that they were "a backup plan if Iran was attacked." Iranian officials have previously said that the country's missile capabilities were purely defensive, but would be unleashed should a conflict break out.
Under President Donald Trump, the U.S. has joined Israel and Saudi Arabia in an attempt to isolate Iran economically and diplomatically to curb its growing influence in the region. Trump abandoned a landmark 2015 nuclear deal in May based on concerns that it did not address Iran's support for foreign militias and ballistic missile development.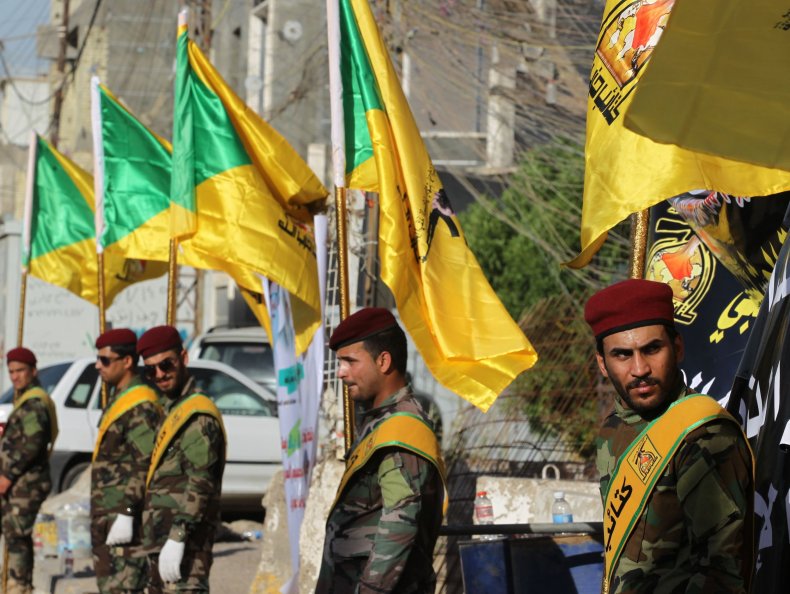 While Iran and Iraq have longstanding, deep cultural ties as neighboring majority-Shiite Muslim states, their modern alliance only came in the wake of the 2003 U.S.-led invasion of Iraq, which ousted Iraqi President Saddam Hussein, a bitter foe of Iran. After Hussein's government fell, the U.S. military remained in Iraq to battle a Sunni Muslim insurgency led by Al-Qaeda. U.S. troops also faced another, separate insurgency, however, and declassified reports from 2007—reported by The Wall Street Journal on Thursday and later published in full by the conservative American Enterprise Institute—appeared to confirm Iranian backing for Iraqi Shiite Muslim fighters also looking to expel Western forces.
The U.S. and Iran later came together in supporting Iraq to combat the Islamic State militant group (ISIS), which formed out of Al-Qaeda in Iraq and other jihadi groups in 2013, but Tehran's assistance came largely through its backing for Shiite Muslim militias, known collectively as the Popular Mobilization Forces. These groups were officially inducted into the Iraqi military in March, but they maintain varying degrees of autonomy, especially in calling for the speedy withdrawal of U.S. troops and supporting Syrian President Bashar al-Assad—an ally of Iran and Russia—in his fight against ISIS and other anti-government forces.
Iraq has been an active member of a joint operations room with Iran, Russia and Syria, but some Popular Mobilization Forces militias such as Kataib Hezbollah—labeled a terrorist organization by the U.S.—and Asaib Ahl al-Haq have actively fought alongside pro-Syrian government forces. These fighters and Iranian military personnel themselves have been targeted in a campaign of Israeli airstrikes against Syria, which Israel has accused Iran of planning to use as a forward base for launching potential attacks.
In a report published Thursday, Israeli commercial satellite imagery company ImageSat International alleged that it had "detected significant visual evidence, suggesting that Iran is building various infrastructures that are related to one of the Syrian regime's most clandestine projects—the surface-to-surface missiles (SSM) development and production." Accompanying photos showed what were said to be missile sites under construction in Wadi Jahannam and Masyaf, two areas reportedly under the protective radius of Russia's advanced S-400 missile defense system deployed nearby, and could be used against Israel, which has targeted such Syrian and Iranian military sites.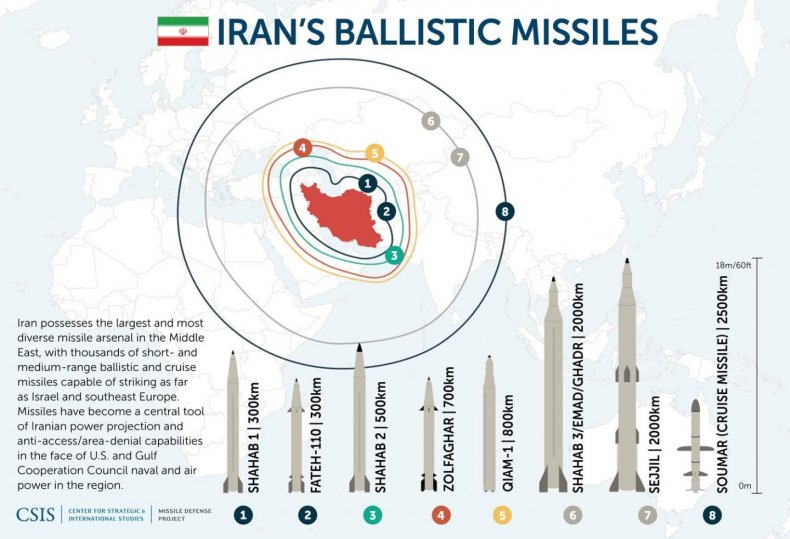 The U.S. has also repeatedly accused Iran of supplying ballistic missiles to Yemen's Zaidi Shiite Muslim rebels—known as Ansar Allah or the Houthis—and currently engaged in a war against a Saudi-led coalition trying to reinstate the country's government. Defense Secretary James Mattis warned Tuesday that "Iran has been put on notice" due to their support for Assad, the Houthis and threats regarding the Strait of Hormuz, the world's busiest oil chokepoint. On Thursday, Iranian military general staff chief Major General Mohammad Hossein Bagheri warned that no oil would pass through the crucial shipping lane should the U.S. succeed in cutting Iran's oil exports to zero, an initiative that has earned Trump widespread international criticism.
Trump's decision to abandon the nuclear accord signed by the U.S. and Iran—along with China, France, Germany, Russia and the U.K.—was largely opposed abroad. The deal's signatories have all continued to support it and have pursued measures to counter U.S. sanctions designed to prevent countries from doing business with Iran. In its latest report Thursday, the International Atomic Energy Agency again reaffirmed Iran was restricting its nuclear activity as per the multilateral accord, even though the U.S. had abandoned the deal.
Nonetheless, Iran has warned that it would only remain a part of the agreement as long as the benefits outweighed the costs. As Europe scrambled to salvage the deal, Iran has refused attempts to impose restrictions on its ballistic missile activity, calling it a necessary tool to defend the country againast foreign foes. Brigadier General Alireza Sabahi Fard, head of Iran's Khatam al-Anbia Air Defense Base, said Friday, "Today, our country has achieved self-sufficiency in producing short, medium and long-range ground-to-air missiles," according to the semi-official Tasnim News Agency.