Iran Is Getting Ready to Boost Uranium Enrichment in Case Nuclear Deal Fails
Iran is to tell the United Nations it will begin increasing its uranium enrichment capacity in case the multinational nuclear deal—severely weakened by the U.S. withdrawal last month—collapses.
Iran's Atomic Energy Organization spokesman Behrouz Kamalvandi told the ISNA news agency that the country would begin increasing its ability to produce uranium hexafluoride (UF6)—used as fuel for the centrifuges which enrich uranium for nuclear power and weapon use—on Tuesday.
"In a letter that will be handed over to the International Atomic Energy Agency (IAEA) ... Iran will announce that the process of increasing the capacity to produce…UF6," Reuters quoted Kamalvandi as saying.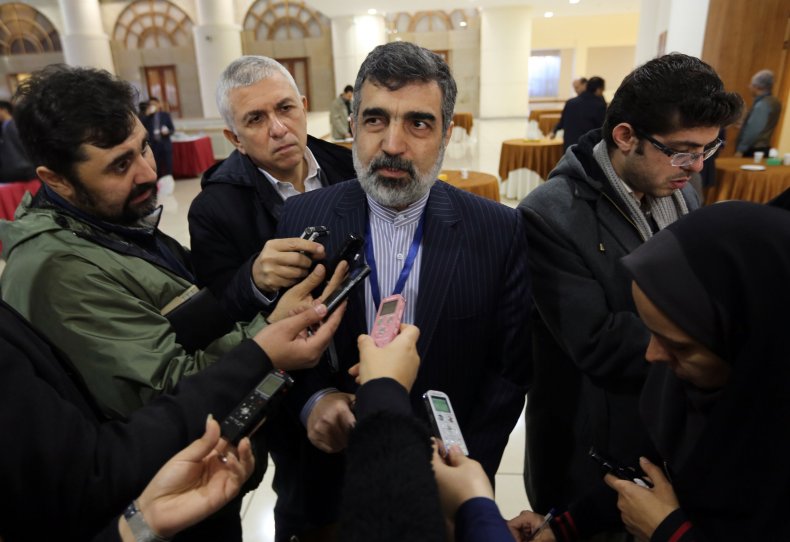 Israel has already reacted to the announcement, with Intelligence Minister Yisrael Katz calling for a military coalition against Iran if the country breaks the enrichment limits imposed by the nuclear deal. Katz told public radio that if "the Iranians don't surrender now, and try to return" to unsupervised uranium enrichment, "there should be a clear statement by the President of the United States and all of the Western coalition" that "a military coalition will be formed against them."
On Monday, Iran's Supreme Leader Ayatollah Ali Khamenei said he had ordered the country's atomic energy agency to prepare to accelerate uranium enrichment if the Joint Comprehensive Plan of Action (JCPOA) fails.
In a televised speech, Khamenei warned, "Our enemies will never be able to halt our nuclear progress...It is their bad dream and will not happen."
Uranium must be enriched to around 90 percent for use in nuclear weapons. Under the JCPOA, Iran was limited to enriching uranium to 3.67 percent—enough to use in civilian power plants, but not in weapons. The deal also limited the number and quality of centrifuges that could be used. In exchange, the other signatories lifted crippling sanctions on the country, which are estimated to have cost the country some $500 billion by the time they were removed.
Before the deal was signed, Iran had reached 20 percent enrichment. In March, Kamalvandi said that Iran could resume this level of production within 48 hours if the country's leaders deemed it necessary.
The Obama-era deal was undermined by President Donald Trump's withdrawal from it at the start of May. Although the remaining signatories—the U.K., Germany, France, Russia, China and the European Union—say they are committed to the agreement, the threat of new American sanctions could scupper it.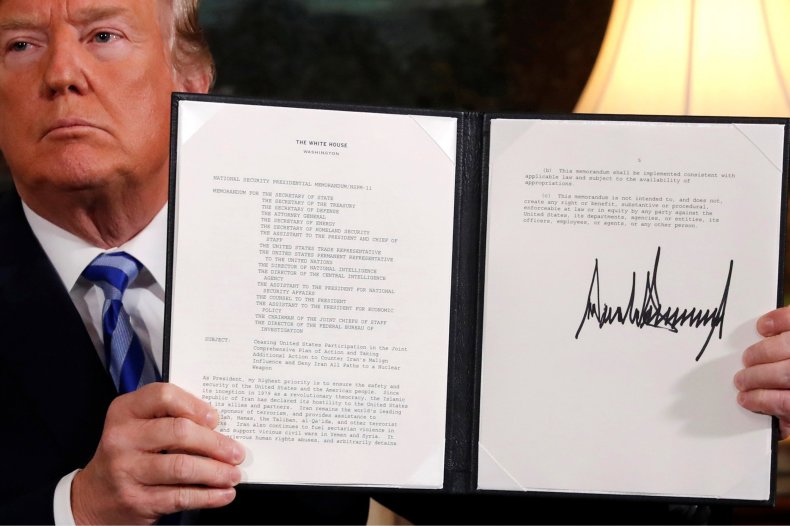 European signatories have suggested that the JCPOA should be renegotiated to cover Iran's ballistic missile program and to curb its spreading influence in the Middle East, buoyed by conflicts in Yemen, Syria and Iraq.
Khamenei has dismissed these suggestions, and laid out Iran's demands for staying in the deal. On Monday, Khamenei warned, "Some Europeans are talking about limiting our defensive missile programme. I am telling the Europeans, limiting our missile work is a dream that will never come true."
Tehran wants the Europeans to protect Iranian oil sales from American sanctions and for European banks to secure international trade with Iran.
Updated | This article has been updated to include comments by Yisrael Katz.