Iran Lawmakers Chant 'Death to America' As U.S. Protests Over George Floyd's Death Intensify
A session of Iran's parliament erupted in shouts of "Death to America" on Sunday as protests rocking major U.S. cities over the killing of a George Floyd, a black man in police custody.
The chants came at the behest of lawmaker Ahmad Naderi, who asked those in attendance "to show respect for the movement of the oppressed in the U.S." with their slogan. Vice Speaker Amir-Hossein Ghazizadeh Hashemi, who is seen presiding over the gathering, joined in on the calls in footage of the session.
That same day, Hashemi retweeted a December 2018 video of a white cop kneeling on a black woman during an arrest in Bellevue, Washington. The clip was initially posted by a civil rights activist and then shared by Iranian Ministry of Health spokesperson Kiavash Jahanapur, who said it showed one of many examples of injustice in the U.S. and wrote the hashtag "America rises against racism" in Persian.
Trump administration officials such as White House national security adviser Robert O'Brien said Tehran is seeking to foment and take advantage of the discord across the U.S. After Iranian Foreign Minister Mohammad Javad Zarif last week shared an old U.S. statement repurposed to instead condemn Washington, Secretary of State Mike Pompeo attacked Tehran's human rights record, tweeting: "You hang homosexuals, stone women and exterminate Jews."
Zarif then shared a still from Pompeo's Texas A&M lecture in which he told students he "lied," "cheated" and "stole" during his tenure as director of the U.S. Central Intelligence Agency (CIA), alongside images of an Iranian stamp bearing the likeness of slain U.S. Islamic cleric and activist Malcolm X and a vigil for Floyd. The top Iranian diplomat compared the "knee-on-neck" technique that killed Floyd to the "maximum pressure" campaign against the Iranian economy.
The mocking rhetoric has grown as more Iranian officials and high-level figures have said they sympathize with the intensifying U.S. protests. Activists said they have been demonstrating against systematic racism and police brutality after Floyd's death during a police encounter last month in Minneapolis, Minnesota.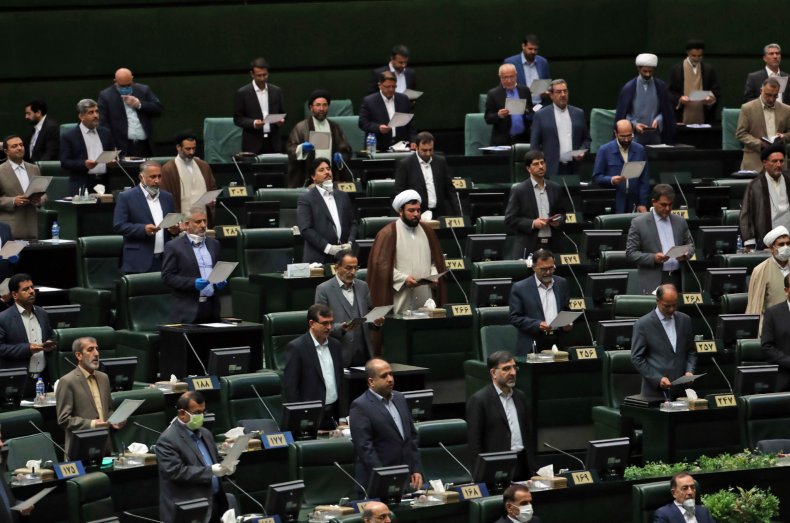 Nationwide rallies have been mostly peaceful but occasional riots have occurred, as have instances of looting and deadly violence among protesters, police and others at or near demonstrations. Calls for cities to reduce police budgets have grown louder around the country. President Donald Trump has balked at this demand and threatened to send in the U.S. military to quell the civil unrest, but this idea has proven controversial among current and former national security officials.
In Iran, supreme leader Ayatollah Ali Khamenei's office released a collection of statements Monday on U.S. race relations made by the ruling cleric over the years.
"They commit crimes inside their own country. They place African Americans under pressure," a December 2017 quote by Khamenei read. "The U.S. police murder African American women, men, children and youth without any reason, but the US courts exonerate them and let them go. This is their judiciary branch! That is while they criticize and find faults with the judiciary branch of other countries including ours."
Iran, whose police were empowered Monday after signing an agreement with the Ministry of Defense, has experienced a number of widespread bouts of social turmoil in recent years. The U.S. exit from a 2015 nuclear deal two years ago and subsequent implementation of sanctions have hindered the Iranian economy, which President Hassan Rouhani has struggled to stimulate in the face of hardliner pressure.