ISIS: Las Vegas Shooter Stephen Paddock Became Muslim Six Months Before Massacre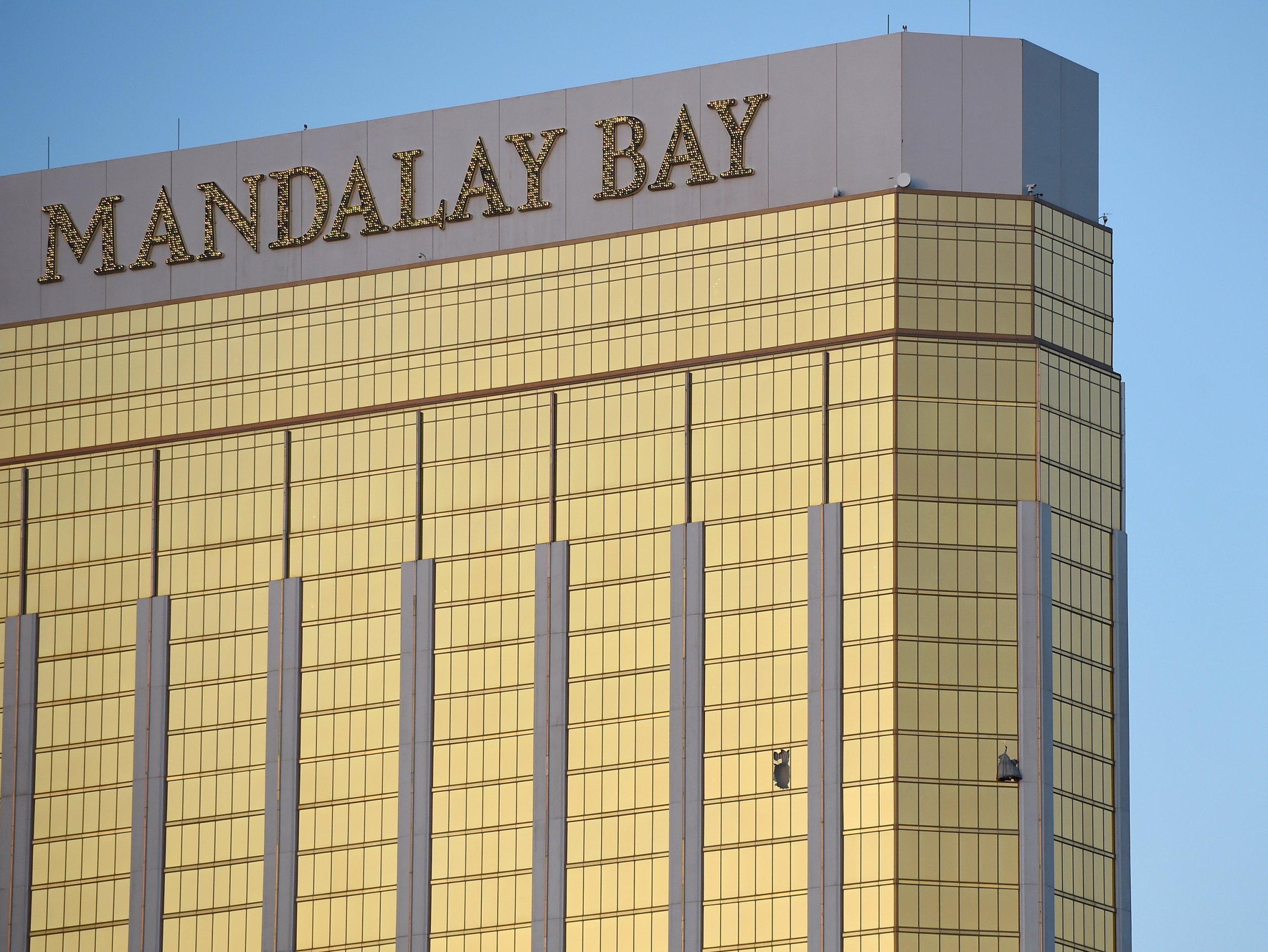 The Islamic State militant group (ISIS) has published a new infographic detailing how the jihadists orchestrated the deadliest mass shooting in modern U.S. history on Sunday night, despite serious doubts as to the group's involvement by authorities.
In the latest edition of ISIS's weekly Al-Naba online magazine, which was shared by its supporters Thursday on encrypted messaging app Telegram, the militant network provided more information intended to bolster its prior claims that assailant Stephen Paddock converted to Islam prior to killing 58 people and injuring hundreds more, when he opened fire on concertgoers from his 32nd floor room in the Mandalay Bay hotel in Las Vegas with nearly two dozen weapons.
Related: ISIS claims Syria bombings after questionable links to Las Vegas and France attacks
The new publication now specified that Paddock, who the group dubbed Abu Abdul Barr al-Amriki, had allegedly "converted to Islam six months ago" and provided a play-by-play of Sunday's bloodshed.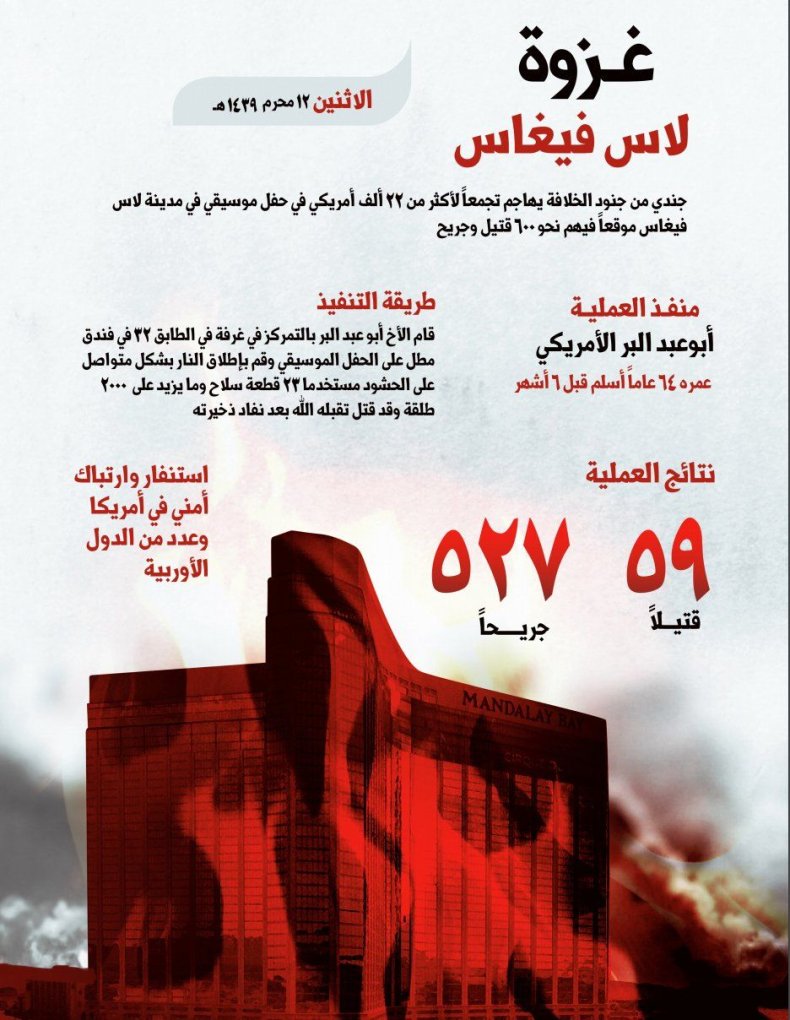 "A soldier of the caliphate attacked a gathering of 22,000 Americans at a concert in the city of Las Vegas, resulting in nearly 60 killed and 600 injured, " Al-Naba states, later erroneously stating the death toll at 59, instead of the revised count of 58.
"Brother Abu Abdul Bar stationed himself in a room on the 32nd floor of a hotel overlooking the concert and opened fire continuously on the crowds using 23 firearms and more than 2,000 bullets and died, may God accept him, after running out of ammunition," it added.
In trying to piece together a motive for Paddock's shooting spree, authorities have scrutinized ISIS's claims, but have said they don't believe the militants were involved. Paddock, a frequent gambler and drinker by most accounts, has not been revealed to host any radical connections or converted to Islam at any point. While his father was revealed to have once been on the FBI's Most Wanted List, Paddock's brother said Monday he was "completely dumbfounded" by the attack.
"There is no indication that there is any link whatsoever. They claim a lot of things," a U.S. official, unauthorized to speak publicly and speaking on condition of anonymity, told Newsweek Monday.
ISIS has previously claimed responsibility for attacks only to be later denied by authorities, such as an apparent botched robbery in the Philippines. Terrorism and security analysis experts, however, such as Kronos Advisory co-founder Michael S. Smith II and The New York Times correspondent Rukmini Callimachi have pointed out that the group is rarely off and such a blatantly false narrative would be out of character for the social media savvy jihadists.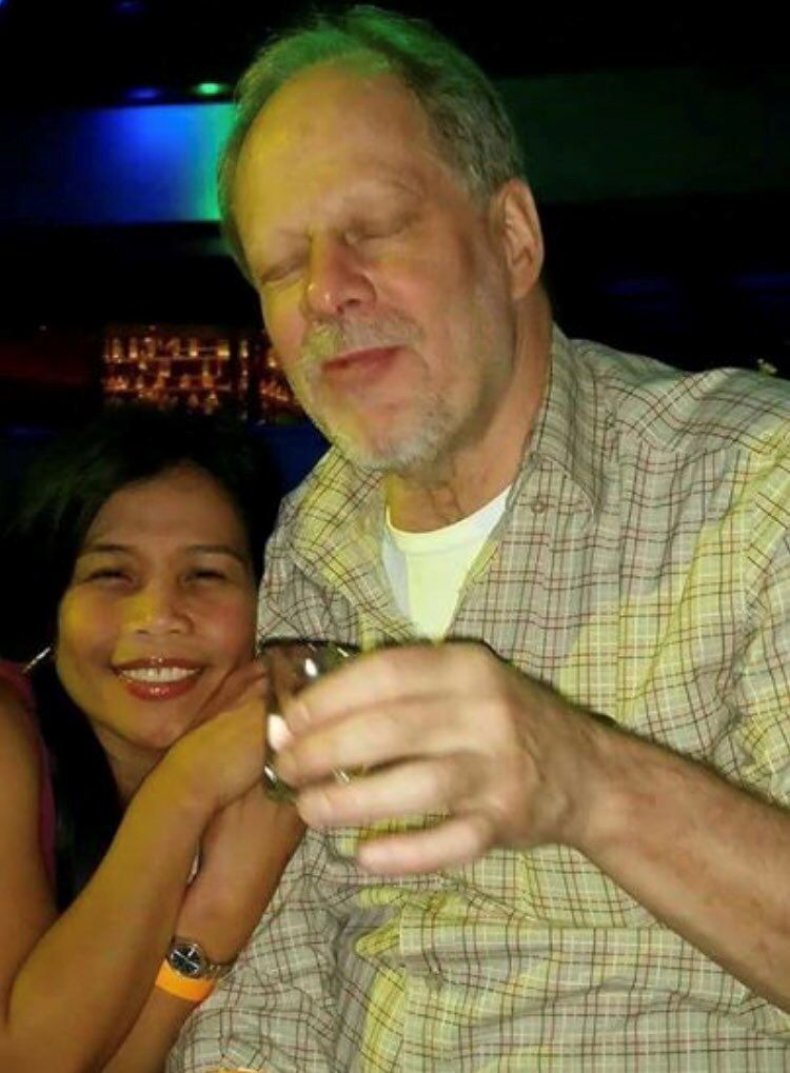 Still, ISIS has yet to provide any substantive evidence of Paddock's allegiance to the group and all of its information, save for his alleged conversion to Islam, has more or less matched readily available news reports.
ISIS, which took over nearly half of Iraq and Syria at its height in 2014, has been responsible for hundreds of deaths abroad and its elusive leader Abu Bakr al-Baghdadi apparently broke a nearly year-long public silence last week to deliver a speech that was recorded and shared by the jihadists. In it, a man purporting to be the ultraconservative Sunni Muslim cleric calls for his followers to strike targets in the West.
Both Baghdadi's speech and ISIS's surprise claim of responsibility for Sunday's attack came as the militants stand to lose their final major cities in Syria to separate campaigns by the Russia and Iran-backed Syrian military, and the U.S.-backed Syrian Democratic Forces, a mostly Kurdish alliance of Arabs and ethnic minorities. Without any physical territory left under its self-proclaimed caliphate, experts have speculated as to how ISIS will survive.