Israel Backs Trump's Twitter Threat to Iran, Says U.S. Military Cooperation at 'All-time High'
Israeli Prime Minister Benjamin Netanyahu tweeted in support of President Donald Trump's Twitter threat to his Iranian counterpart, President Hassan Rouhani.
"I commend the strong position expressed by @POTUS & @SecPompeo against Iranian aggression. Over the years, the major powers have spoiled Iran. It's good to see the US changing this unacceptable equation. Our diplomatic & military cooperation with the US is at an all-time high," Netanyahu wrote on his official account.
In an all-caps tweet posted Monday, Trump warned Rouhani that he should "never, ever threaten the United States again" or he would "suffer consequences the likes of which few have ever suffered before." The message came in direct response to a speech Sunday in which the Iranian president suggested the U.S. must choose between "the mother of all peace" and "the mother of all wars" amid an alleged Washington-led propaganda campaign intended to undermine Iran's theocratic leadership.
Secretary of State Mike Pompeo had said Sunday that the U.S.'s increasingly tight sanctions against Iran and harsh rhetoric against its leadership—which he likened to "the mafia"—were intended to support Iranians, and Trump's tweet represented an escalation in an increasingly tense standoff between the countries. Netanyahu followed up Monday as one of the few international voices supporting Trump's anti-Iran campaign.
Rouhani is widely considered to be a moderate and has fought for a more open economy and closer relations with the West. Facing hard-liner opposition, he worked with the administration of former President Barack Obama to forge the 2015 nuclear agreement, which the two countries ultimately signed along with China, France, Germany, Russia and the U.K. Conservatives in both countries remained skeptical of the agreement as Iran cut back nuclear production in exchange for hefty sanctions relief, and Trump ultimately abandoned the deal in May after accusing Tehran of using its unfrozen assets to fund militant groups abroad and further develop its missile program.
Israel and Saudi Arabia cheered Trump's decision, but the nuclear deal's other signatories and other major powers criticized the U.S. for reneging on its commitments. Even after the U.S. exit, Rouhani's administration attempted to salvage the deal by negotiating with other parties to the agreement, but the U.S. warned it would set out to cut Iran's oil exports to zero. In response, Rouhani hardened his own position.
Related: Israel Fires New Missiles as Syria Slams 'Terrorist' White Helmets Evacuation
Sunday's fiery speech came after the U.S. secretly launched an online campaign intended to damage the image of Iran's leadership in the eyes of its people, according to sources quoted by Reuters. Iran has frequently blamed protests in the country on the U.S., Israel and Saudi Arabia, often evoking the 1953 CIA-backed coup against Iran's democratically elected prime minister. The intervention reinstated a pro-West absolute monarchy that would go on to rule until 1979, when a Shiite Muslim revolution swept the country and established the current government.
Iranian Foreign Minister Mohammad Javad Zarif responsed to Trump's remarks in his own tweet, writing: "COLOR US UNIMPRESSED: The world heard even harsher bluster a few months ago. And Iranians have heard them —albeit more civilized ones—for 40 yrs. We've been around for millennia & seen fall of empires, incl our own, which lasted more than the life of some countries. BE CAUTIOUS!"
As Iran empowers its regional influence through the growing presence of Shiite Muslim movements and militias, Israel has accelerated its own campaign of airstrikes against suspected Iranian and Iran-backed targets in Syria. Tehran has joined Russia in supporting Syrian President Bashar al-Assad against insurgents and jihadists that culminated in a 2011 rebellion backed by the West, Turkey and Sunni Muslim monarchies such as Saudi Arabia, which severed ties with Iran in 2016.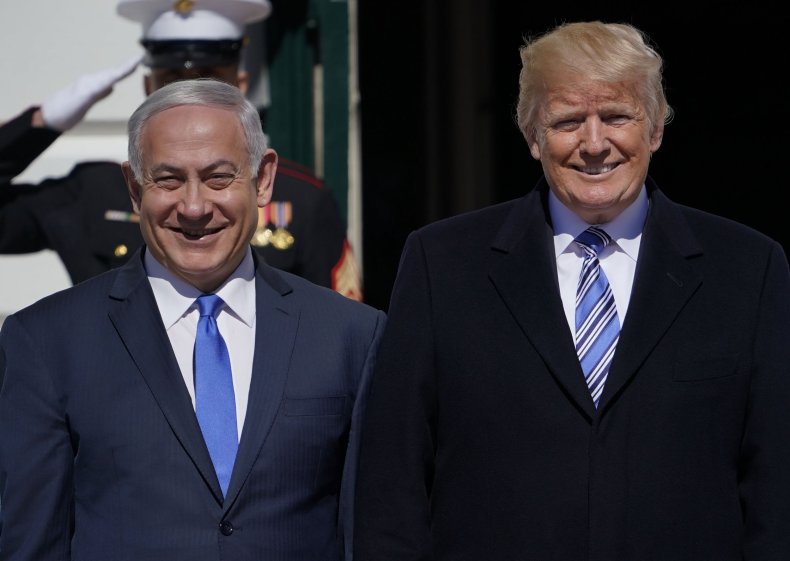 Under Trump, the U.S. has broken with the majority of the international community on a number of issues in order to side with Israel. Days after announcing the U.S.'s departure from the Iran deal, Trump went ahead with the opening of a new U.S. embassy in the disputed city of Jerusalem, leading to massive protests in Gaza that turned deadly when Israeli forces opened fire on demonstrators. Both Israelis and Palestinians claim the holy city as their capital. Shortly after Trump revealed his intention to move the embassy, the decision was condemned 128-9 in a United Nations General Assembly vote in December.
Trump also pulled the U.S. out of the U.N. Human Rights Council and the U.N. Educational, Scientific and Cultural Organization (UNESCO), partially in response to votes considered to be anti-Israel in nature. In a speech delivered to the conservative Heritage Foundation on Thursday, U.S. Ambassador to the U.N. Nikki Haley called the Human Rights Council "the United Nations' greatest failure" and accused it of "political corruption and moral bankruptcy" due to its perceived unfair targeting of Israel and the membership of countries that have committed human rights abuses.
This article has been updated to include a tweet from Iranian Foreign Minister Mohammad Javad Zarif, who responded to President Donald Trump's threat to his country.