Israel's Netanyahu Says on Video He Was Behind Trump's Decision to Leave Iran Deal
Israeli Prime Minister Benjamin Netanyahu claimed responsibility for President Donald Trump's decision to exit a historic nuclear pact with Iran and other world powers, according to a video released recently by local media.
Netanyahu publicly pushed Trump to cancel a 2015 deal struck with longtime U.S. foe Iran under former President Barack Obama, along with officials from China, France, Germany, Russia and the U.K., arguing Tehran was being untruthful about its nuclear intentions and using sanctions relief to fund militant groups across the Middle East. For the first time, however, Israel's state-run Kan News aired a clip Tuesday of Netanyahu stating he was the one who influenced Trump to finally abandon the nuclear accord in May.
"We convinced the U.S. president [to exit the deal], and I had to stand up against the whole world and come out against this agreement," Netanyahu told fellow conservative Likud party members in a clip Kan News said was recorded two weeks ago, according to The Times of Israel. "And we didn't give up."
Netanyahu then begins to discuss the Iranian government—but "not the Iranian people, I have nothing against them"—before an unidentified individual cuts him off by shouting off-camera, "It will disappear with the help of God." To which Netanyahu responds, "You said it. From your mouth to God."
The clip has surfaced as Trump faces criticism after his apparent siding with Russian President Vladimir Putin over the U.S. intelligence community's allegations that the Kremlin interfered in the 2016 presidential election. Trump said Monday during his first bilateral summit with his Russian counterpart, "I don't see any reason why it would be" Russia that sponsored hacks of Democratic Party officials' emails, a statement in which Trump the following day meant to say "wouldn't."
Netanyahu has attempted to carefully balance his ties to both Trump and Putin, despite the latter's strategic relationship with Iran in Syria, where Moscow and Tehran have helped Syrian President Bashar al-Assad overcome a 2011 rebellion. However, the Israeli leader campaigned extensively to divide Trump from Russia, top U.S. European allies and China, all of whom still supported the Iran nuclear agreement and urged Trump not to leave it.
Related: Syria raises flag as Israel fires missile in latest violence where war began
About a week before Trump left the deal, Netanyahu organized a presentation in which he claimed he had evidence that "Iran is brazenly lying when it says it never had a nuclear weapons program" and that "even after the deal, Iran continued to preserve and expand its nuclear weapons program for future use." Many foreign leaders were left unmoved and commentators pointed out that much of the information had already been known to the intelligence community and international monitors.
Secretary of State Mike Pompeo said Netanyahu's presentation showed "beyond any doubt that the Iranian regime was not telling the truth." White House Press Secretary Sarah Huckabee Sanders even claimed Netanyahu managed to prove that "Iran has a robust, clandestine nuclear weapons program," a statement the White House later corrected by saying Sanders meant it "had" such a program.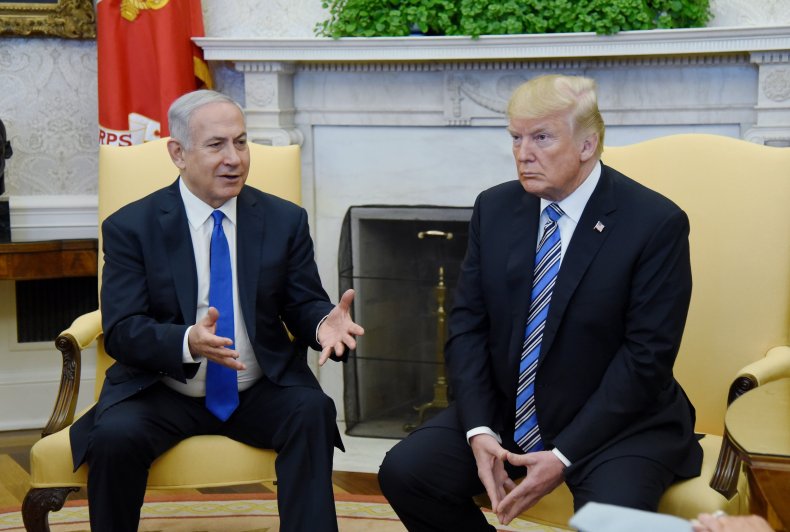 Trump's decision to leave the Iran deal was not the first time he sided with Netanyahu against the overwhelming majority of the international community. Trump's endorsement of the disputed city of Jerusalem—claimed by both Israelis and Palestinians—as solely the capital of Israel upset a decades-long United Nations consensus, and was condemned in a 128 to 9 vote in the U.N. General Assembly.
When the U.S. embassy opened in May—less than a week after Trump pulled out of the Iran deal—ongoing protests erupted into violent demonstrations in the Gaza Strip. Israeli security forces responded with lethal force, killing dozens and adding to an already mounting death toll. Both the U.S. and Israel blamed Palestinian Islamist movement Hamas and, in response to the U.N. Human Rights Council's decision to investigate Israel over the deaths, the U.S. left the international body last month, claiming it was biased against Israel.
In October, the U.S. joined Israel in withdrawing from the U.N. Educational, Scientific and Cultural Organization (UNESCO) in response to both its criticism toward Israel's occupation of land internationally recognized as Palestinian in East Jerusalem and the organization's passage of resolutions that did not include Jewish names for some of the Jerusalem's holy sites.