Israel Practices War Against Hezbollah, Both Say They're Ready for the Real Thing
At a deeply unpredictable moment in the region, Israel has staged a series of large-scale military exercises simulating a war with the Lebanese Shiite Muslim movement Hezbollah.
Both sides tell Newsweek they're prepared for the real thing if necessary.
The drills, which the Israelis are calling Lethal Arrow, launched Sunday and ran through Thursday. They involve multiple branches of the Israel Defense Forces, including active and reserve land, air and sea units, as well as intelligence, technical and cyber forces. While multiple fronts were addressed, the focus was on the north, where Israel has accused Iran-backed militias in Lebanon and Syria of setting up missile factories and forward bases.
Of these groups, "We see Hezbollah as the main enemy for now," Brigadier General Ido Mizrachi, chief engineering officer of the IDF, told Newsweek.
Israel and Hezbollah have fought two full-scale wars in the past four decades, with much of the fighting taking place in southern Lebanon. Skirmishes persist in that area. Today, the stakes may be higher than ever, as Hezbollah has amassed an arsenal of hundreds of thousands of rockets and is developing precision-guided munitions capable of striking with unprecedented accuracy.
Israel has also advanced significantly, introducing new concepts exercise such as the Target Task Force, said capable of generating "thousands of targets" to be hit with precision.
But at a time of significant uncertainty owing both to political and economic instability across the northern borders, as well as the devastating effects of the COVID-19 pandemic crossing all boundaries, the fear of a flare-up igniting an all-out confrontation is real.
Israel is preparing for just such an eventuality.
"We will do everything we can to prevent this, this conflict becoming a genuine war," Mizrachi told Newsweek. "But we have to be ready to operate against Hezbollah, and especially if we need to do that geographically, physically within the area of South Lebanon. This will be a very complicated situation for us, but that's what we need to be ready for."
Speaking with officers at the sidelines of the exercises, IDF Chief of Staff Lieutenant General Aviv Kohavi delivered a similar message, saying, "Readiness is the most valuable IDF asset, readiness leads to a winning military."
As Israel practices its combined maneuvers, Hezbollah—Arabic for "The Party of God"—watches and says its forces remain on alert, as is the norm for its commandos.
"The party is always fully prepared," a Hezbollah spokesperson told Newsweek, "regardless of the drills."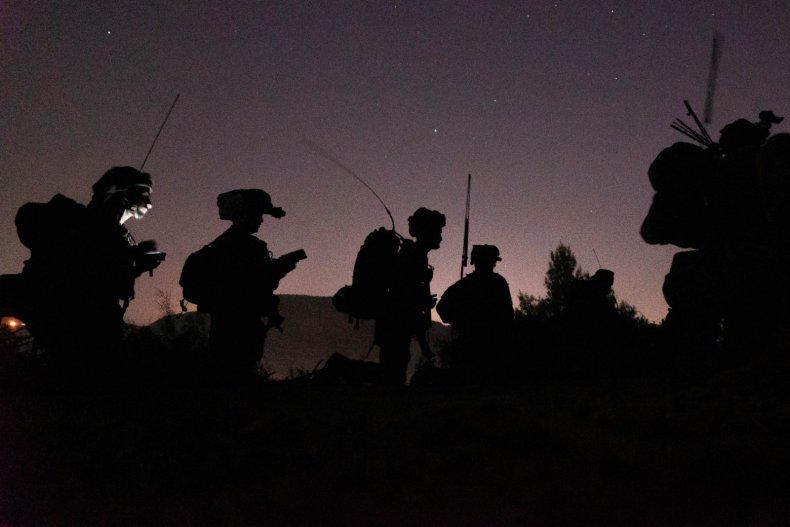 Concerns over potential clashes between Israel and Hezbollah have arisen since the death in July of one of the group's operatives in an Israeli airstrike in Syria.
Shortly after the killing, the IDF issued reports of two possible intrusion attempts in as many days along the northern border. In a statement sent to Newsweek at the time, the Israeli military dismissed the second incident as a false alarm, but said it "thwarted an infiltration attempt by a Hezbollah terror squad."
In a separate statement, Hezbollah denied any involvement, and the Lebanese military reported cross-border shelling from Israel on both days.
About a week later, the spat was overshadowed by a massive blast that tore through the Lebanese capital of Beirut, killing more than 200 people, wounding thousands and inflicting billions of dollars worth of damage to a country already suffering from a worsening financial crisis compounded by coronavirus concerns.
No evidence has surfaced to indicate Israel or Hezbollah's involvement, rather a catastrophic accident involving welding, fireworks storage and a warehouse containing nearly 3,000 tons of an explosive compound called ammonium nitrate has been blamed. Still, the feud between the two bitter foes has escalated in the aftermath.
A far smaller explosion rocked the village of Ain Qana in southern Nabatiyeh province last month. A Hezbollah spokesperson told Newsweek at the time that the detonation was the result of mines extracted from the 2006 war with Israel, but the IDF called it a weapons depot.
A week later, Israel accused Lebanon of manufacturing missiles in sites across southern Beirut, a claim the group attempted to dispel by quickly arranging a media tour of one of the locations in question. The rival narratives have left both sides on edge, with tensions running high as the IDF commenced its latest Lethal Arrow exercise.
Israeli Prime Minister Benjamin Netanyahu took the opportunity to boast of the strength of the Israeli forces and send a warning to his foes.
"Even during the coronavirus, our enemies are not stagnant and neither are we," Netanyahu said. "In this exercise, I have been impressed by the vast improvement in the IDF's offensive capabilities and Hezbollah and Lebanon would do well to take this into account.
"Whoever attacks us will meet firepower and a steel fist that will destroy any enemy," the Israeli leader warned.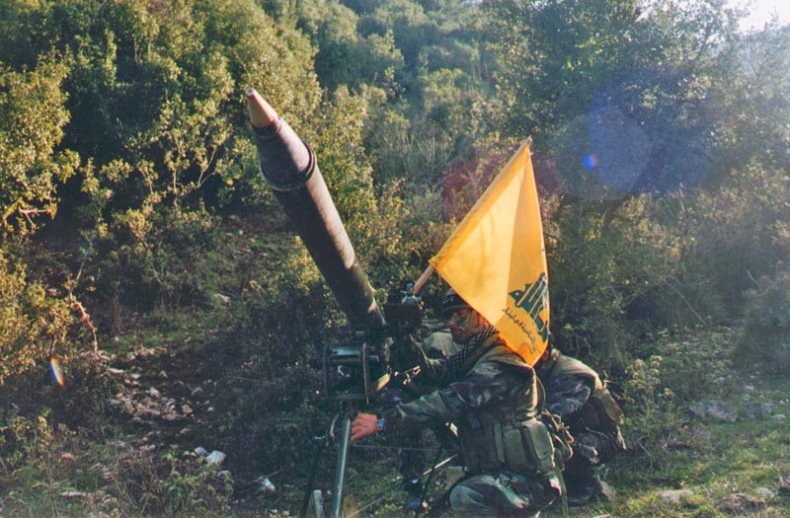 Hezbollah, for its part, has mocked the exercises. Noting Israeli media reports of wildfires that apparently started due to live-fire training and interrupted Lethal Arrow, a Hezbollah press release called the IDF training "in vain" and an "embarrassment."
In response, the Israeli military told Newsweek that "the exercise was conducted according to safety procedures at all required levels. As a preemptive measure, actions to promise that fires will be extinguished quickly were taken. With that, the IDF will examine its actions to ensure that future damage in exercises in such terrain are minimized."
Hezbollah's leader, Secretary-General Hassan Nasrallah, is set to address the latest developments in the region during a televised address Friday to commemorate the Prophet Muhammad's birthday. The influential cleric has continually asserted that his fighters would avenge their slain comrade in Syria, but has not said how or when.
Despite the ever-looming shadow of conflict, there have been some modestly positive developments between Israel and Lebanon. The two sides gathered Tuesday for talks overseen by the United Nations Interim Force in Lebanon (UNIFIL), a multinational peacekeeping contingent at the border between Israel and Lebanon.
The officer in charge of the UN Force praised both sides for their involvement.
"I want to acknowledge the efforts of both parties, following my repeated calls, to proactively take measures and bring about a change in the prevailing dynamic of tension and escalation," UNIFIL commander Major General Stefano Del Col told the two parties. "The continuation of this positive dynamic will greatly facilitate constructive engagement between the parties on outstanding issues."
Israel and Lebanon also agreed for the first time earlier this month to join in negotiations under the auspices of the United States regarding their disputed gas-rich maritime border.
Like Israel and a number of other nations, the U.S. considers Hezbollah to be a terrorist organization, and has called on other countries to do the same. After Guatemala and Estonia did so over the weekend, U.S. Secretary of State Mike Pompeo released statements disparaging Hezbollah, which he called "not a defender of Lebanon, but a transnational terrorist organization dedicated to advancing Iran's malicious agenda."
The IDF's Mizrachi did not see the upcoming U.S. election Tuesday as having a decisive factor on Hezbollah's actions, an argument advanced by the former Israeli ambassador to the U.S., Michael Oren, in an op-ed published Sunday by the Media Line.
However, the Israeli brigadier general did see domestic and regional developments playing into Hezbollah's calculus.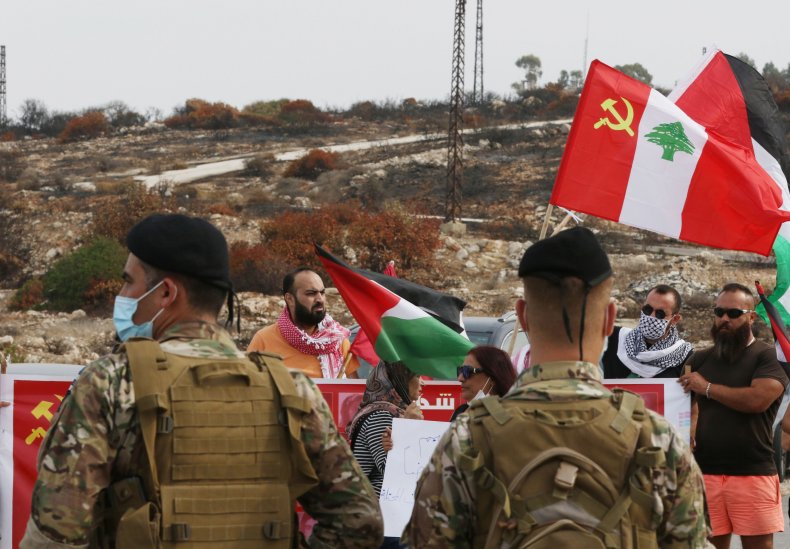 As part of a wider "maximum pressure" campaign against Tehran, Washington has pressured Hezbollah in Lebanon with new sanctions, while simultaneously attempting to foster fledgling diplomacy between Israel and Lebanon.
These movements come in the wake of the Trump administration facilitating a normalization of ties between Israel and the United Arab Emirates, Bahrain and Sudan. That decision outraged the Palestinians, whose territorial dispute with Israel remains unresolved, even as Israel expands its occupation.
Any conversations with Israel are also controversial in Lebanon, where protests have emerged in opposition.
Careful to control information surrounding the sensitive talks after local media allegedly leaked some of the demands, the Lebanese Armed Forces issued a statement Thursday asserting that only official releases on "indirect technical negotiations to demarcate the maritime borders with the Israeli enemy" were to be trusted.
That same day, the Lebanese military reported on four airspace violations by Israeli reconnaissance aircraft flying over southern Lebanon in recent days. The incidents were to be taken up with UNIFIL, which has told Newsweek it condemned such activities.
Meanwhile, Hezbollah has entrenched itself both figuratively and physically with a complex network of tunnels and new strategies to take on Israel's advanced military.
Mizrachi sees no end in sight for the conflict.
"I think we will find this challenge gets deeper, gets stronger and more complicated," the Israeli brigadier general said. "Some things change. They know that we developed a high level of technology to locate and destroy their assets. I'm not sure they're going to put up a white flag and peace agreement. I mean, I hope so, but it's not going to happen, I think, in my generation."