Is It Selfish to Go Outside, and Other Ethical Questions Raised by the COVID-19 Pandemic
With billions of people around the world having been placed under lockdown at some point during the COVID-19 pandemic, it's safe to say the response to the new coronavirus is unprecedented.
Since its outbreak in the central Chinese city of Wuhan late last year, over 1.3 million cases of COVID-19 have been confirmed worldwide, over 76,300 people have died, and more than 292,000 have recovered, according to Johns Hopkins University. As shown in the map by Statista below, almost every country and territory in the world has been affected.
Measures to combat the bug taken by leaders around the world, from banning travel to advising rather than forcing citizens to stay at home, raise myriad ethical questions.
To explore these issues, Newsweek spoke to Margaret McLean, director of bioethics at the Markkula Center for Applied Ethics, Santa Clara University.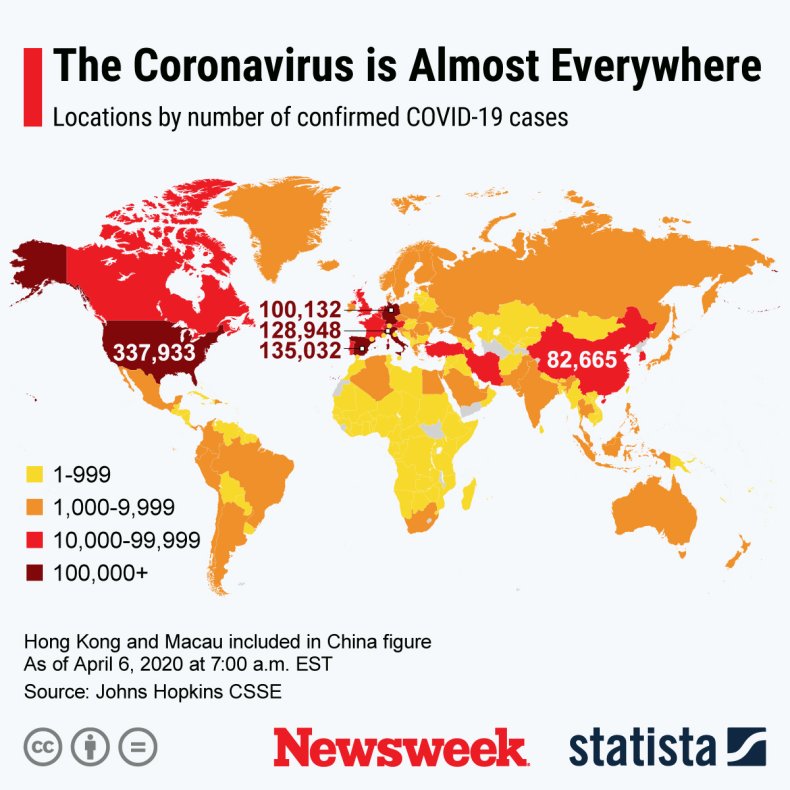 Over the course of the pandemic, images have emerged of people at locations like the park or beach, flouting recommendations to stay at home to prevent the spread of the coronavirus. Is it selfish for people not to stay home when asked to, or is it more complex than that?
I think that it's more complicated than that. Certainly people need good, reliable information and that information needs to be delivered in a way that is understandable and actionable so we know what is expected of us and why.
The U.N. Secretary-General Antonio Guterres has said that the world is not only fighting the "common enemy" of the novel coronavirus "but our enemy is also the growing surge of misinformation" about COVID-19.
Misinformation spreads faster than accurate information. We look to our leaders and journalists to keep us grounded in the facts and the science that can help to "promote hope and solidarity over despair and division [as Guterres said]."
From an ethical standpoint, is there a difference between people heading to the beach during a pandemic versus those who feel they are forced to flout rules, for instance because they haven't been provided with a safety net which allows them to stop working?
Businesses, the U.S., and other governments are trying to help workers so that they can work at home and continue to provide for themselves and their families. Safety nets are being strung to catch those who have lost their jobs or are now underemployed and/or underinsured.
It's vital to remember that our only opportunity to stop the rampant spread of this virus is to keep our distance and not pass it on. Here, in these unprecedented circumstances, we need to voluntarily curb our freedom. We ought to care not only for ourselves but also for others since we can infect an average of two to three others before we know that we are sick.
As we stay home working, teaching our children, and innovating how we connect with one another, we need to recognize that hunkering down at home is a privilege unavailable to those scraping by working to pack and deliver our food and ink cartridges. People who live on the streets or in prisons, unable to adequately wash their hands or step away 6 feet, are particularly vulnerable.
The duty to avoid harm compels us to act on behalf of vulnerable others by including them
in our protection plans.
How much of a problem is distrust in authority when it comes to getting people to
follow recommendations such as staying at home? Does evidence suggest distrust
has gotten worse globally in recent years?
Right now, trust is the most important ethical currency that we have in our pockets. Trust is what compels us to do the right thing and stay home, wash our hands, and cough into our elbows. SARS taught us that transparent, publicly informed, well-communicated decision-making builds public trust, easing fear, and results in the acceptance of individual restrictions in the interest of the common good.
We also learned that treating people fairly in times of rampant uncertainty and fear is critically important to social stability and the ultimate success of public health measures.
We've never seen advice for social distancing, cities and countries in lockdown, and the cancelation of events on a global scale like this before. Could this explain why some people are ignoring rules?
I am among those who think it would be helpful to change the terminology from "social
distancing" to "physical distancing." We certainly want to maintain—even strengthen—our relationships with others and with our larger communities. Our family and larger social ties are what get us through disasters and grief.
We know that people and communities with weak social ties do not do as well in responding to the unexpected and to disasters. Ethics is about relationships and we need to keep these relationships strong so that we can get through this time of uncertainty, illness, and death.
The greatest threat we face is that coronavirus does not respect physical or geographic boundaries. The global challenges include learning quickly how to trade competition for co-operation. We need to learn from other countries—China, Hong Kong, Singapore—how to control infections, how to flatten the curve. We need to prepare now for coronavirus to come back around in the fall. In addition, we need to be ready to help the Global South, whose public health infrastructure and access to health care is much weaker than ours is.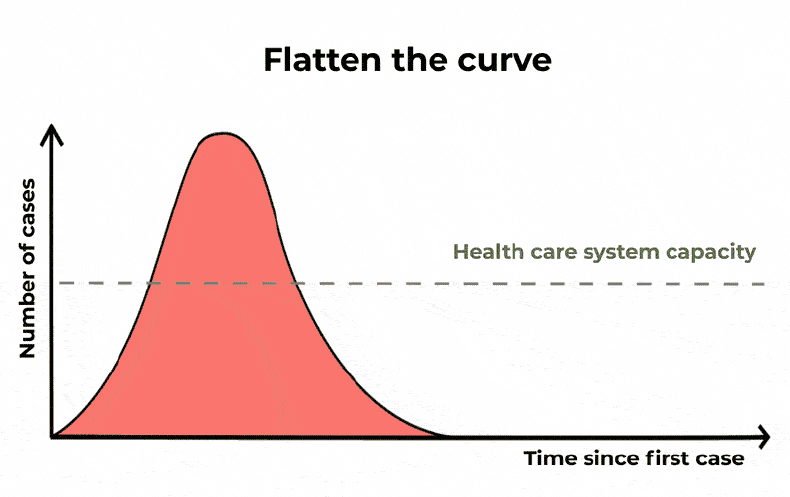 As my father used to say, "the rules are there for a reason"—the reason now is no less than protecting millions of lives.
What are your biggest concerns when it comes to stopping the pandemic?
That it's too little too late; that we were woefully unprepared both medically and ethically for the ravages of COVID-19. The prime ethical directive is to prepare, to have a plan, to have the resources to implement the plan, to practice the plan, to tweak the plan as needed—and to hope you never need it.
We didn't have a good plan going in. The resources needed to keep health care workers safe and patients alive are in woeful short supply. We're building plans as we go, we're ramping up resource production to protect and save lives, we're implementing public health measures to stay safe, we're learning, and next time, which could be unwelcomely soon, we'll be better prepared to prevent, to stop, to treat.
Is there anything about the response that has given you hope?
That we are learning new ways to be family, to be community, to care for others and ourselves. That here are the seeds for deeper global connection and co-operation. That data and insights generated by scientists, bioengineers, and data specialists are freely available to others for analysis and innovation. That health care workers—from housekeeping to nursing to medicine—are true heroes—selfless, brave, and deserving of our deep gratitude.
What is your advice for those who aren't sure whether they should be staying at home?
Unless you are a health care worker or perform another essential service, stay at home!
You owe it to yourself and your family to stay safe and healthy.
Centers for Disease Control and Prevention Advice on Using Face Coverings to Slow Spread of COVID-19
CDC recommends wearing a cloth face covering in public where social distancing measures are difficult to maintain.
A simple cloth face covering can help slow the spread of the virus by those infected and by those who do not exhibit symptoms.
Cloth face coverings can be fashioned from household items. Guides are offered by the CDC. (https://www.cdc.gov/coronavirus/2019-ncov/prevent-getting-sick/diy-cloth-face-coverings.html)
Cloth face coverings should be washed regularly. A washing machine will suffice.
Practice safe removal of face coverings by not touching eyes, nose, and mouth, and wash hands immediately after removing the covering.
World Health Organization advice for avoiding spread of coronavirus disease (COVID-19)
Hygiene advice
Clean hands frequently with soap and water, or alcohol-based hand rub.
Wash hands after coughing or sneezing; when caring for the sick; before, during and after food preparation; before eating; after using the toilet; when hands are visibly dirty; and after handling animals or waste.
Maintain at least 1 meter (3 feet) distance from anyone who is coughing or sneezing.
Avoid touching your hands, nose and mouth. Do not spit in public.
Cover your mouth and nose with a tissue or bent elbow when coughing or sneezing. Discard the tissue immediately and clean your hands.
Medical advice
Avoid close contact with others if you have any symptoms.
Stay at home if you feel unwell, even with mild symptoms such as headache and runny nose, to avoid potential spread of the disease to medical facilities and other people.
If you develop serious symptoms (fever, cough, difficulty breathing) seek medical care early and contact local health authorities in advance.
Note any recent contact with others and travel details to provide to authorities who can trace and prevent spread of the disease.
Stay up to date on COVID-19 developments issued by health authorities and follow their guidance.
Mask and glove usage
Healthy individuals only need to wear a mask if taking care of a sick person.
Wear a mask if you are coughing or sneezing.
Masks are effective when used in combination with frequent hand cleaning.
Do not touch the mask while wearing it. Clean hands if you touch the mask.
Learn how to properly put on, remove and dispose of masks. Clean hands after disposing of the mask.
Do not reuse single-use masks.
Regularly washing bare hands is more effective against catching COVID-19 than wearing rubber gloves.
The COVID-19 virus can still be picked up on rubber gloves and transmitted by touching your face.