'Ivanka's Complicit!': Protesters Tell First Daughter and Jared Kushner to 'Enjoy the Mountain'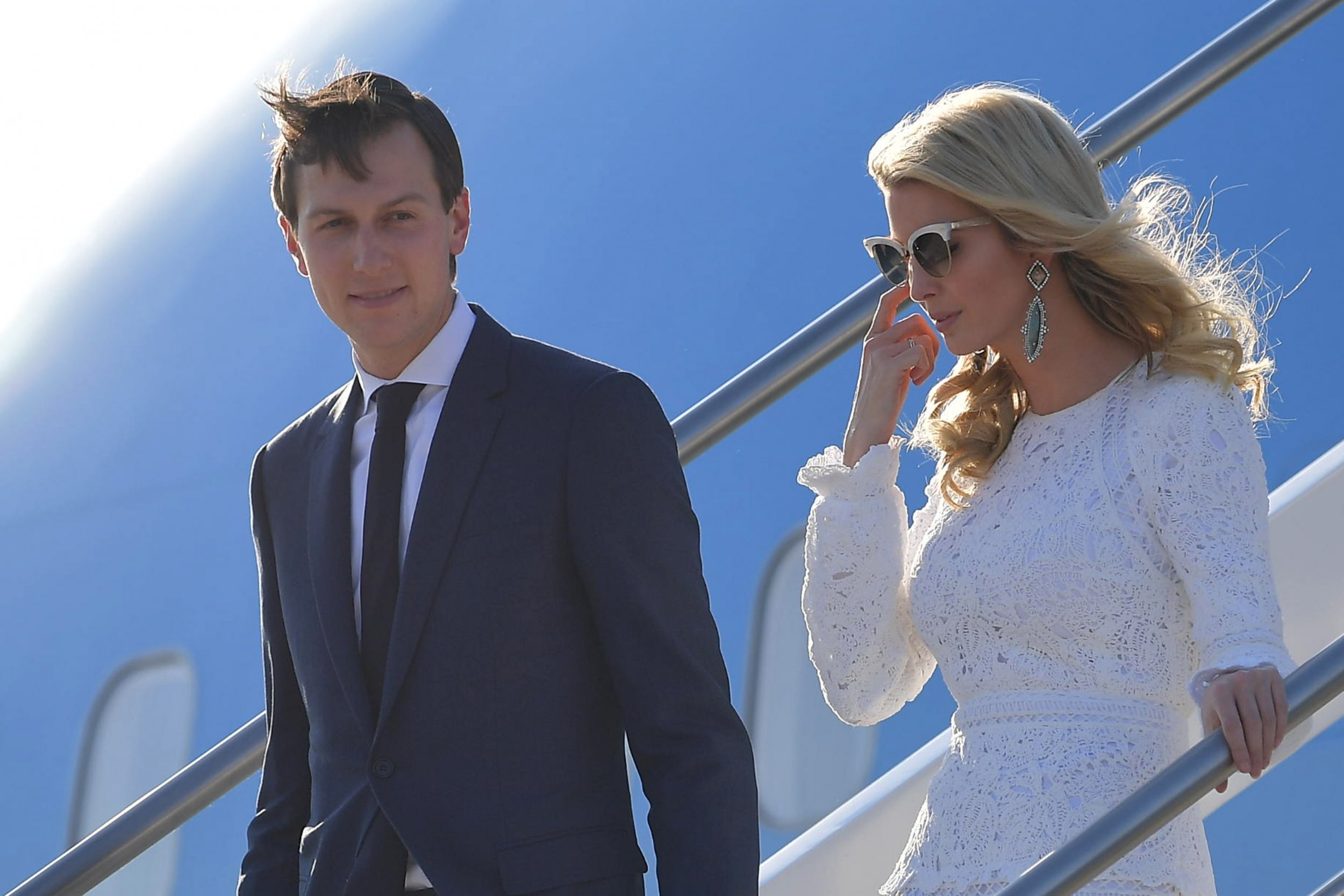 Protesters called first daughter Ivanka Trump "complicit" and told her and her husband Jared Kushner to "enjoy the mountain" as they passed through Jackson Hole, Wyoming, after speaking at an annual retreat for top Republican donors Monday, a video shows.
Trump and Kushner, both senior White House advisers, headlined the retreat held by Speaker Paul Ryan, and took part in separate discussions directed by House Majority Leader Kevin McCarthy, according to Politico.
Afterward, a group of protesters from JH Activate barraged Trump and Kushner with questions, as they walked to the Bridger Gondola at Jackson Hole Mountain Resort along with Ryan.
"Ivanka's complicit!" a woman is heard shouting in a video obtained by the Jackson Hole News & Guide.
"Enjoy the mountain," a protester is heard yelling at the couple.
Other protesters asked, "Did you have a great day? Did you have a great day?" and "Save our planet, save our planet, please."
Both Trump and Kushner appeared to smile, and did not stop walking.
Trump has been called complicit numerous times since she entered the White House promising to advocate for women, children and families, but has largely failed to keep her word.
The watchdog group Democracy Forward sued the Office of Management and Budget on Equal Pay Day in April over its failure to respond to a public records request made to see if Trump was complicit in supporting a decision to roll back an Obama-era rule intended to close the pay gap between men and women.
Trump was the subject of a Saturday Night Live sketch in which Scarlett Johansson played her in an ad for a "Complicit" perfume. Trump at a senior staff meeting "couldn't stop bemoaning it, how offensive it was, how ridiculous it was," former White House aide Omarosa Manigault Newman claimed in her new book Unhinged: An Insider Account of the Trump White House.
The post-punk band Gang of Four even titled its EP released in April "Complicit," and put a picture of Trump on the cover.
Ivanka Trump was asked on CBS in April whether she and Kushner were "complicit in what is happening to the White House."
"If being complicit is wanting to be a force for good and to make a positive impact, then I'm complicit," she replied. "I don't know what it means to be—complicit—but, but, you know, I hope time will prove that I have done a good job and much more importantly, that my father's administration is the success that I know it will be."
Neighbors of Trump and Kushner protested outside the couple's home in Washington, D.C., when she remained silent on her father President Donald Trump's policy that led to migrant family separations, and the couple reportedly take spin classes in the dark to avoid being seen in public.