J.K. Rowling Falls for Russian Pranksters Posing as Zelensky in Zoom Call
J.K. Rowling fell victim to a hoax played by a pair of Russian pranksters, who tricked the author into believing she was speaking with Ukrainian President Volodymyr Zelensky on a Zoom call.
The Harry Potter author was pranked by duo Vovan and Lexus—whose victims have included Vice President Kamala Harris, Bernie Sanders, Prince Harry, Billie Eilish, Elton John, and former President George W. Bush.
In a video released on YouTube, Rowling sat down with a person she believed to be Zelensky, as the impersonators praised her work and made a number of increasingly awkward comments. They do not appear on camera in the recording of the call, but Rowling does.
During one moment of the 12-minute video, the pranksters said that the lightning bolt on her famous character Harry Potter's forehead looked like the letter "Z"—a symbol used on Russian tanks amid its ongoing invasion of Ukraine.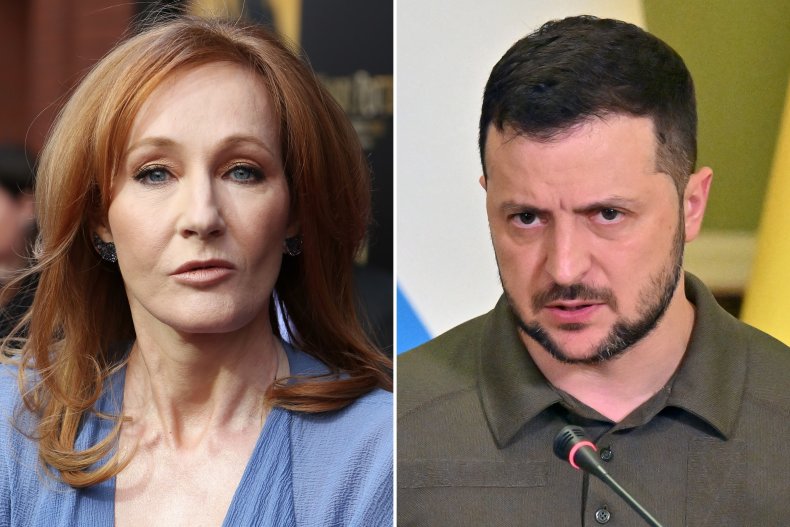 In light of the conflict, the pranksters asked Rowling if she would be able to change the symbol to the Ukrainian trident, which is featured on the nation's coat of arms.
"I will look into that," responded Rowling, who appeared to briefly pull a stunned expression when the request was made. "It might be good for me to do something with that myself on social media because I think that will get into the newspapers."
The duo, who said at the top of the conversation that all of Ukraine's libraries would be named for Rowling, further pressed the writer about another of her Harry Potter characters, asking whether Dumbledore was really gay.
Apparently playing up to persistent accusations that Rowling is transphobic—claims which she has insisted are untrue—the pranksters inquired who the Hogwarts headmaster had slept with, adding: "Hopefully not with a transgender." Rowling laughed at the suggestion but did not respond otherwise.
Continuing to focus on Rowling's hugely successful book series, the fake Zelensky also said that they were going to write "Avada Kedavra"—the Harry Potter killing curse—on its missiles amid its fight against invading Russian troops.
Mentioning another of Rowling's franchises, Vovan and Lexus suggested the possibility of imposing sanctions on Russian actor Aleksandr Kuznetsov, who appeared in the most recent Fantastic Beasts movie.
The duo made a brief mention of Johnny Depp, who was "asked to resign" from Fantastic Beasts 3 following his loss in a 2020 libel trial in London. He was subsequently replaced in his role as Gellert Grindelwald by Mads Mikkelsen.
Rowling appeared to be writing down notes as she replied, "Fantastic Beasts has been a very interesting experience. I'll certainly talk to people and see what we can do."
At one point, the camera was switched on from the pranksters' side to introduce a trio called "The Order of the Ukrainian Phoenix," who sported T-shirts emblazoned with the words "Only Putin" in Russian.
"We read Harry Potter to the soldiers in the battalion," the pranksters said.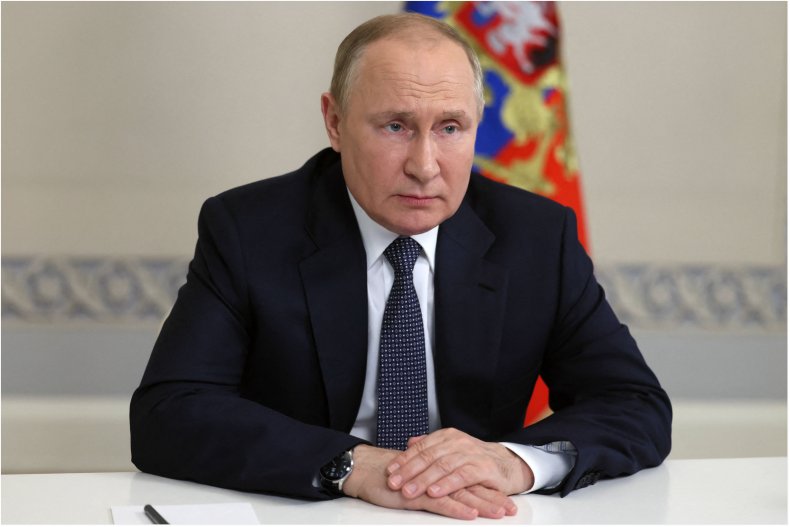 With Rowling's Lumos charity currently working to help vulnerable children and families in Ukraine's Zhytomyr region, the pranksters told the author that the funds raised by the organization would be redirected to purchasing weaponry.
"I want to clarify where you are sending the money that Lumos has collected," said the fake Zelensky. "We want to buy a lot of weapons and missiles with your money to destroy Russian troops, I hope you are all for that."
"We'll look after the kids," Rowling responded, "but I really want Ukraine to have all of the arms it needs."
A spokesperson for Rowling has since spoken out against the prank, calling it "distasteful" in a statement shared with The Hollywood Reporter.
"J.K. Rowling was approached to talk about her extensive charitable work in Ukraine, supporting children and families who have been affected by the current conflict in the region," the statement reads. "The video, which has been edited, is a distorted representation of the conversation."
Back in March, Russian President Vladimir Putin expressed support for Rowling by defending her in a speech condemning the notion of so-called cancel culture in the west.
Putin claimed that the west was attempting to cancel markers of Russian culture amid his invasion of Ukraine, saying the works of composers such as Pyotr Tchaikovsky, Dmitry Shostakovich and Sergei Rachmaninov were being shunned.
Putin then referenced the British writer as an example of someone who has been a victim of "cancel culture."
"They canceled Joanne Rowling recently—the children's author, her books are published all over the world—just because she didn't satisfy the demands of gender rights," Putin said during a televised speech at the time.
"They are now trying to cancel our country," he continued. "I'm talking about the progressive discrimination of everything to do with Russia."