Mads Mikkelsen Calls Reaction to J.K. Rowling's Trans Comments 'Crazy'
Mads Mikkelsen has shared his thoughts on the debate surrounding J.K. Rowling and her views and remarks about gender and the transgender community.
The Danish actor is currently starring in the Harry Potter author's newest movie, Fantastic Beasts: The Secrets of Dumbledore, as Johnny Depp's replacement, Gellert Grindelwald.
The movie's release comes as Depp is set to face another ugly court battle involving his ex-wife Amber Heard over domestic abuse claims, while Rowling has continued to be embroiled in controversies over her views about trans people.
Mikkelsen appears unfazed with Rowling and her current reputation, however, urging for "adult conversation" and mutual respect from all parties.
"People treat it a little flippantly, like, 'Isn't that a disgrace?' And every time you ask somebody, you can't really figure out what she said," the actor said about Rowling being judged for her views.
The 56-year-old said the reaction to Rowling's views is "crazy" but again urged caution and that those criticizing have an understanding of what they're talking about.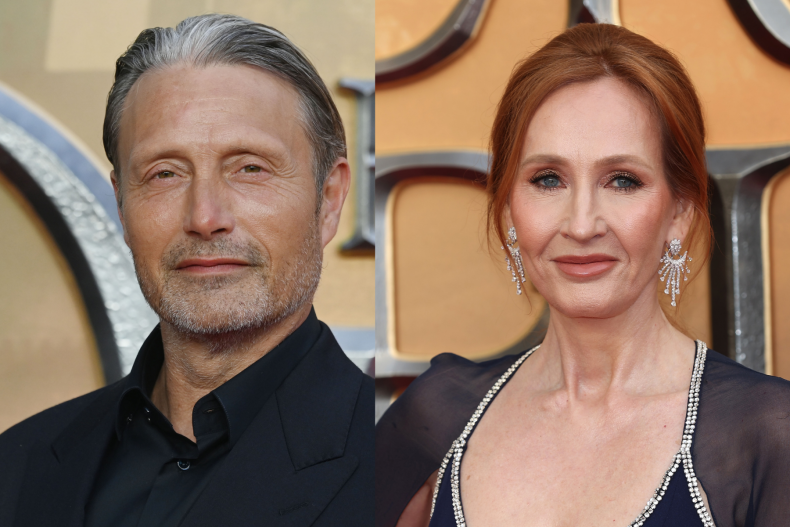 Accusations of transphobia have been leveled at Rowling for a number of years but she has denied feeling negatively toward transgender people.
Several actors associated with the Harry Potter franchise have publicly disagreed with her, including Daniel Radcliffe, Eddie Redmayne and Emma Watson.
"But if the reaction is that crazy, we have to be very careful that we know what we're talking about," Mikkelsen said in an interview with GQ.
He confirmed that he had not read Rowling's blog where she had written on the issue and added: "I have a habit of not commenting on things that I don't know anything about, and I actually think that that would suit the entire world."
The Hannibal star said he didn't know what the solution was but insisted there should be "no hateful rhetoric towards either women or trans [people]—that's a good start."
"But we have to be honest—and it seems to me, when you turn science into ideology, and politics into science, then you're not talking from an honest place," he continued. "And I think that's muddying the waters regarding what side you're on, and rarely leads to anywhere good."
Mikkelsen's comments come just weeks after Rowling made headlines when Vladimir Putin showed his support for her in a speech condemning the notion of so-called "cancel culture" in the West.
As the war in Ukraine raged on, Putin referenced the Harry Potter creator as an example of someone who has been a victim of "cancel culture."
"They canceled Joanne Rowling recently—the children's author, her books are published all over the world—just because she didn't satisfy the demands of gender rights," Putin said during a televised speech on March 25.
"They are now trying to cancel our country," he continued. "I'm talking about the progressive discrimination of everything to do with Russia."
Rowling went on to blast Putin for his comments and condemned the war on Ukraine.
"Critiques of Western cancel culture are possibly not best made by those currently slaughtering civilians for the crime of resistance, or who jail and poison their critics. #IStandWithUkraine," she tweeted.