Jamal Khashoggi: Here Are the Countries That Believe Saudi Arabia's Denial and Those That Don't
A number of Saudi Arabia's regional allies have sent messages of support as the kingdom faces accusations that it was behind the disappearance of a prominent writer and government critic living abroad in self-imposed exile.
In a development carried Monday by Saudi Arabia's leading media outlets—including local newspapers Arab News, Okaz and the Saudi Gazette, along with the U.K.-based, Saudi-owned Asharq Al-Awsat—officials from Bahrain, Djibouti, Egypt, Jordan, Kuwait, Lebanon, Oman, the Palestinian National Authority, the United Arab Emirates and Yemen have expressed their backing for Riyadh amid speculation that it ordered the killing of Jamal Khashoggi, a Saudi journalist last seen entering the country's consulate in Istanbul.
Khashoggi, who contributed to major outlets such as The Washington Post, was known for his criticisms of the conservative Saudi government and its war against Ansar Allah, or the Houthis, a Zaidi Shiite Muslim rebel group in Yemen. Video footage released by Turkish authorities show him entering the Saudi consulate in Istanbul on October 2, but never leaving.
Turkish investigators have been quoted in a number of Western outlets suggesting that Khashoggi was killed by a team of Saudis inside the building, then dismembered. Turkish President Recep Tayyip Erdogan and Saudi Arabia's King Salman have agreed to form a joint team and the two leaders spoke by phone Sunday in the interest of advancing their cooperation on the matter.
Saudi Arabia has fiercely denied any connection to Kashoggi's disappearance and has sought to crack down on speculation over its alleged involvement. As an influential and wealthy regional force that has portrayed itself as the leading Sunni Muslim power in the Arab World, the kingdom has established partnerships with a number of countries and international officials that were quick to defend Riyadh with an apparently coordinated series of responses.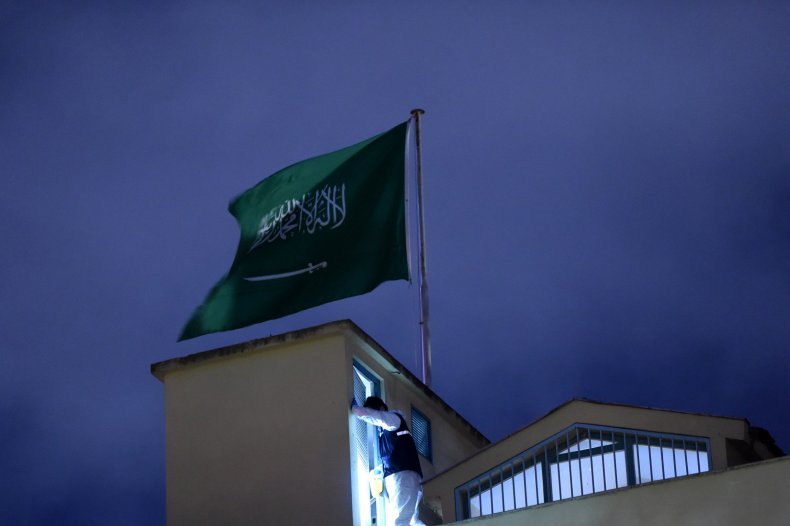 Bahrain, a majority-Shiite Muslim island state ruled by a Sunni Muslim monarchy with close ties to Saudi Arabia, "affirms its full solidarity with the Kingdom of Saudi Arabia against all those who attempt to undermine it or seek to harm it, stressing its strong rejection against those who attempt to harm its policy, position and sovereignty," according to a statement published Sunday by the country's foreign ministry, which called Riyadh "the cornerstone for security and stability of the Arab and Islamic worlds."
A spokesperson for the government of Djibouti echoed these words, according to Okaz and Al Arabiya. Saudi Arabia announced a plan last year to open a military base in the East African country, which already hosts a number of foreign troops—including those from the U.S. and China—due to its strategic location at the mouth of the Red Sea.
Under the leadership of Egyptian President Abdel-Fattah el-Sissi, Egypt and Saudi Arabia have increasingly cooperated on regional matters. Egyptian Foreign Ministry spokesperson Ahmed Hafez said Sunday his country was "following with concern the ramifications of the case of the missing Saudi journalist Jamal Khashoggi and emphasizes the importance of discovering the truth of what happened in the framework of a transparent investigation. But he added that the country also "warns against attempts to exploit this case politically against Saudi Arabia based on arbitrary charges and affirms its support to the kingdom in its efforts and positions to handle this event."
Jordan, a fellow U.S.-backed Sunni Muslim monarchy, "affirms its stand with Saudi Arabia in the face of any rumors targeting it," according to Jordanian State Minister for Media Affairs and Communications Jumana Ghunaimat. She also stressed Saudi Arabia's "leading role in establishing security, stability and peace and enhancing economic cooperation in the region and the world."
Deputy Prime Minister of Kuwait Anas al-Saleh said Sunday he "followed attentively the case of Saudi citizen Jamal Khashoggi," according to the country's Council of Ministers. Further, he "expressed his regret for the unjust campaign against Saudi Arabia, which is represented by accusations and allegations directed at it, stressing the need to wait for the results of the investigations carried out by the competent authorities on this issue." He also "expressed Kuwait's total rejection of this campaign, which aims to harm the Kingdom and undermine its high status at the Arab, Islamic and international levels."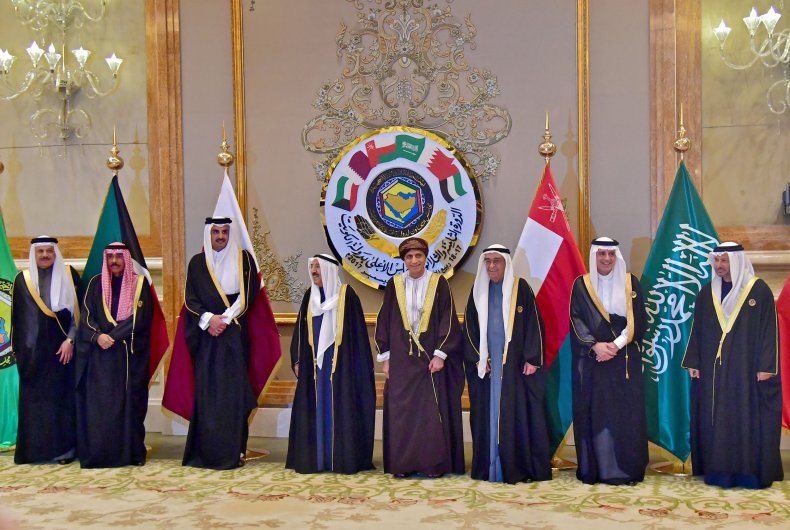 Lebanese Prime Minister Saad al-Hariri "stressed his solidarity with Saudi Arabia in the face of the campaigns that are targeting it," according to his office. The Sunni Muslim, Saudi-born politician is seen as Riyadh's main partner in Lebanon, where the kingdom's top foe Iran has vast influence through its own local ally, the Shiite Muslim Hezbollah movement.
The Foreign Ministry of Oman "follows with interest" Saudi Arabia's comments on the case, "while supporting the kingdom in its efforts to clarify the truth, the sultanate calls on all interested parties not to rush and to confirm before issuing any prior judgments," according to a statement published Sunday.
Palestinian President Mahmoud Abbas "expressed his appreciation for the firm stand of brotherly Saudi Arabia, which has always stood by our just cause and the rights of our people," in a statement carried by the official Palestine News Agency. Saudi Arabia has offered extensive assistance to Palestinians but has struggled to match the growing influence of Iran, which has increasingly funded Palestinian movements opposed to Israel.
The United Arab Emirates, one of Saudi Arabia's leading allies, has stood firmly by Riyadh on most regional issues, including the war in Yemen and the blockade against Qatar. In a statement, U.A.E. Foreign Minister Sheikh Abdullah bin Zayed Al Nahyan said that "the anti-Saudi campaign will not impinge on the Kingdom's central role in the region which is rooted in logic and moderation" and that "we reaffirm our categorical rejection of the repercussions of the politicized anti-Saudi campaign."
The internationally recognized government of Yemen, led by President Abed Rabbo Mansour Hadi, has received military backing from a Saudi-led coalition trying to oust the Houthis from the capital Sanaa. In a statement published by the pro-Hadi faction of the official Saba News Agency, the government warned that Saudi Arabia "is being subjected to malicious and tendentious tendencies" and criticized "media and cheap media targeting" the kingdom.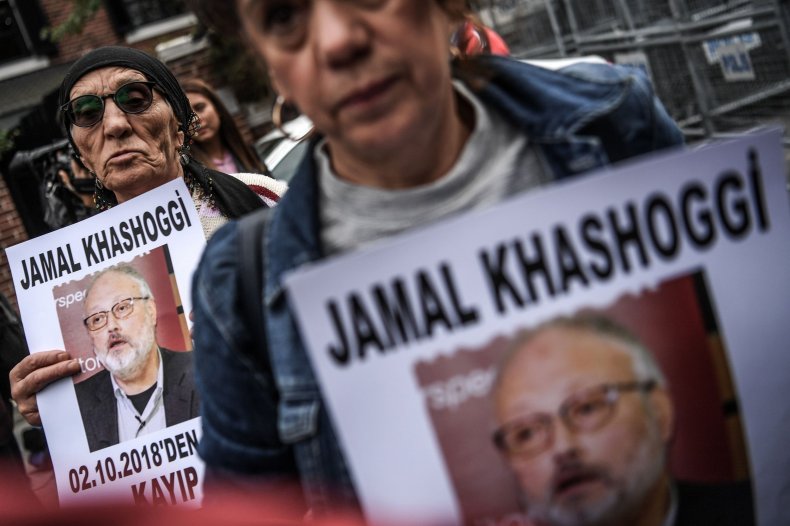 Washington, which has invested heavily in Riyadh as a partner against Iran in the Middle East, has offered a muted response to U.S. resident Khashoggi's disappearance, with Trump vowing to deal out "punishment" if allegations of the kingdom's involvement turned out to be true, but also proposed alternative theories and praised Saudi-Turkish cooperation. Russia, which maintains ties to both Saudi Arabia and Iran, has been mostly silent on the matter.
France, Germany and the United Kingdom called for "a credible investigation to establish the truth about what happened, and—if relevant—to identify those bearing responsibility for the disappearance of Jamal Khashoggi, and ensure that they are held to account" in a joint statement by their foreign ministries. Canada, with which Saudi Arabia has broken ties due to the former's criticism of the kingdom's human rights record, also endorsed the statement.
The European Union's top diplomat Federica Mogherini told reporters Monday she "expects a full investigation from the authorities of Saudi Arabia for cooperation with the Turkish authorities in line with what our main partners have expressed in Washington." Qatar, against which Saudi Arabia has led a regional boycott due to alleged ties to Iran and terrorist groups, has not officially commented, but the official Qatar News Agency reported on calls to investigate the matter from the Qatar Press Centre and the Doha Center for Media Freedom.
Iranian Foreign Ministry spokesperson Bahram Qasemi declined to comment on the matter during a press briefing Monday, saying "I will not judge the issue and the reports by Saudi media," according to the state-run Islamic Republic News Agency. Articles in Iran's semi-official media—along with government-controlled publications of its ally Syria—have mostly portrayed Saudi Arabia in a negative light.